10 Incredible Building Toys for Under Forty Dollars
I want my boys outside. I want them playing in the dirt, exploring the woods at their grandma's house, climbing on play sets at the park, and burning energy as they race their bikes around the cul de sac. Let's face it though. Sometimes the high 90 temps and humidity in Georgia, thunderstorms, or that fact the laundry and other household chores have to be done forces us to spend hours inside.
(If you happen to be looking for the best outdoor toys for kids, you should check out this post.)
So what do we do when we are forced out of the great outdoors? I definitely do not want them spending all their time binge watching their latest favorite cartoon. And I definitely do want them to be zoning out on video games. With those definites in place, what do they do? You could provide them with toys that will have kids laughing while they learn, or even provide unique lego sets.
Another option is to provide building toys that are not LEGOs. These types of toys are beneficial in so many ways. Many of them…
1. Provide spatial reasoning
2. Planning Skills
3. Problem solving
4. Basic physics
5. Increase creativity
Having these toys around the house can help maintain our sanity when we are stuck inside, but also contributes to positive developments in our children.
If you are looking for gifts for kids that love to build, or just great building toys…..this list is for you.
*This post contains affiliated links. At the time of posting all items were under $40 dollars. Prices change quickly though, so I can not guarantee that they will alway be under $40.
All of my children, ages 2 – 6, absolutely love these. This kit, in particular, allows children to build cars, which is always a plus for my car loving boys. I love that they are easy and compact for storage, and I don't tend to find them all over my house like a do with LEGOs.
With challenge cards, a ball, wheels, strings, and much more this set has hours of fun. Children can build a catapult, zip lines, and a trampoline. One of the challenges is to create a catapult and shoot the ball into a basket they design.
3. Robot Car Designer Zoob Building Blocks With Axels and Joints 
This is another of the Zoob kits. This one focuses more on vehicles and gears. The have an idea sheet, but the 70+ pieces allow your child to imagine up and design his own vehicle.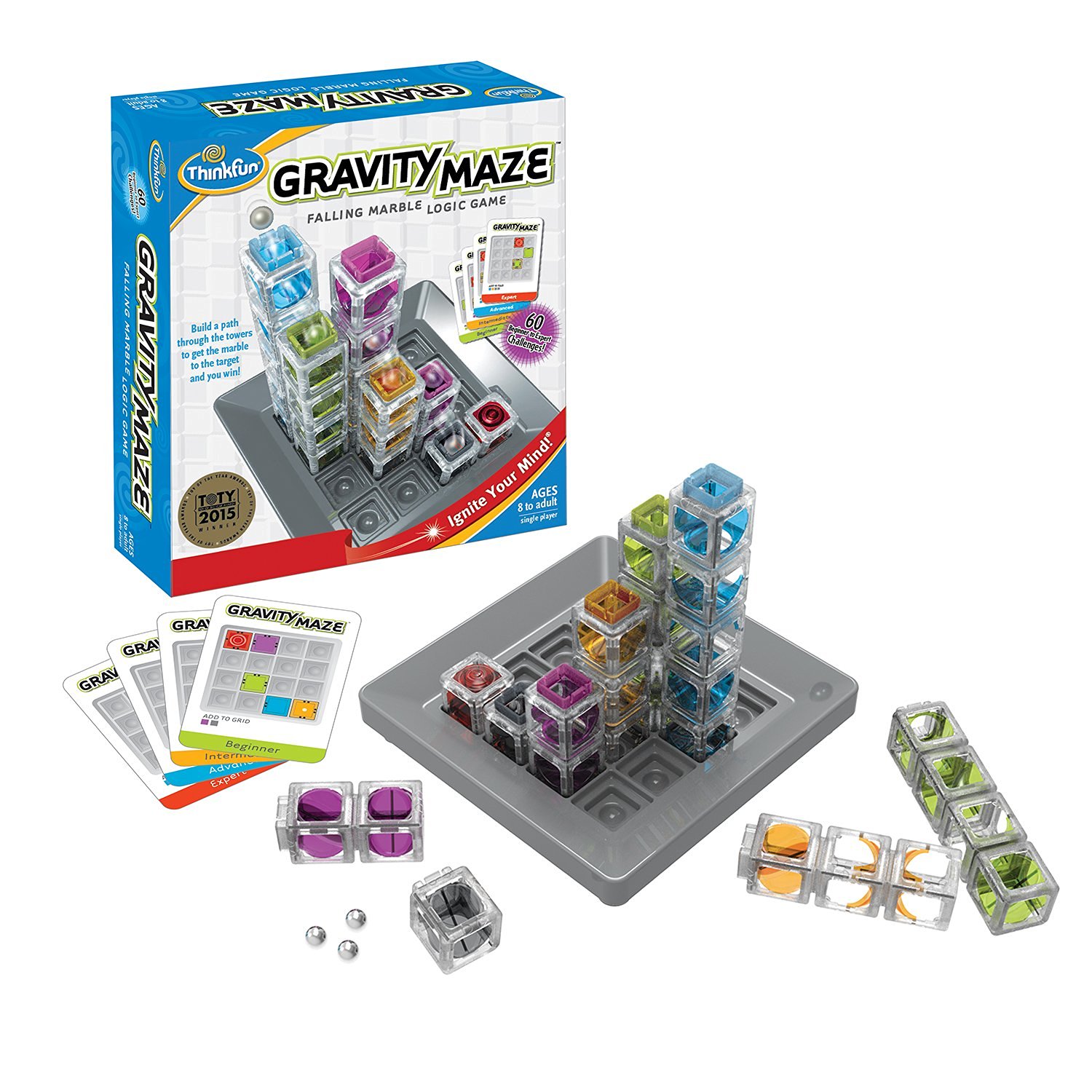 This game/building toy gets children to create a marble maze while following 60 challenge cards that range from beginning to expert. This will unquestionably get your kiddos planning and building spacial reasoning.
Looking for a game and building challenge? This game from Mellisa and Doug develops hand-eye coordination and cognitive skills while children (or you) work to balance the game rods. It can be a fun family game, or it can be played independently for an extra challenge.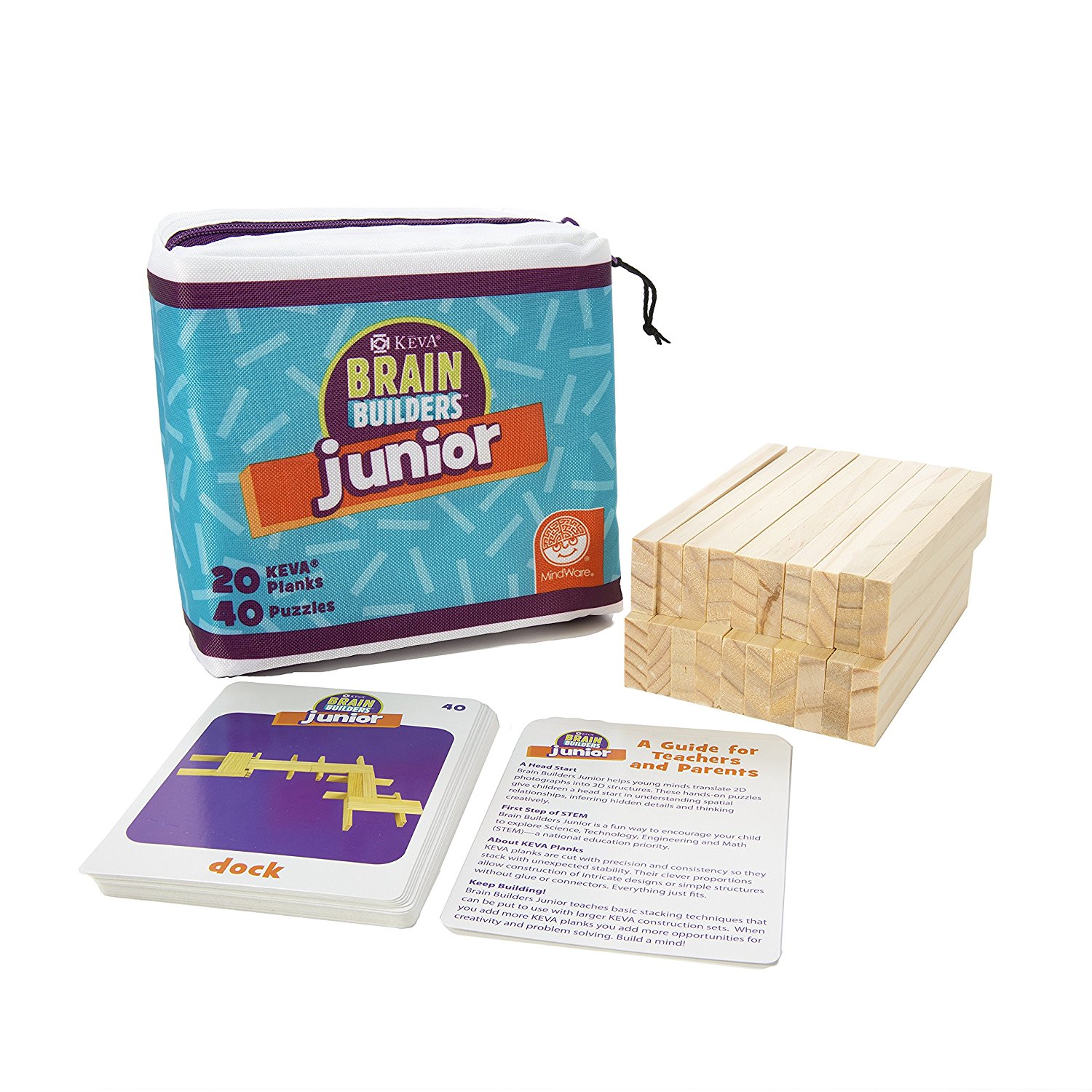 KEVA has created identical planks with 40 puzzle cards to encourage problem-solving in you youngsters. This is an  easy activity that doesn't take up much room and does not require any other tools. Your young ones can begin playing and developing those basic physics skills immediately.
Most of the other building toys listed on this page do not have a completed project that lasts. This one does.
Challenge your child to build 3 wood projects and then allow them to decorate. The kits come with pre-cut wooden pieces, paint, screwdriver paint brush, and wood glue.
This set will help your child build life-size structures. With the large sizes, it may even encourage your children to collaborate together. Once their structure is built, the fun can really begin. Add a sheet, and now their structure is a tent in the forest, a post office in the city, or an igloo in Alaska. The dramatic play opportunities are endless.
My kids are fascinated with flashlights, Christmas lights, ect. So being able to create a dragon that lights up, is extraordinary.
This kit comes with 3D Lite Board, model instructions, and over 200 parts. Children can connect to a power base and watch the light spread as they build.
Last but not least are these Eco-Friendly snap pieces. Make a ball or create games to get creative juices and your little ones planning skills flowing. They are incredibly durable and easy to store. 
Both of my boys loved these. It was fun to build structures like the Eifle Tower.
So the next time a thunderstorm or extreme cold or heat invades your state, grab some building toys and let the creativity soar. You've Got This
This post is part of a blog hop. Get more elementary gift ideas
HERE!!