Free Converting Mixed Numbers To Improper Fractions Worksheet

This free Cut and Paste Converting Mixed Numbers To Improper Fractions Worksheet helps children visualize this skill while having fun.
Today is day six of our Seven Days of Christmas Math Printables. You can see what other fun math printables we have here, or check out our list of 50 Math Games and Activites Here.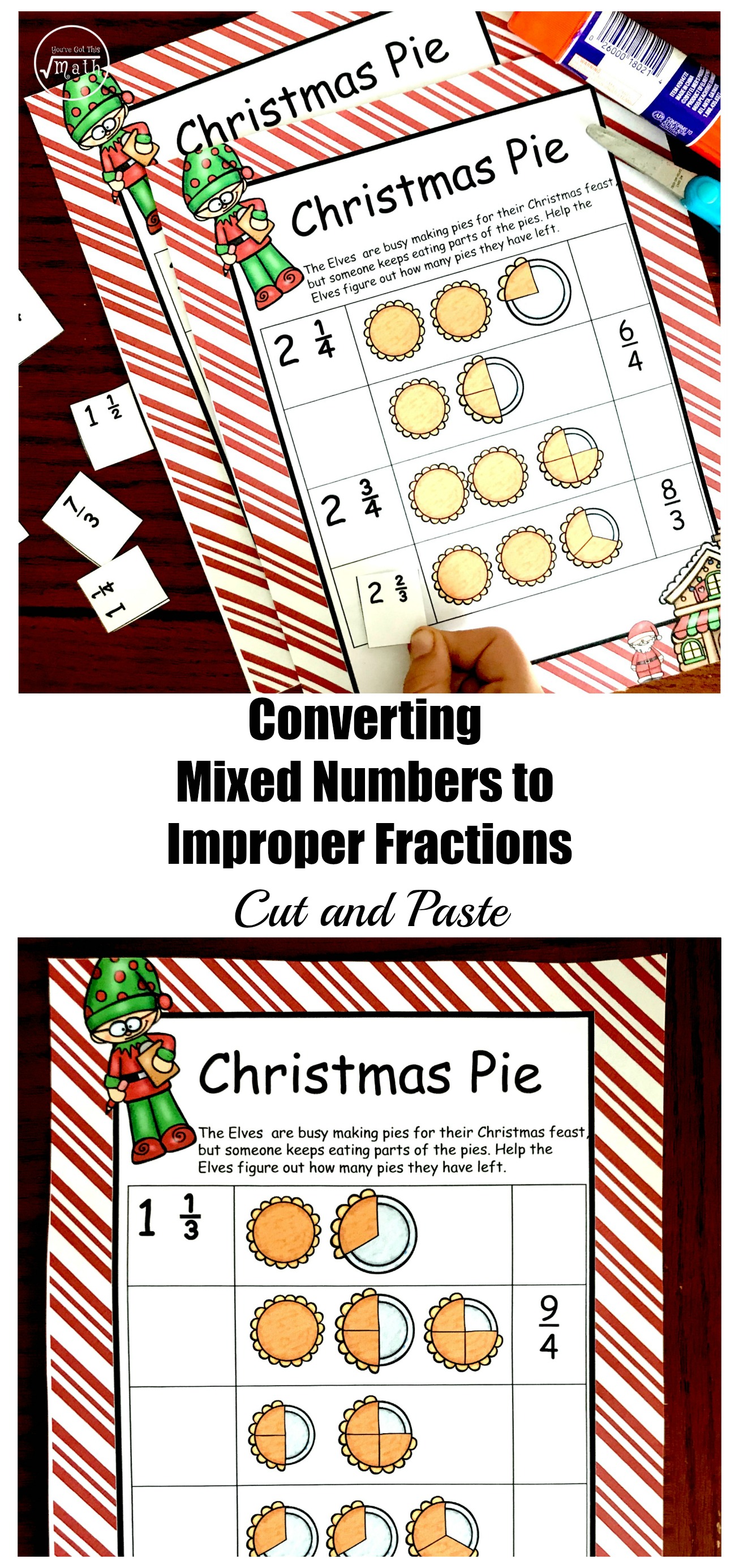 The free printable can be found at the END of this post. Click on the blue "get your free printable here" button.
We are a participant in the Amazon Services LLC Associates Program, an affiliate advertising program designed to provide a means for us to earn fees by linking to Amazon.com and affiliated sites.
This post may also contain affiliate links to other bloggers too. There is no extra cost to you, but if you choose to purchase, I receive a small percentage.
Having children realize that improper fractions are equal to an improper fraction is important. And even before we throw out the formula for converting these two back and forth, it is important to provide some visual examples.
I highly suggest grabbing some fraction circles and helping your kiddos model exactly what is happening when improper fractions get converted to mixed numbers and vice versa.
Modeling:
Improper Fractions:
Begin by having the children model a fraction like 7/4. They should pull out seven 1/4 pieces. (You may need to have partners work together so that there are enough fourths to model this.)
Next, have them get out their whole circles and fill up as many as they can.
When they are done they should recognize that they have 1 3/4….one whole circle is filled in and there are three one-fourths left over.
Mixed Numbers
Start the same way as before. Give the students a mixed number like 1 2/3 and have them model that number with their fraction circles using one whole and two thirds.
Now have them fill out the whole circle with three equal parts, and now all that left is to have them count how many thirds there are. They should come up that there are 5 thirds, making the fraction 5/3.
Once they have correctly solved a few of your problems, then it is time to move onto this converting mixed numbers to improper fraction worksheet.
Need more ideas for helping children model and visualize fractions? Check out our five-day series on visualizing fractions?
Prep – Work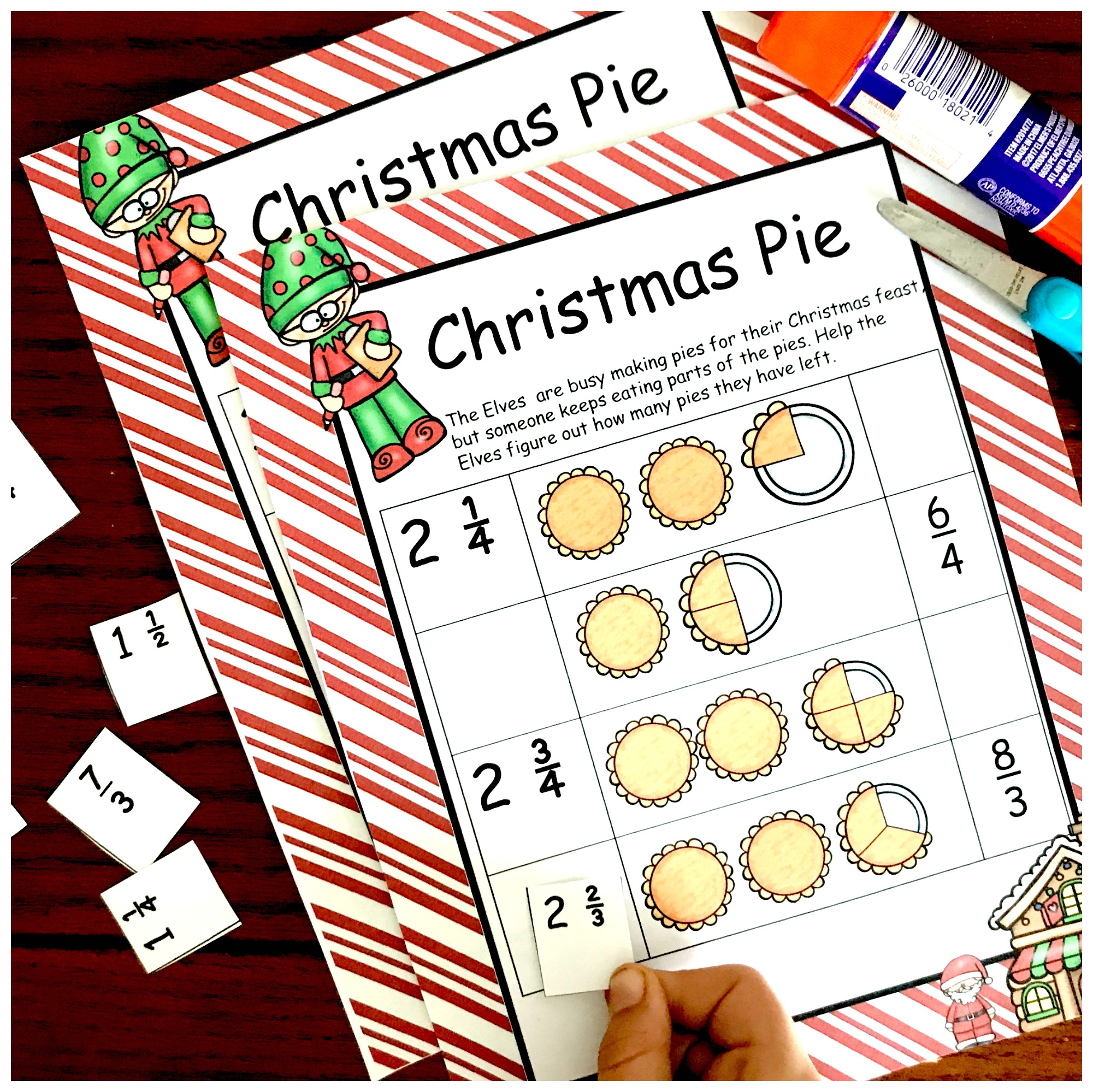 These worksheets require almost no prep – work for you.
Improper-Fractions-and-Mixed-Numbers-Cut-and-Paste

First, print off on copy paper.
Next, gather up glue and scissors and you are ready to go.
Hammermill Paper, Copy Paper Poly Wrap, 20lb, 8.5 x 11, Letter, 92 Bright, 5000 Sheets / 10 Ream Case (150010C) Made In The USA

Elmer's All Purpose School Glue Sticks, Washable, 30 Pack, 0.24-ounce sticks

Schoolworks 5 Inch Blunt Kids Scissors, Classpack of 12 (153520-1004)

Time to Use: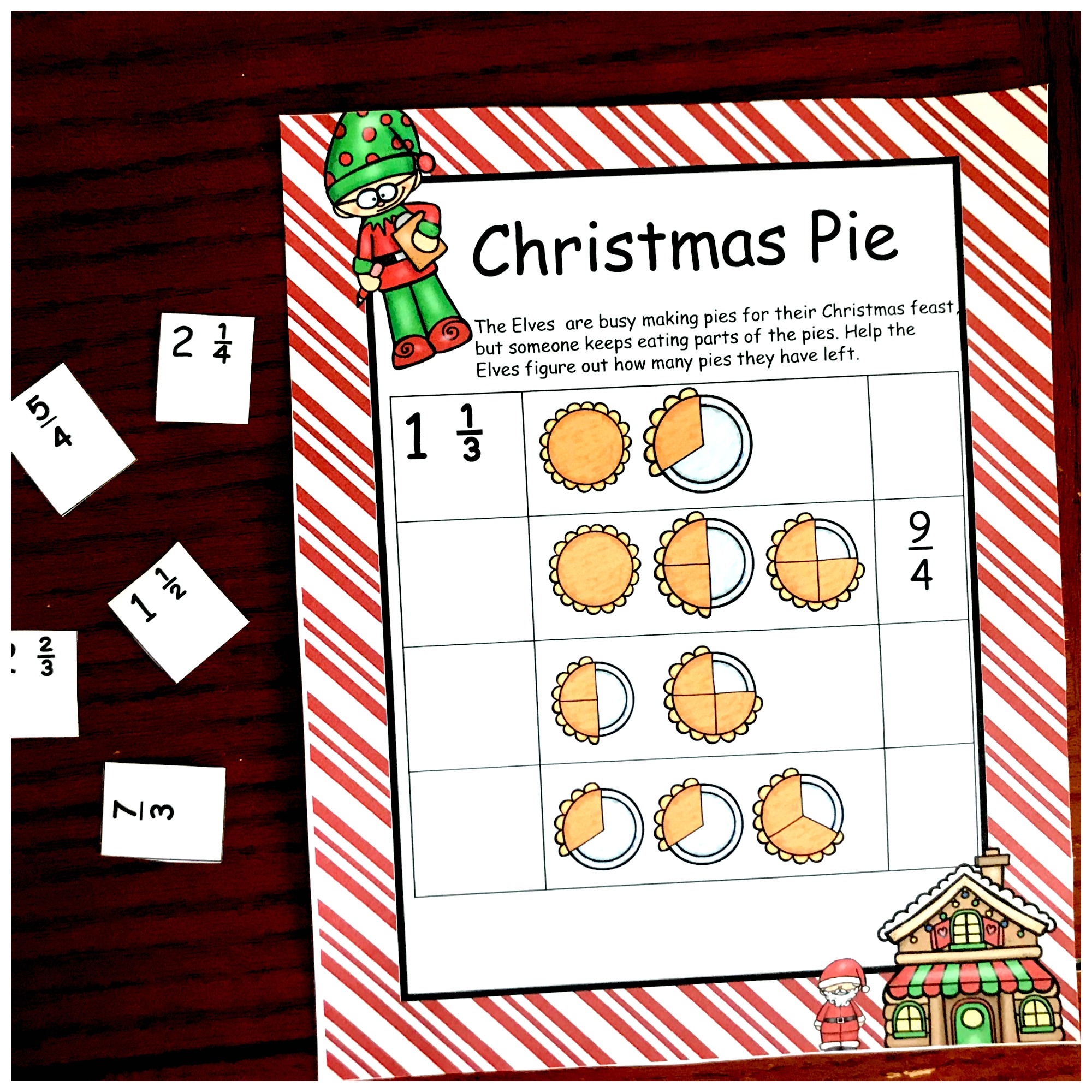 Once the copies are made it is time to let your little ones go at it. Using the pies, all the children have to do is find the mixed numbers and improper fractions that go together
Enjoy this converting mixed numbers to improper fraction worksheets.
You've Got This
Rachel
You may also like….
Or this simple simplifying fractions game
or grab the complete Gum Drop Pack with more fraction activities with a Christmas theme