Fall Rhyming Words | Free Printable Matching Game
Fall Rhyming Words
Rhyming. We find it all around us. In books, we read to our children, songs we sing, and in the phonics, we are teaching. It is an important skill and one that is fun to play with.
Grab this free fall rhyming match to help children practice finding words that rhyme.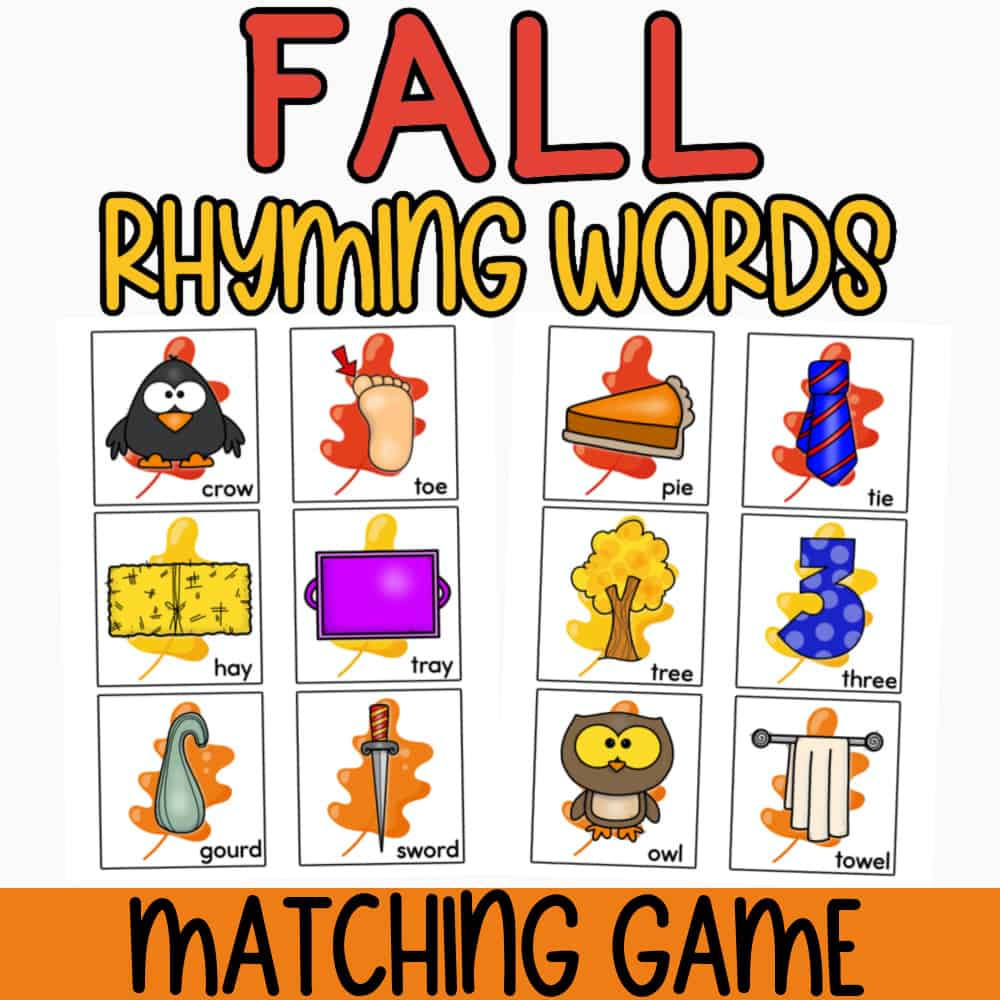 Why Teach Rhyming
Do you know one of the indicators of a successful reader? It is knowing nursery rhymes. Why? Because they rhyme and rhyming is a great skill that helps children read.
You see most rhyming words end the same. And because they end the same, we are working on phonemic awareness when we practice rhyming. Rhyming helps us focus on the sounds of language.
Did you also know that rhyming helps children understand that words are made out of individual speech sounds, and you can change those sounds to create different words?
Most of all rhyming is fun. Reading rhyming books, singing silly rhyming songs, and even creating your own crazy rhyming poems is just plain fun. And with that fun, our kids find joy in words and reading.
So today I have a fun Fall rhyming match to get our little ones playing with rhymes.
Fall Rhyming Words Activity
This activity requires a little bit of cutting, but if you laminate them, they can be used over and over.
First, print off the hats on card stock paper.
Next, cut them out and laminate.
Now it is time to call your kindergartener or preschooler and have some fun with this winter rhyming match.
Rhyming Words Matching Game
First, it is important to determine what will be too much for your child.
Can you put all the pieces on the ground and let them rhyme away, or do you need to only put a few pieces out?
Next, our little ones need to know that words the pictures represent. You could show them the picture and let them guess, or you could just tell them and have them repeat (great speech practice if you have a child that needs this.)
Then, let them start saying the words and seeing if they can find the words that rhyme. Of course, some children will be able to do this with little to no help, while others will need support.
One way to support is to slowly say the word while emphasizing the ending sound. You could even say the two words they are working on and emphasize the ending of both words. And if that doesn't work….leave off the beginning sound and just say the ending.
It is a fun way to get children practicing rhymes. Enjoy!
Matching Game with Fall Rhyming Words
What I love about this matching game is that it has a fall theme, but it's not "too" fall. Sure, words like gourd and rake are totally appropriate for fall. But they don't sound awkward if you're using this game at other times of the year. Like talking about snow in May, you know what I mean?