13 Free Summer Reading Programs For Kids | 2022 | Printable Reading Logs
FREE Summer Reading Programs
Ah summer. I'm already daydreaming about it. But, as any teacher will tell you–students lose traction and knowledge from the time off during the summer. It can take several weeks in the fall to get back into the groove. Every parent should encourage their child to be a reader.
Sure, for some kids, reading is more difficult, and discovering reading differences can be a challenge. But, reading is essential so we should role model good reading habits. A great way to encourage reading is to participate in a structured Summer Reading Program, and many of them are free.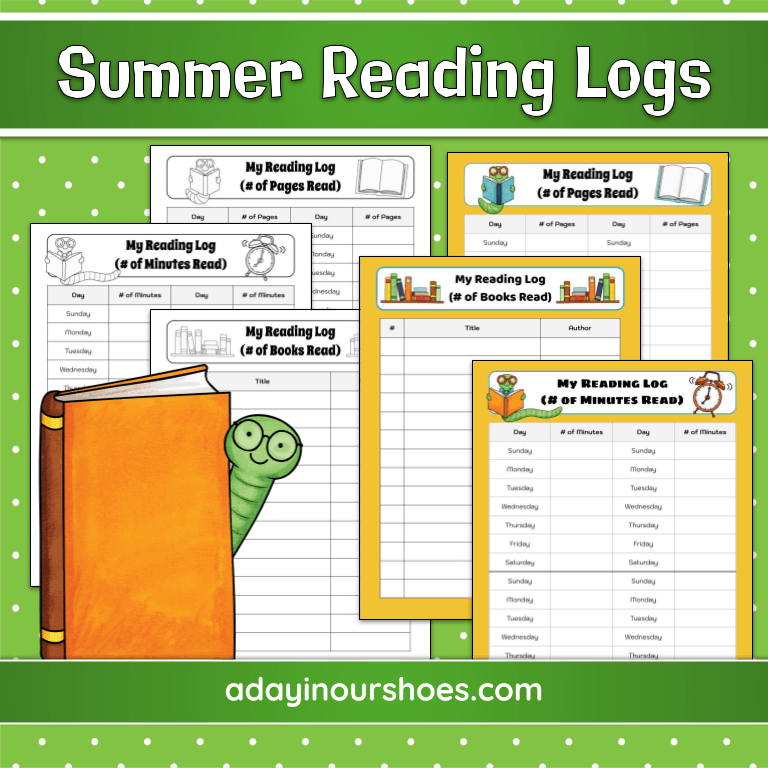 Summer can be a great time to do recreational reading and encourage good reading habits. This list has free reading programs listed for 1st graders, 2nd graders and all the way up.
Some are appropriate for special education students too. This can be great information to share when you distribute summer reading lists.
Summer Reading Programs
Junie B Jones Reading Club – Sign up and get a FREE starter Kit that includes a copy of Junie B Jones and the Stupid Smelly Bus, Activity sheets, and a membership ID card while supplies last.
Pizza Hut-offers a reading program for during the school year and summers.
Book Adventure – Sylvan offers this FREE reading incentive program. Basically, your child reads books and then takes a simple comprehension quiz to make sure they understood what they read. The quiz is usually about 10 questions long. They earn points based on how much they remember from reading the book. (according to the website, this program is ending June 30, 2018)
Half Price Books – They are offering kids ages 14 and under a chance to earn a $5 Gift Card for reading just 15 each day throughout the summer!
Showcase Cinemas Bookworm Wednesdays -A fun and rewarding summer reading program developed to encourage young children to read during the summer months, Bookworm Wednesdays entitles kids to free admission to a select children's film when they present a book report at a participating Cinema de Lux, Showcase, or Multiplex Cinemas box office.
Barnes & Noble Imagination Destination – This summer reading program through Barnes & Noble gives your child the ability to earn a FREE book after reading 8 books and keeping track of them in a reading log.
Collaborative Summer Library Program: The Collaborative Summer Library Program (CSLP) is a consortium of states working together to provide high-quality summer reading program materials for children, teens, and adults at the lowest cost possible for their public libraries.
Scholastic Summer Challenge – Log in your reading minutes to the Scholastic site and your child will be able to participate in a World Record challenge as well as earn digital prizes!
BookShare is a free program also known as Books Without Barriers. They also run a summer program called #AllInTogether.
Amazon runs a summer reading challenge. It's free, and you have to read 8 books to earn…$1. Lol. Guess it's better than nothing, but good grief!
Programs like these are a great way to encourage our children to continue reading throughout the summer months. If you know of any other programs that aren't listed here, please feel free to email us and let us know.
Summer Reading Programs at Libraries Near You
Local Public Library – Don't forget to check out your local libraries to find out which programs they'll be offering this summer. My kids have participated in several Summer reading Programs through the library and it always includes FREE books & prizes.
Free Summer Reading Programs Pennsylvania
The Chester County Library System has an extensive events calendar that you can separate out by location and by age. We've always been pleased with the offerings at the Kennett and Avon Grove libraries.
The Free Library of Philadelphia has over 50 locations and many reading programs for kids.
The New Castle County Library System: In addition to their extensive offerings for kids, they have a Book Buddy Program that allows people with disabilities who are home-bound to be able to access books.
Reading Logs for Kids
I had these reading logs made up, because it's always my goal to make your life easier! And, science and psychology both tell us that habit trackers and checklists help to change behavior.
So these are really simple. Just check off how long or how many pages.
Canceled Summer Reading Programs
The following reading programs used to exist, but it appears that they are not being kept active. Providing this information just to save you time looking.
Additionally, due to the pandemic, who knows what summer is going to look like this year, right? So email or call before you go. Many programs are switching to online in order to keep crowds down.
Pottery Barn Summer Reading Challenge – information not available at this time, link is from 2014. The most I can find is that some stores do a weekly storytime, see your local store for times and details.
TD Bank-a chance to earn $10 by reading! Please note that the link is from 2016 and I cannot find any 2017 information yet.
Chuck E. Cheese – Earn 10 FREE tokens every time your child reads for 2 weeks in a row. Just fill out the form and bring it in to claim your free token. Chuck E. Cheese Reading Rewards
2015 Barnes and Noble summer reading kit
Lisa Lightner is an award-winning and nationally-known Special Education Advocate and Lobbyist who lives in suburban Philadelphia. She has or is serving on the Boards of numerous disability and education related organizations including the Epilepsy Foundation and PA Education Voters. She also has testified before State House and Senate committees relating to special education issues and education funding issues.