Short i Words and Sound | Free PDF Puzzles for Kids | CVC Words
Short i Words
At some point, we will get through all the vowel sounds on this site. But for today, we're talking about the short i sound. Short i words are everywhere, and it's essential for kids to develop phonological awareness to be proficient readers and writers.
The good thing for our little ones is that short i words are everywhere. Your kindergartener (or around that age) probably already has many short i sound words in their vocabulary, even if they are still unaware of the short i concept and pronunciation.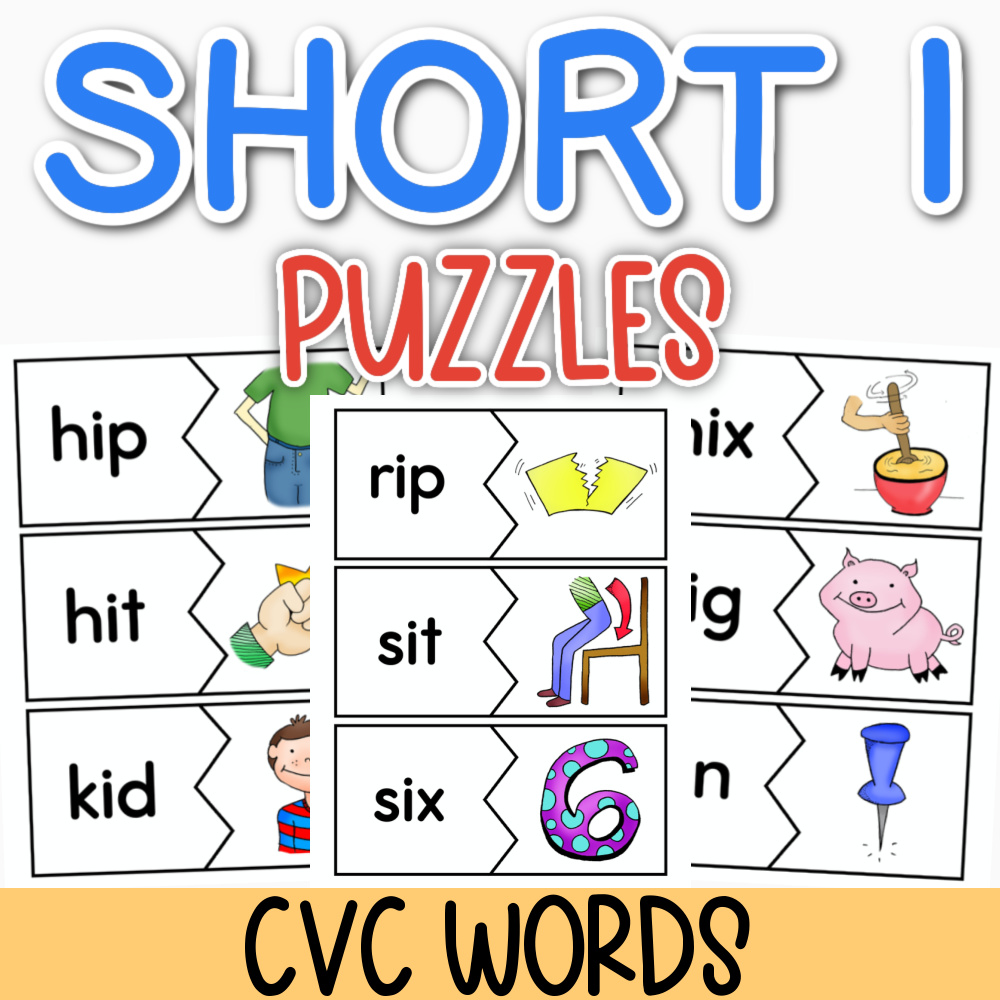 Short i Sound PDF
Like most puzzles, a little prep-work (aka cutting) is required. But if you print on card stock and laminate, you can use them over and over. These make a great seat work activity or for centers.
First, print off on card stock paper.
Next, cut out the pieces of the puzzle.
Finally, laminate them and you are good to go!
How to Use Short i Puzzles
Short i
So I have to admit, trying to make words match short i word pictures can be a little difficult. So before you begin the activity, it is important that your students know what each picture stands for.
For example, there is one image of a "pin" which of course has the short i sound in it. But, it also looks like a thumbtack. "Kid" could also be boy. See what I mean?
So, I sat down with my five-year-old and treated the picture parts of the puzzles like flash cards. The first time I went through them and just said the word, and he parroted me.
The next time, I showed him the picture and he said the word. This way I knew that he was able to identify each picture.
Reading the Short I Sound
My little guy has been working on short i words during his computer work each day. So I knew he had already had worked on reading these fun CVC words.
At this point, I wanted to see what he could do on his own. So I stepped back and washed some dishes while he sat nearby sounding out these words.
I loved his triumph voice as the sounds came together and he was able to read the word and then find the picture.
Short i Sound
Other children may need a little more support. In this case, sit down next them and help as needed. You could….
Sound out each sound and let the child put the word together.
Gently guide their finger under each letter, and have them parrot the sounds you make.
Let them sound out each letter, and you can help them make the word.
Above all, enjoy this time with your little ones. It is a fun time to watch them learn and explore the world of letters and beginning words.
You've Got This!