FREE No-Prep Subtraction Game with St. Patrick's Day Theme
Have a little bit of fun with St. Patrick's Day and play this no-prep, first grade subtraction game.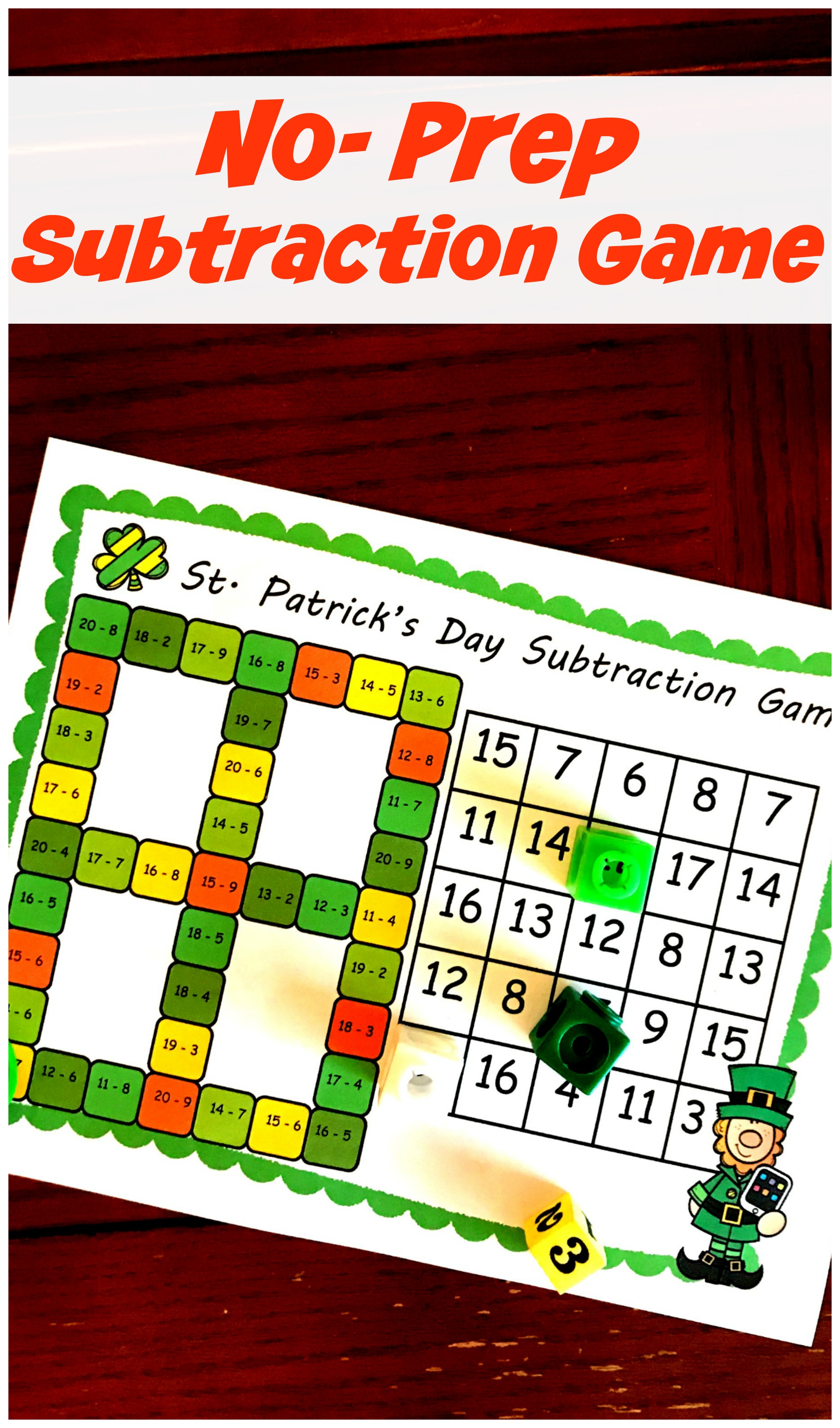 Don't you just love special days? They show up in the middle of a long month and add a little bit of color to our world. March has a couple of fun days. Pi day, March 14th, in which we will be eating pie to celebrate 3/14.
And then, of course, there is St. Patrick's day. When we all wear green and get to do math activities with cute little green men on them.
And that is what I have for you today. A fun first grade subtraction game (or for anyone who needs basic subtraction skills) with a fun St. Patrick's day theme.
Prep-Work:
So this game will be ready for you in minutes.
Simply print off a game board for each student. And if needed you can print off the ten frames.
Next, gather up a die, game piece, and something to mark the BINGO board. You can add a little fun by making the markers St. Patrick's day related.
And that is it. You are ready to go.
KINREX Plastic Gold Coins – Mega Novelty Pack – St. Patricks Coin – 400 Count – Great for Kids, Toddlers, Games, Teachers

Super Z Outlet Assorted 1

100-pack Translucent & Solid 6-sided Game Dice, 20 Sets of Vintage Colors, 16mm Dice for Board Games and Teaching Math by Brybelly

First Grade Subtraction Game: How to Play
This game is so simple to play.
Players may start at any place on the board. They roll the die and then move that many spaces in any direction.
Once they land on the space, they need to solve the problem and then cover up the answer on the BINGO part of the game board.
The first person to cover up all spaces wins the game.
Using the Ten Frames:
So some of our children will not be able to do this math in their heads. And at the beginning this is ok. Though our goal would be to get them to be able to do mental math with these problems, we may need to provide visuals first.
My children have loved the hundreds chart. It has been there go to when solving problems. (See how we have used them here.)
Other children, may prefer the ten frames. All they need to do is look at the first number in the subtraction problem, and put out that many objects on the ten frame. Now they look at the second number and take off that many.
What is left is the answer!!!
It is a simple way to let them work through a subtraction problem.
Enjoy!!
You've Got This,
Rachel
You may also like:
Subtraction on the hundreds chart
Word problems for adding and subtracting within 20