Count and Color Kindergarten Worksheets for Students | Free Printable
Who doesn't love coloring? Coloring is such a fun thing to do. It will be the cherry on top if some counting activities are added. That's why we brought you some count and color kindergarten worksheets suitable for your youngsters.
Count and color! Sounds interesting, right? What do you have to do in here? Just count the given elements in different ways and then color them.
So, without wasting our time, let's get our journey started by exploring count and color kindergarten worksheets.
---
5 Exciting Count and Color Kindergarten Worksheets for Your Youngsters
In the following section, you will find five exciting count and color kindergarten worksheets, including free printable practice sheets for your youngster. Each activity differs from the others in terms of counting and coloring.
Here, the count and color kindergarten worksheets will focus on counting elements that are between 1 and 10 and coloring them. Also, the practice sheets will help them with counting and coloring the corresponding elements.
Before starting any activity, read the respective details and proceed forward.
---
Activity 1: Count Then Color
It's the simplest of all of these activities. Just see the following image. In the first column, you will see some numbers, and in the second column, some delicious fruits.
Simply count the correct number of fruits that correspond to the number in the first column and color them.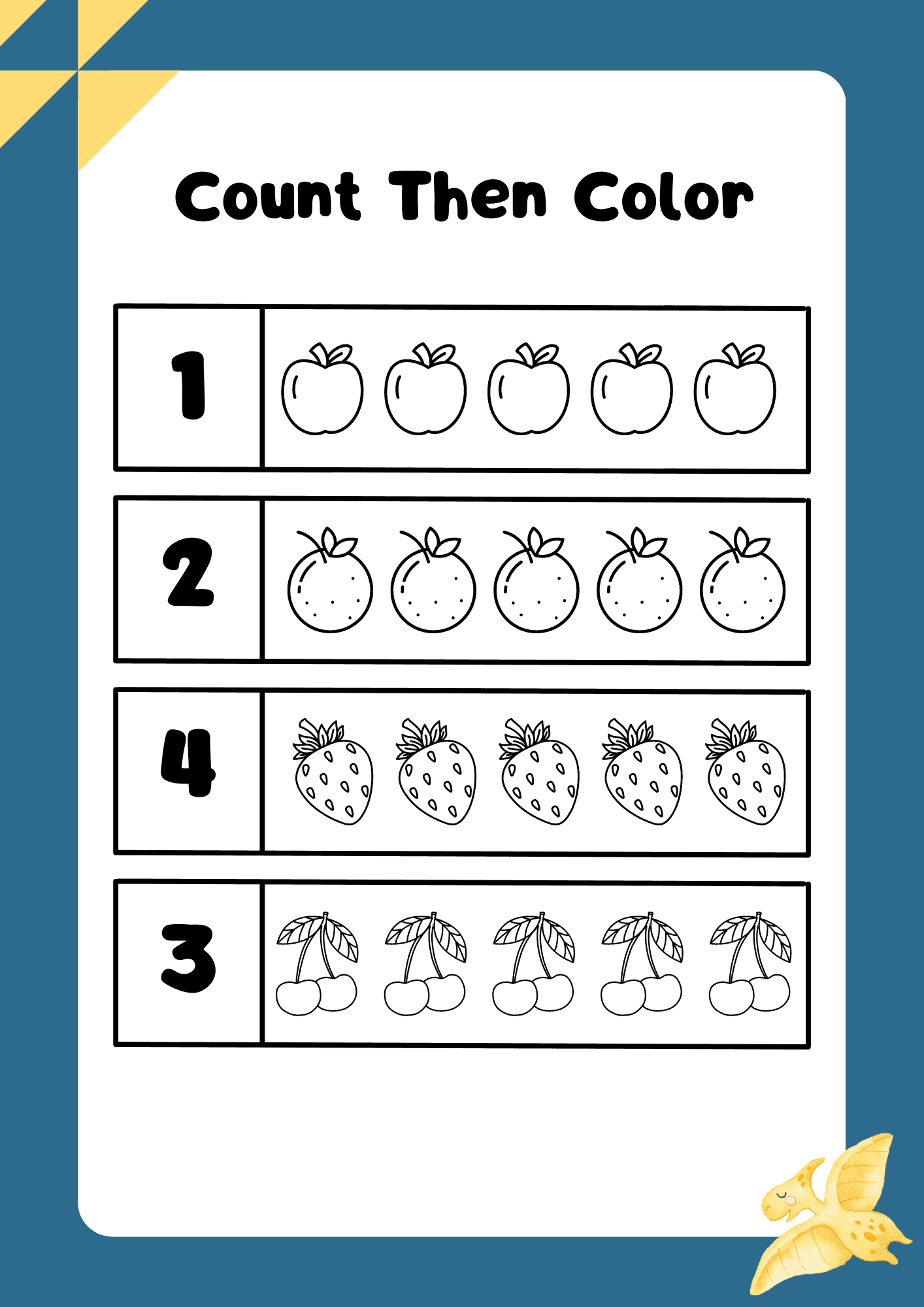 ---
Activity 2: Word to Color
Let's make the coloring a bit difficult. We will not provide the numbers and elements directly this time. See the following image carefully. Here, we've added the numbers in words instead of direct figures.
Also, instead of an image or drawing, only the name of the elements is provided this time. Now, your work is to input the correct figure from the corresponding words and draw and color the exact number of elements. 
---
Activity 3: It's Investigation Time
Detective Smith has to solve a puzzle. But to get to the final key, he has to overcome some obstacles. What are those obstacles? Can you guess?
If you say count and color, then congratulations. You are absolutely right. Help the detective find exactly how he will reach the exit point.
---
Activity 4: Cut and Paste Game
The cut-and-paste game is another fun activity regarding counting and coloring. As you can see in the following image, some elements are randomly included.
In the upper portion, some numbers are given. Cut the tools and paste them beside their respective numbers. Wait. Forgetting something? Yes, let's finish the activity by coloring them. 
---
Activity 5: Color Your Animal Friend
This is the final activity for the day's topic. This time, we'll use the hints provided to color our adorable little animal friends.
See the color code first, where each number represents a certain color. Count the animals of the same species and color them based on their numbers. 
---
Download Free Printable PDF
In the above discussion, I have discussed various activities regarding the count and color kindergarten worksheets. These activities will help your students enhance their skills regarding these types of counting and coloring problems.
The free count and color kindergarten worksheets PDF is available for download below. You can download this practice sheet by clicking on the download button and printing it from your device.
Please feel free to give any feedback regarding this article. Also, if your little one is having trouble doing these activities, let us know in the comment section.
Enjoy!

Hello, I am Md. Araf Bin Jayed. I have completed my B.Sc in Industrial and Production Engineering from Ahsanullah University of Science and Technology. Currently I am working as a Content Developer for You Have Got This Math at Softeko. With proper guidelines and aid from the parent organization Softeko, I want to represent typical math problems with easy solutions. With my acquired knowledge and hard work, I want to contribute to the overall growth of this organization.