9 Sets of Farm Coloring Pages | Free | Farm and Animals | Worksheets
Farm and Animals Coloring Pages
One of my all time favorite things to do with my kids is to visit local farms. We're fortunate in that there are so many farms near me that allow you to get up close and personal to the animals. Plus, we often indulge in their locally made milk, ice cream and more.
My older son is disabled and not all outdoor activities are accessible to him. Or, they require too much physical exertion for him. Visiting farm animals is something we can do together that is accessible, easy to do, and doesn't require a lot of planning.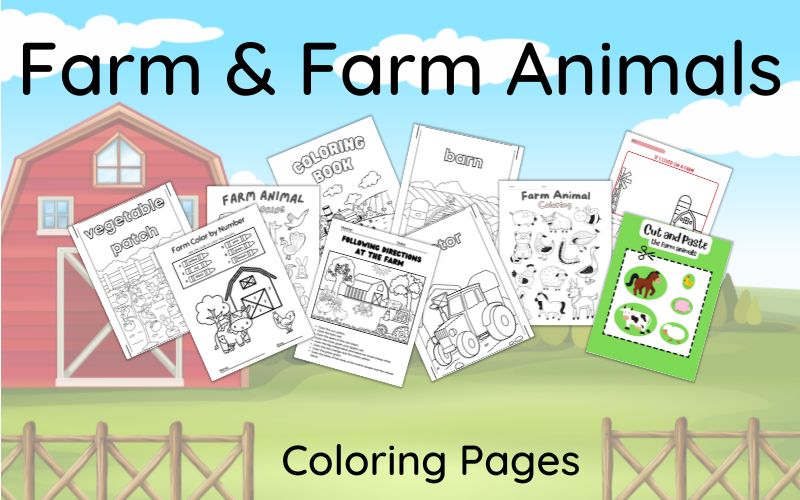 Like much of what we do with him, I like for things to be a multisensory learning experience for him. I also try to reinforce the learning at home, such as working on some farm coloring pages. We may do this in preparation for an outing, or after we return.
Farm Coloring Pages
I used to work at a local apple picking orchard that also had animals for the kids to visit with. We've been down there so many times I can't even count. We have gone on hayrides which is a really fun activity too.
If you are doing a farm unit at your preschool or school, or even just as a family, here are some great farm coloring pages and farm animal coloring pages to complement your farm visit. Here is a gallery of some of the pages in case you want to browse before printing. You can also scroll through each pdf in each individual window before printing.
Farms make it so easy to incorporate so many different ways of learning. Not just surrounding the child with language, but there are so many farm songs for little kids. All the farm animals make sounds to mimic. And, most areas have farms, so almost everyone can access one!
Farm Animal Coloring Page
This farm animal coloring page is a simple one sheet PDF. It's just the animals. It would work well for a cut and paste activity too.
Farm Animal Coloring Worksheet
Here's another worksheet or coloring page with different farm animals on it. It has a different assortment of animals, but it is still cute!
Farm Animal Printable Coloring Book
This one is an 11-page coloring book. I really like the farm picture on the front to color in. The windmill behind the barn is a nice touch. And, a great way to add more science into the activity.
On the Farm Coloring Book
This coloring book is 32 pages. You may wish to scroll through them before printing them all. But, in addition to having more farm animals to color (like a llama!) it also have other farm stuff like tractors and vegetables.
There's also hay, a wheelbarrow and another windmill. Not sure why they included a frog and a motorbike, but hey, they're cute.
Farm Color by Number
Want to incorporate number recognition and a little bit of math into your farm coloring? Then how about this cute color by number farm worksheet?
Life on the Farm Coloring Book
Have you picked a favorite farm coloring page yet? I have a few more to share. This one is only 6 pages and has the basics about life on a farm.
Farm Worksheet for Following Directions
For younger students, you'll have to read the directions to them. But, if you want to practice coloring, farm knowledge, language and following directions, then take a look at this worksheet.
Farm Writing Worksheet
I wanted to include this farm worksheet that includes a writing prompt, in case you are looking for something that is both writing and coloring.
Farm Animals Cut and Paste Activity
And last but not least, here is a cut and paste activity for farm animals.
Lisa Lightner is an award-winning and nationally-known Special Education Advocate and Lobbyist who lives in suburban Philadelphia. She has or is serving on the Boards of numerous disability and education related organizations including the Epilepsy Foundation and PA Education Voters. She also has testified before State House and Senate committees relating to special education issues and education funding issues.