16 Free Thanksgiving Math Activities for Preschoolers with 12 Worksheets
Thanksgiving offers a great opportunity for preschoolers to learn math in a fun and engaging way.
In this article on Thanksgiving Math Activities for Preschoolers, we will explore some exciting Thanksgiving math activities for preschoolers that are educational and entertaining for preschoolers.
---
12 Interactive Worksheets to Practice Thanksgiving Math Activities for Preschoolers
As much as I love games, it is important that children have some hands-on experience with what they are doing before they start playing.
These Thanksgiving math activities for preschoolers math activities are a great place to start because they walk kids through various methods for solving simple problems.
---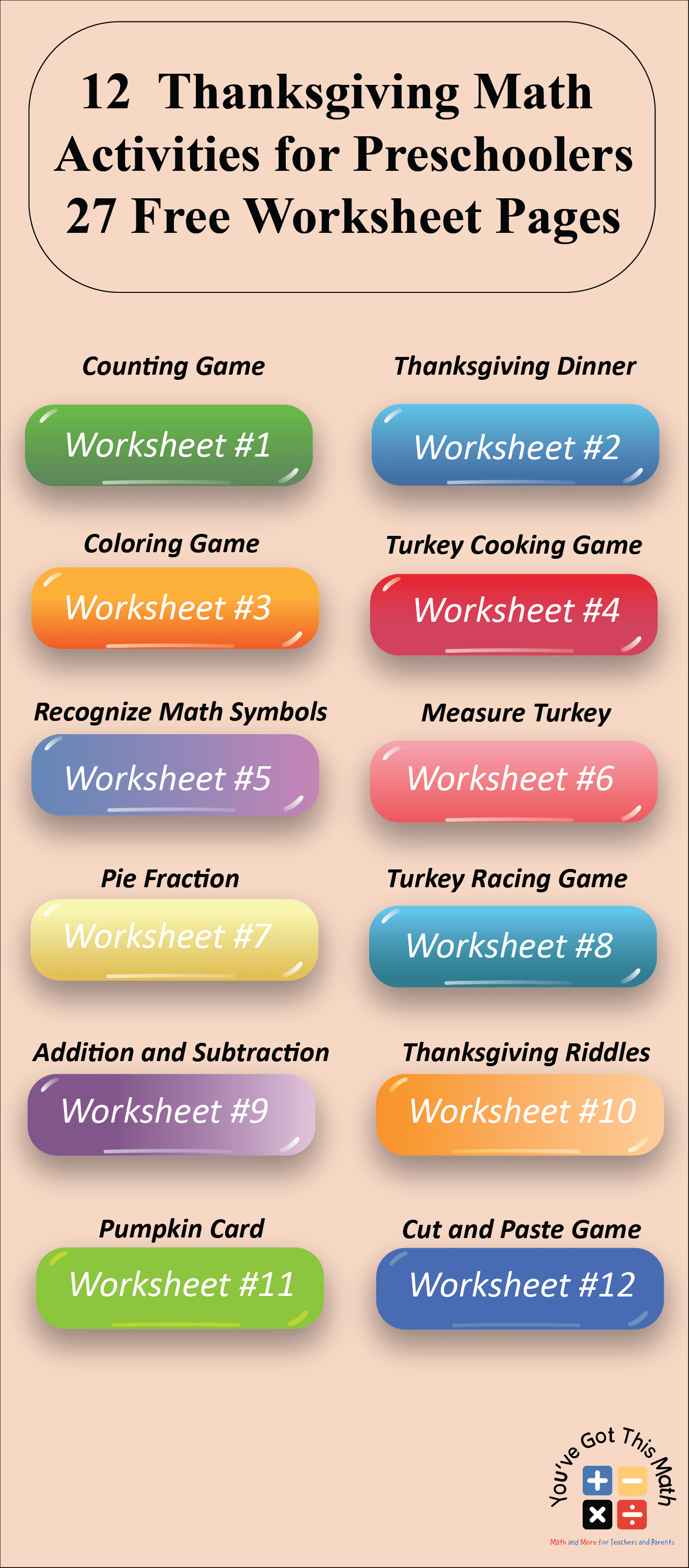 ---
Thanksgiving Lesson Plans for Preschoolers
The table shows the Thanksgiving lesson plan for your kids.
---
Turkey Counting Game on Thanksgiving Day
Your preschoolers will love counting pompoms on Thanksgiving Day. You'll love that they are using this exercise to recognize numbers and work on matching colors.
Suppose you have five kinds of pom poms, such as green, orange, yellow, blue, and red. 

Give a worksheet containing the color names and a number for each color on a cup. 

The kids will separate each color's pom poms according to their number.

If yellow is the number 6, kids will put 6 yellow pom poms in the cup.
---
Turkey Cups Counting Game on Thanksgiving Day
I made another counting game after the first, matching cups because I couldn't help sticking stickers to them. Students first determine the cup's number, then count and fill the cups with the proper proportion of red pom-poms.
---
Counting Game on Thanksgiving Dinner Table
In this method, you can ask your preschoolers to choose a Thanksgiving card for dinner.
Some numbers are written on the cards. The foods are also attached with their corresponding numbers.
After choosing their cards, they find the food with the corresponding number and enjoy their dinner.
---
Fun Count and Clip Turkey Cards
Play the Count and Clip game to help your preschooler memorize math skills with Thanksgiving math exercises. Get cards with images of turkeys on them. Once your kid has counted the turkeys on each card, help them write the numbers down on the card.
---
Counting Pumpkins on Thanksgiving Day Math Activities
Preschoolers can participate in math activities for Thanksgiving based on their skill levels.
At this age, counting games are excellent for kids, and by teaching kids how to count pumpkins, you can incorporate the holiday into the activities. While teaching, count out loud with your child.
---
Turkey Color by Number Game on Thanksgiving Day
One of the kindergarten Thanksgiving math activities that will engage your child is playing color games. This practice might help you determine how much your child knows about colors.
First, look at the drawing of the turkey. There are some numbers written all over it.

You will see that for each number, there is a color code mentioned in the paper.

Here comes the most fun part! color the turkey according to the color code.
---
Counting Sensory Bin on Thanksgiving Day Math Activity
The children were eager to dig into this Thanksgiving counting sensory bin. That's generally how sensory bins work. Scoop the matching cups of stuffing into the pot, using the recipe cards as a guide.
Next, add the corn kernels (vegetable counters), pears (green pom poms), and slices of turkey (ten pattern blocks) to the stove.
In the end, stir the turkey casserole. Play it again after throwing it out.
---
Thanksgiving Day Recognition Math Symbols Game
Preschool math Thanksgiving activities should emphasize simplicity over complexity. Play games that teach your child to count and assist them in recognizing numbers and symbols, starting at the very beginning.
Carrots are a simple Thanksgiving feast staple that you can use to help your preschooler become accustomed to number symbols. You can make a plus (+) by crossing two carrots and asking your child to name the resulting math symbol.
Then, angle the carrots to make the multiplication symbol.
---
Non-Standard Measurement Activity on Thanksgiving Day
Play these entertaining nonstandard measurement games to learn more about measuring.
What can you measure, exactly? The length of this turkey is 12 cm. These enjoyable measuring games are interactive and entertaining.
These are ideal for education at home!
---
Pumpkin Pie Fraction Activity on Thanksgiving Day
Provide your kids with a variety of pie parts that are all different, and ask them to make each pie.
They'll need to build an entire pie after matching the fraction. This is an excellent approach to quickly understanding how many of each fraction make up a whole.
---
Turkey Racing Number Line Game
My young person first rolls the dice, identifying the number the dots indicate.
After that, he shifts his clothespin by that many numbers on the number line. Then it's my turn to roll the die and move my turkey along the number line.
This continues until one of us is the first to reach the end of the number line.
---
Thanksgiving Addition Game
This kind of activity is fun for students, and we can easily make a harder problem into an easier one. For this activity, we need the turkey.
The answer is written in the middle part of the turkey's body, and the addition equation is written in the feathers. The students will find the correct equation and stick the feather to the correct answer.
---
Thanksgiving Subtraction Math Games
Who doesn't love subtraction games? In this method, children do some fun with turkey subtraction games.
Set up a worksheet with some subtraction problems.

Ask your kids to solve the problems.
---
Thanksgiving Riddles
Riddles can make wonderful Thanksgiving math activities for your child in addition to puzzles.
If you need an example of a riddle with a Thanksgiving theme, try this: How many turkey pies do I still have after baking six for the family and only eating two of them?
Your child will be able to identify that there are still four turkey pies if they pay close attention to every word in the riddle. These puzzles improve your child's ability to concentrate.
---
Thanksgiving Hundreds Chart
Think about making charts when you need Thanksgiving math activities that students will like. The Thanksgiving Hundreds Chart is a colorful grid with numbers 1 through 100 that is shaped like an animal, such as a turkey.
Your child may learn to identify and recognize numbers with the help of this grid. 
---
Thanksgiving Squares
Students can participate in Thanksgiving math games like Thanksgiving Squares to check their knowledge about math topics.
The puzzle Thanksgiving Squares includes addition, subtraction, multiplication, and division operations.
The squares can be modified to meet your child's needs. It consists of two papers, the first of which features numbers in a box, and the second of which features an image of pumpkins with numbers next to them. The numbered pumpkin images can be cut out and placed on individual cards. On the first sheet, your child should place a pumpkin card above two numbers whose difference or sum is the same as the number on their card.
---
Thanksgiving Math Activities for Kindergarten
In order to get your kindergarten students ready for their Thanksgiving holiday, are you looking for some fun and easy math activities? Kids may practice skill sets like number recognition and counting with the help of this set of free printable pages. Your lessons from the holiday will flow beautifully with it!
---
Turkey Math Activities for Kindergarten
On Thanksgiving, everyone expresses gratitude for their loved ones, accomplishments, and all other anniversaries. Consider creating math Thanksgiving activities for your child while you shop for the turkey, vegetables, and pumpkins for the holiday.
This post will outline fun math activities for Thanksgiving that kindergarten and older children can take part in.
---
Download Free Printable PDF
These Thanksgiving math activities for preschoolers worksheets start with extremely simple issues to make it easier to overcome this barrier, just like the other long worksheets. Our interactive worksheet contains all the Thanksgiving math activities for preschoolers activities discussed in this article, along with some extra exercises for our kids to sharpen their brains. 
Download this free Thanksgiving math activities for preschoolers PDF to unlock those chances!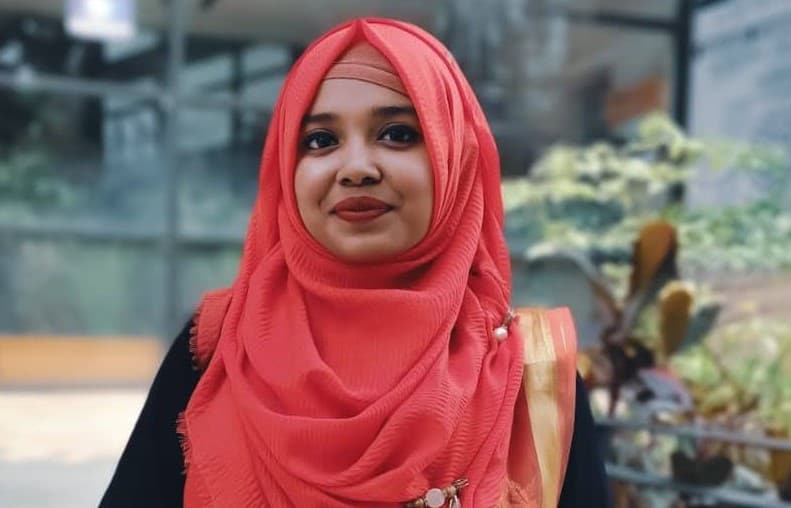 Hello!
Welcome to my profile. I have done my graduation from Ahsanullah University Of Science and Technology in Electrical and Electronic Engineering. Currently, I have started working as a Content Developer for "You've got this math" at SOFTEKO. As an Electric engineer, I always try to achieve innovative knowledge. I have an interest in research articles on different ideas. Also, I really like to solve innovative and mathematical problems. I really hope I'll do better in the future as an Engineer.