25+ Beach Learning Activities to Build Background Knowledge Before Your Beach Trip
Do your kids like to explore on the beach? Try out these 25 beach learning activities to build background knowledge before you head to the beach!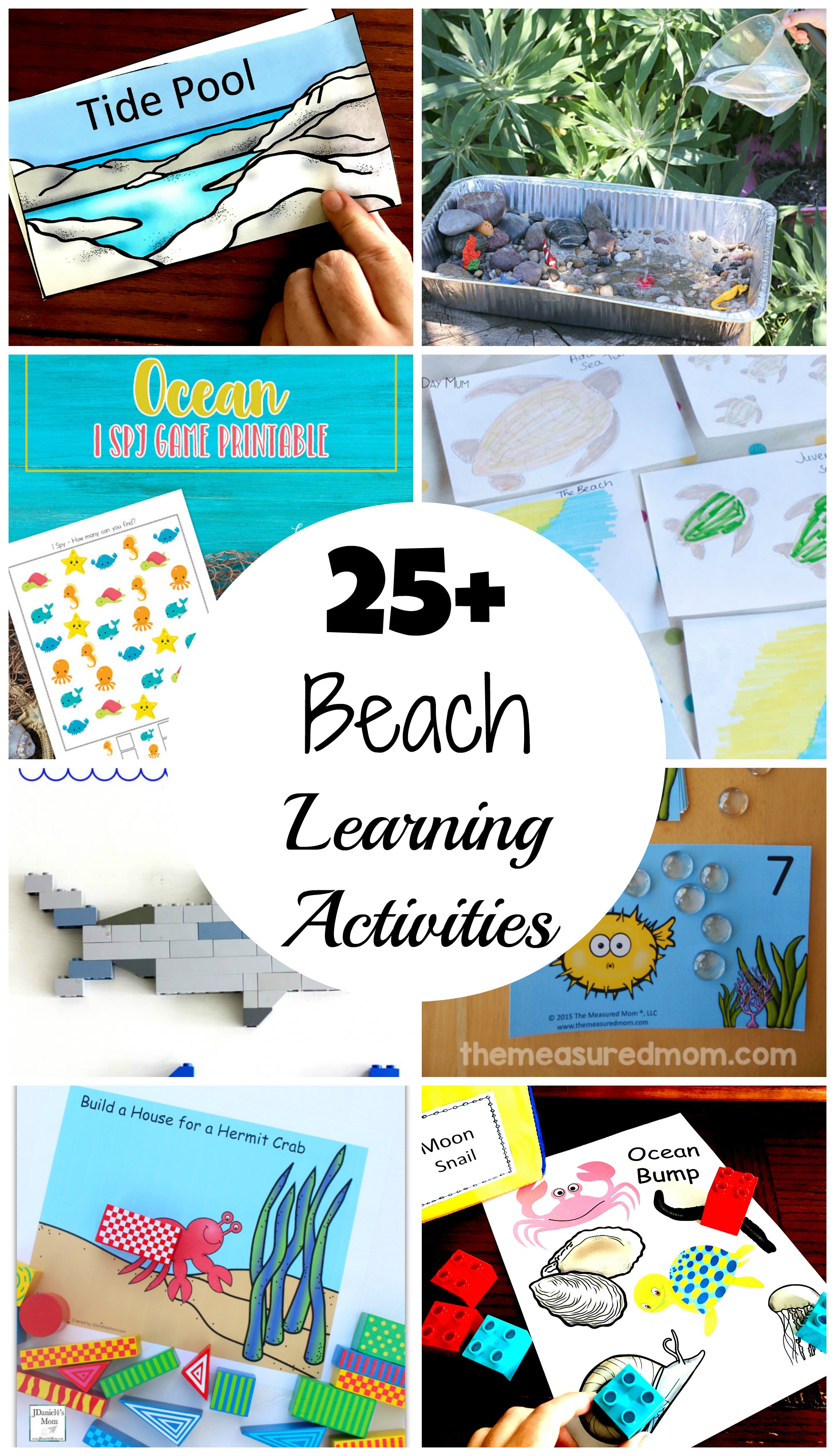 This post may contain Amazon links and links to other bloggers. There is no extra cost to you, but if you choose to purchase, I receive a small percentage. It helps with the upkeep of You've Got This Math and provides for my family.
After scraping pennies together, my beach trips as a college student consisted of soaking in the sun and enjoying the latest book. It was relaxing. it was peaceful.
Four kids later, our beach trips don't even closely resemble those trips from a different lifetime. It is filled with adventures, swimming, exploring, and more swimming. The curiosity of my kiddos never cease to amaze me, and as we look forward to our beach trip this year…..I plan on doing a little before hand learning.
You know, build up that background knowledge so that my children can make amazing connections and those adventures become learning experiences. Learning experiences that they won't even realize are happening because they will be doing what most young children do at a beach.
So without further ado, here are 25+ ocean learning activities you can with your child before you head to the beach.
Beach Learning Activities for Reading
Tide Pool Reader with 5 Sight Word or Comprehension Activities by You've Got This Math
Beach Printable Pack with Letter Work from Gift Of Curiosity
Math
11 Math Ocean Activities by Life Over C's
Ocean Themed Word Problems for Kindergarteners by You've Got This Math
Counting Clip Cards by The Measured Mom
Size of a Blue Whale by KC Adventures
Shell Skip Counting by The Wise Owl Factory
Skip Counting Game – Let's Go Fishing by Buggy and Buddy
Counting to 10 with Ocean I Spy Game by Living Life and Learning
Comparison Game with Ocean Animals by Rainy Day Mum
Learning The Names of Ocean Animals
Animal Unit Study by This Reading Mama
Ocean BUMP Game by You've Got This Math
Ocean Animal Shadow Matching by Rainy Day Mum
Sea Animals Printable Memory Matching Game for Kids by Adventures in a Box
Science
Landform Activity Pack by Playdough to Plato
Tide Pool Interactive Notebook by You've Got This Math
Seashell Experiment by Teach Beside Me
Tide Pool Science Experiment by Buggy and Buddy
Water Science for Kids: Saltwater Desalinization Experiment by Schooling A Monkey
Salt Water Density Experiment by Science Kiddo
Sea Turtles' Life Cycle by Rainy Day Mum
Shark Science Activity Exploring Buoyancy With Kids by Little Bins For Litte Hands
How do Sharks Float? by Preschool Powol Packets
Ocean Nature Table by Natural Beach Living
Ocean Currents by Homeschool Life Journal
STEM BEACH LEARNING ACTIVITIES
Hermit Crab House by JDaniel4's Mom
Ocean Sensory Play by The Measured Mom
LEGO Shark Building by Little Bins For Little Hands
Create Your Own Coral Reef by Hand Made Kids Art
Reading
CVC Word Beach Theme Google Slides by The Measured Mom
As much as I hate to admit it, even though it is summer my children want to do fun learning activities. I know they will enjoy learning about the beach as we work our way through these fun activities.
I hope your children enjoy them too.
You've Got This
Rachel