10 Beginning Sounds Worksheets | Free Kindergarten or Pre K Activities
Beginning Sounds
These free beginning sounds worksheets are a perfect way for Pre-K and K students to practice finding letters that match the beginning sound of a picture.
All of my children love Do-A-Dot markers, and I have admit I love them too. They get to "paint" and I don't have to clean up a mess. They encourage fine motor skills too.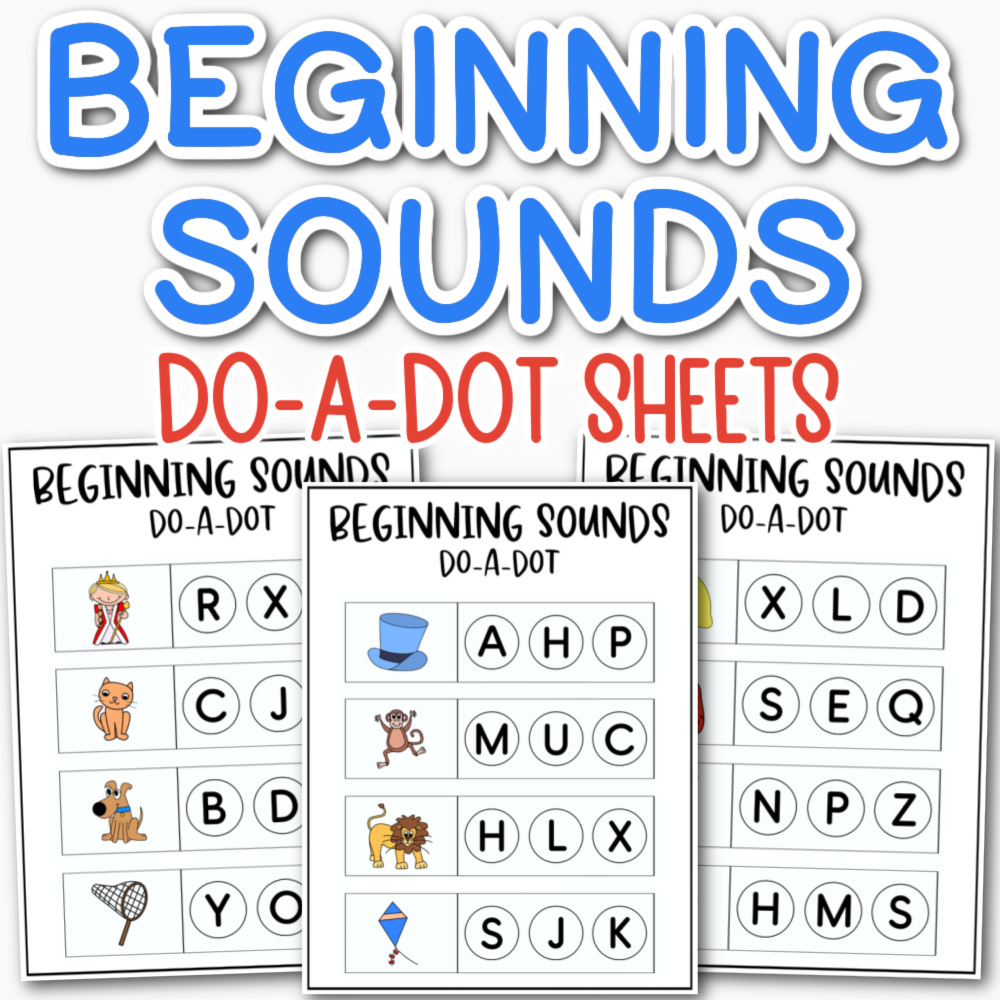 With my love for these markers, and the excitement my children get out of using them I created a beginning sounds printable for kindergarten skills. Or pre-K.
These beginner sounds worksheets provide children with opportunities to practice saying vocabulary words, work on letter recognition, beginning sounds, and fine motor skills.
And they are perfect for preschoolers and kindergarten students who need to review beginning sounds.
Beginning Sounds Activities
Prep- work is almost non-existent with these free PDF beginner sounds activities. All you need to do is….
Print the free beginning sounds printable and make as many copies as you need
Gather up Do – A – Dot markers (crayons will work too)
If you want a long term bin activity for centers, consider laminating them and using bingo chips.
How to Use Beginning Sounds Printable
There are many ways you can use these printables, and that really depends on your child and their knowledge of the alphabet.
If your preschooler or kindergartener is independent and knows their alphabet well: If you child knows the alphabet well, you can simply provide the child with the worksheet and markers. Next, explain the directions to them. Place a dot on the letter that the picture starts with. You can do the first one together to make sure they understand and then leave them to it. Don't forget to let them "show" you their work. You can even have them explain why they dotted certain letters to get them used to defending their answers. This is a great skill to nurture even when they are young.
Supporting a child who knows the alphabet but may still struggle on letter sounds: Some children need a little support to complete a printable. They may need help with saying words and hearing the sounds, or they may just need help to stay focused. For either of those examples, supporting them may be the best solution. Start by point to a picture and having the child say the name of the picture out loud. Then have the child say which letter it picture starts with, and finally, have them find the letter and dot it. If they struggle with coming up with the letter, say the name of the picture slowly while stressing the first sound.
Guiding a child who still needs support on recognizing letters and their sounds: If your child is here, this may not be the best printable to use. Doing activities like picture sorts or placing magnetic letters on pictures may be a little easier as you can limit the letters they are working on. If you really want to try this out though, make sure you provide tons of support and watch for signs of frustration. If a child gets frustrated, it may be time to take a step back and try something a little easier.
Learning Beginning Sounds
You can provide support by having the child say the name of the picture, with you repeating the word emphasizing the first letter sound.
Next, point to the first letter.
Then, ask them what the letter is with a very short pause. If they can not name the letter within a comfortable amount of time, tell them the letter and the sound and have them repeat you.
Finally, ask them if the name of the picture has the same sound of that letter. Continue until the answer is yes.
Have fun painting without the mess and working on beginning sounds!
You've Got This! And now here's your free printable.
Printable Beginner Sounds Worksheets