EAR Words | EER Words | Word Building Bump Game | Free Printable
EAR Words
It is easy to work on EAR words and EER words with this fun word-building game….and it is low prep bump game. Simply have children roll a large die, build a word, and then find that picture.
Bump games are quite popular, though, I have to admit we have never played one. Even though we are officially on summer break, I want my kiddos to continue learning.
My goal is to read and play a math and phonics game every day. So stayed tuned as I share with you the games we are playing this summer.
The BUMP game is very simple. The goal is to be the player to secure the most words on the board by placing two game pieces on a word.
Be careful though, if you get one game piece on a word and then someone else rolls that word…BUMP…your piece is knocked off.
Prep-Work for EER Word Game
Set up is pretty simple.
First, print off the word cards.
Next, place all the endings (ear and eer) in one learning cube, and the other letters in the other learning cube.
Next, print off the game board.
Finally, gather up game markers that are two different colors. We used blue and red snap cubes.
Word Building Game
I'm all about my kids getting exercise, and any time a learning cube is used in a game….. we get exercise.
To play this word bump game, I toss the two cubes across the living room floor, and my kiddos sprint over to get them and bring them back.
Then it is time for the learning. We sound out the letters used in the first block, and then add the sound that eer and ear make.
Then they have to decide if that really makes a word that ends with eer or ear.
If the cubes don't make a word then it is the next child's turn, and I throw the dice again. If they do, they get to cover up the picture that matches the word.
In this example, we rolled the word steer. So, they that child got to cover up the picture of the steering wheel.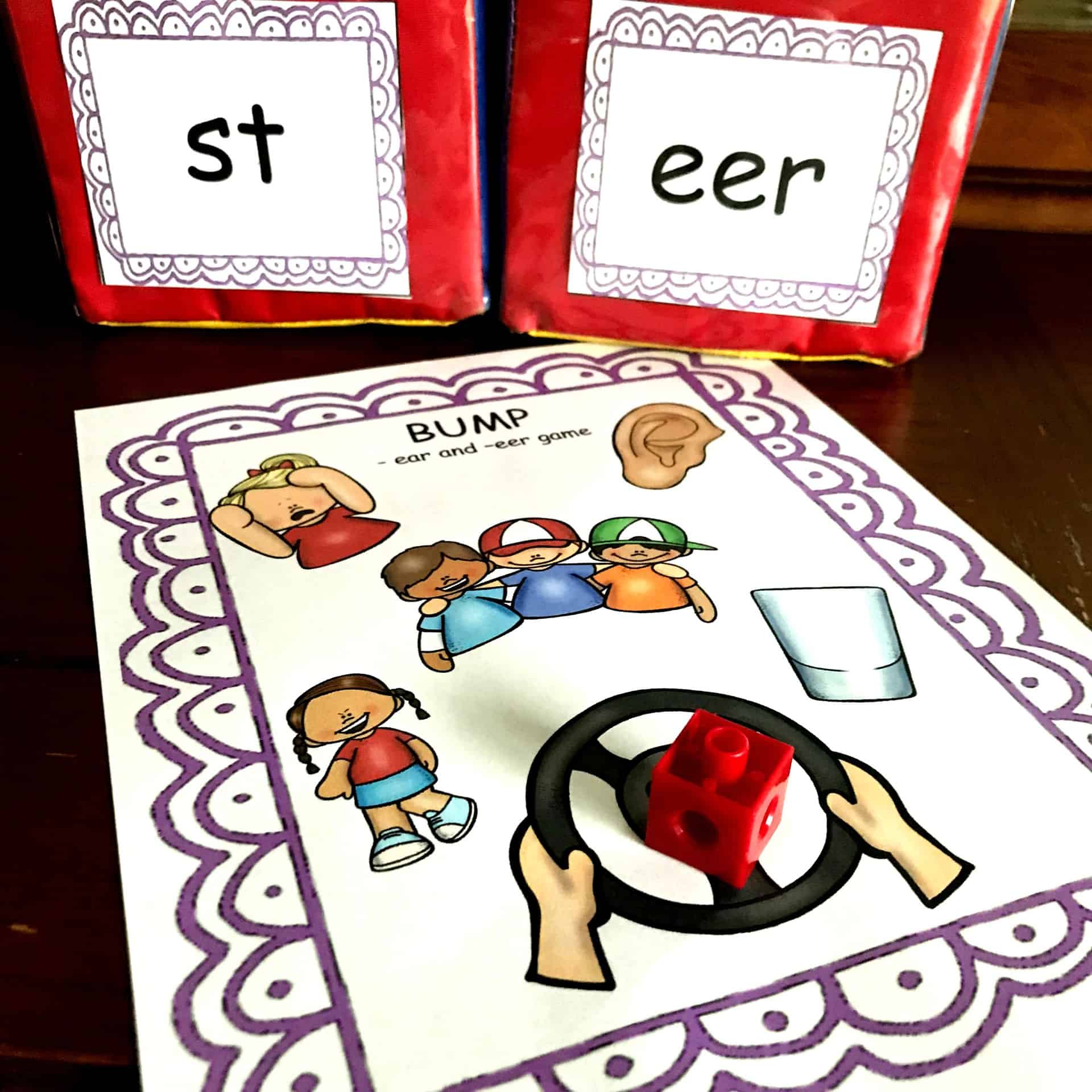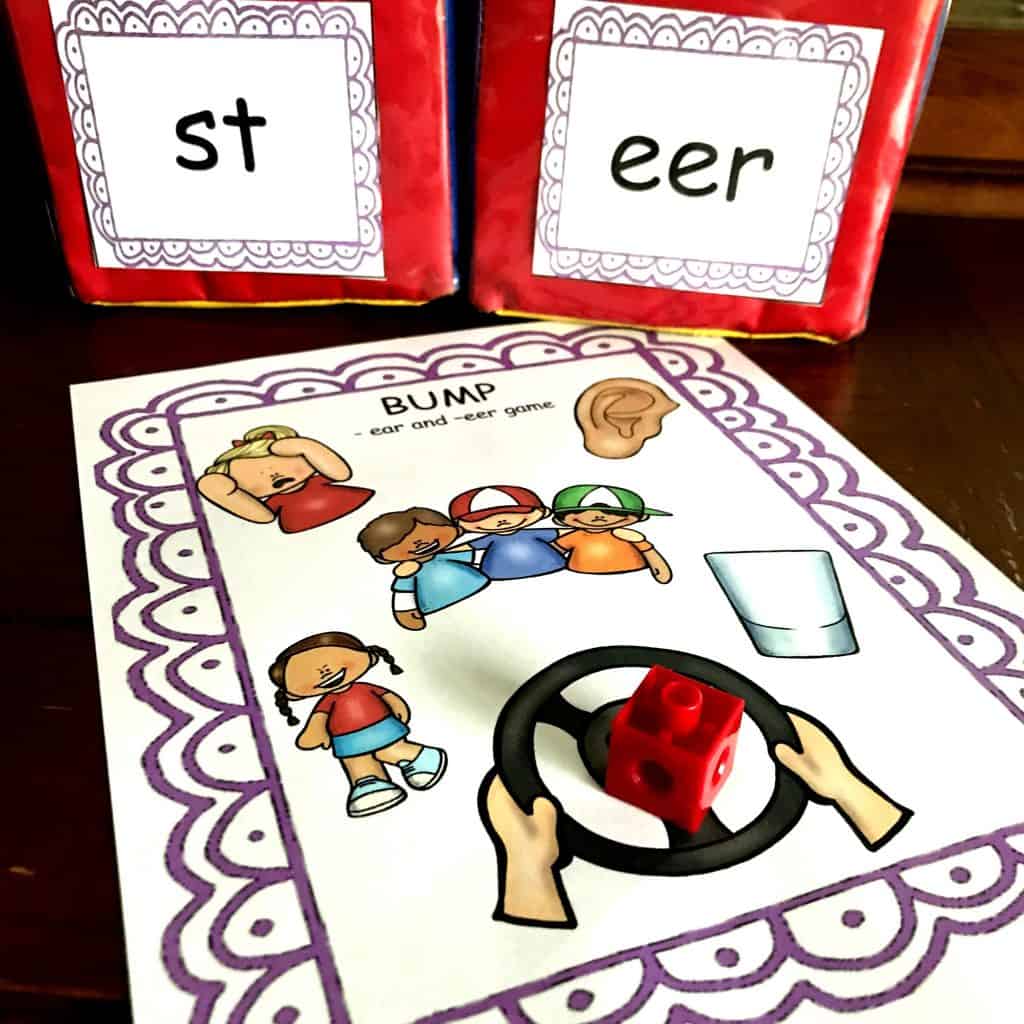 On the next roll, we rolled a cl and an ear. When we built the word we figured out that it was clear. And we got to cover up the glass with clear water in it.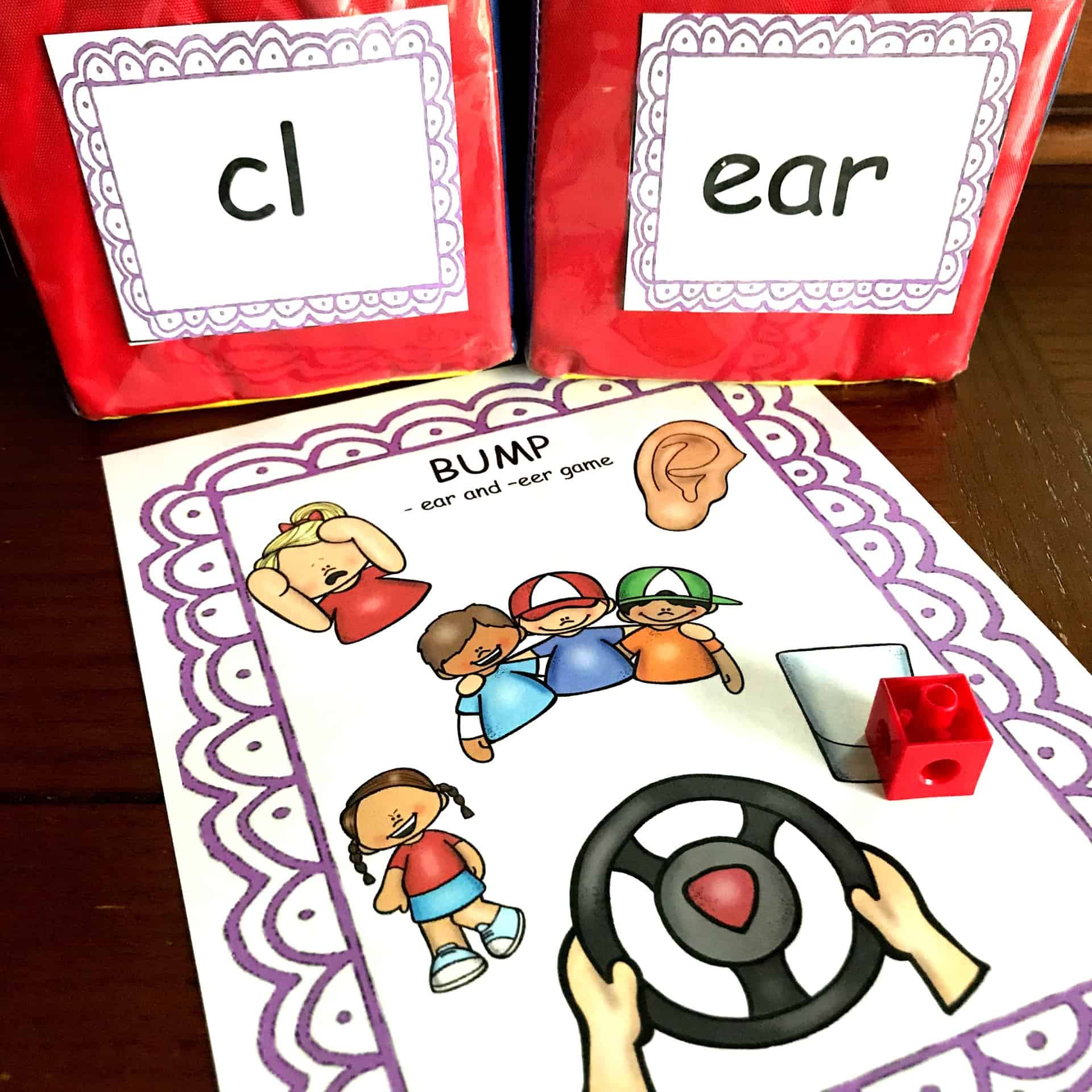 Phonics Games for Kindergarten
We thoroughly enjoyed working on eer words and ear words with this game. It was a great way to practice spelling and reading them.
Enjoy practicing word families with your students or children.
Word Bump Game Printable
Below is the free printable for the word bump game printable. You can download it by clicking on the download button.