Short E Words | 3 Fun Activities to Practice -ed, -est, -et, and -en Word Families | Free Printable
Short E Words
Looking for some short e words activities? Here are 3 activities to practice -ed, -est, -et, and -en word families. Includes clip cards, word sort, and a board game.
There is something incredible about watching a young child look at a word and be able to read it. Some little ones just pick it up and figure it out almost on their own.
Others need lots of exposure, practice, and fun activities to grasp the concept of reading words. Either way, it is always fun to pull out a few games, clip cards, and other activities to make learning short E sounds fun!
Short E Sound
We've been slowly working our way through Systematic Word Study and this week we are working on short e vowel sounds, and I wanted to provide numerous opportunities for both my boys to master the four-word families we would be working on.
My preschooler is just getting accustomed to taking the beginning sounds of a word and the word family to make a CVC word.
*This post contains affiliate links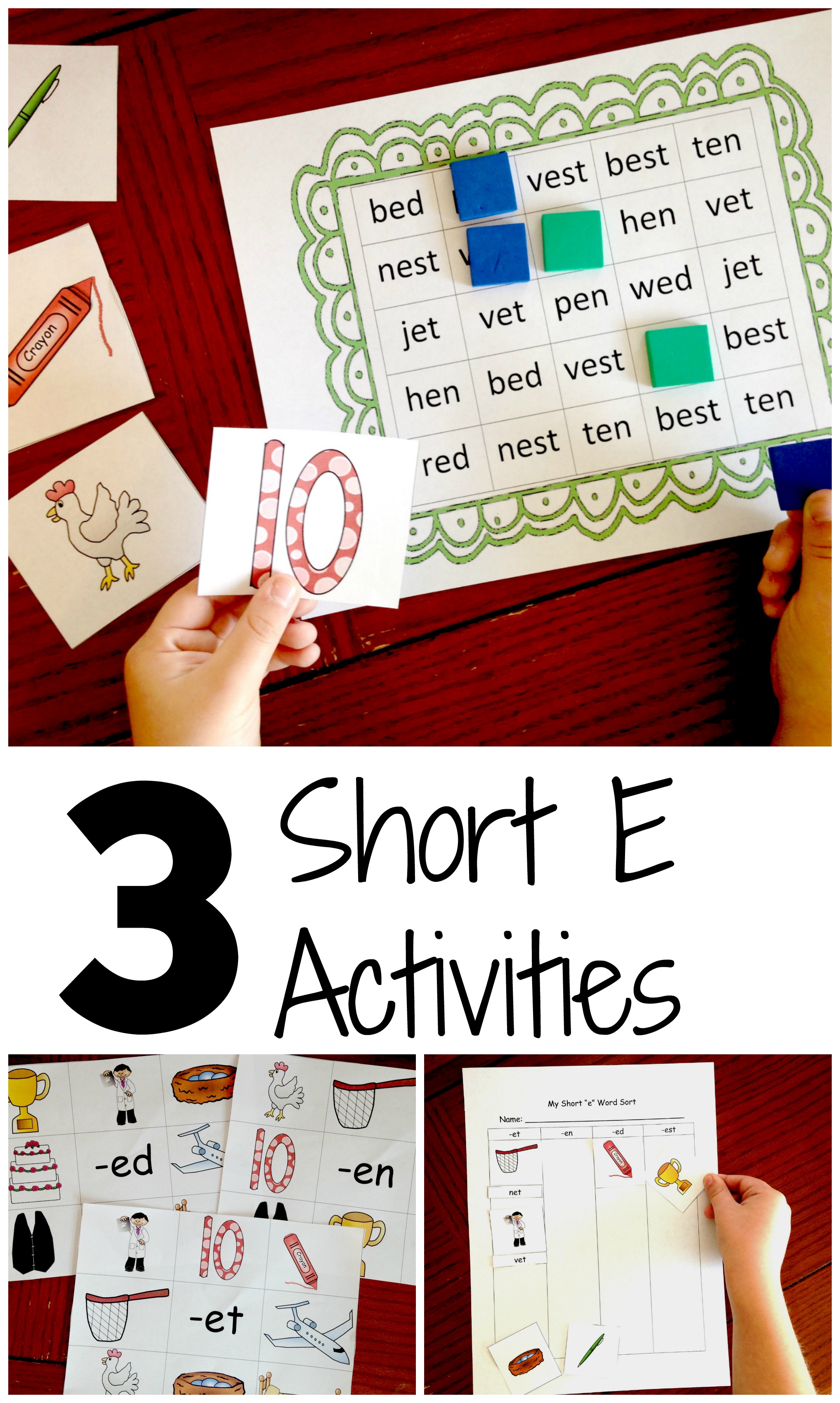 Even though the Systematic Word Study book is for my kindergartener, I wanted him to be able to participate with us. I decided to just focus on the -ed word family with him.
Short E Word Families
We started with one of his favorite shows, Word World. It is an adorable show where everything is made up of letters, and when they need something they gather the letters up and build a word.
I love it for learning letters as well as sight words and sometimes word families. Bear's Bed Sled focuses on the -ed word family and was a great way to start our week of working on this family.
Story Time
After watching the show and having "the letters e d are great you see" stuck in my head for the rest of the day, we read a book my boys love.
"I Need My Monster" is about a little boy who is desperate for his monster to come back and hide under his bed.
We used letters to spell out the word bed and then sat back and enjoyed this delightful story.
Short E CVC Words
Next, we pulled out our Word Whammer, and I gave him a list of words he would see in the game we would be playing. This little machine is awesome.
He puts in letters for CVC words, the machine sounds out each letter and then says the word. It is just another tool that is helping him as we work on our CVC words.
Short E Activities: Word Sort Time
After he finished playing with the word whammer, we did the word sort. My kindergartner was quickly able to sort the words and add the words underneath the picture.
Once we figured out the first word for each column, C had no problem filling out the rest. He did it more by rhyming, but it was great practice for him and let him play with the words.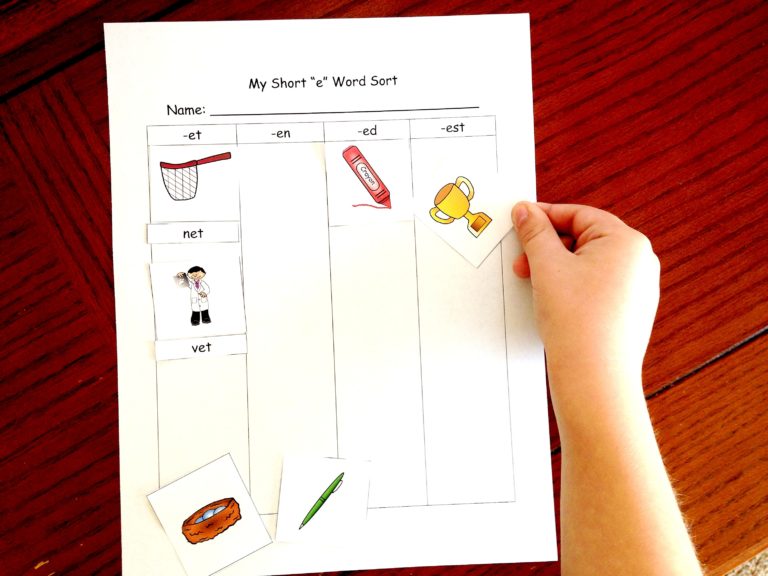 Short E Clip Cards
Clip cards are a great fine motor activity. They allow children to practice skills without using a worksheet. Both the boys love it when I pull any type of clip cards out.
These clip cards are a little different but provide the same fine motor practice and short e sound word practice.
There are four large clip cards. Each clip card comes with a short e word family in the middle. The letters are then surrounded by eight pictures.
Students simply put clips on the pictures that match the word family on the card.
My five-year-old was able to do this easily, so I added a challenge. After placing a clip on a word he had to spell out the word with our foam letters.
Surprisingly, my four-year-old kept up and once again using his rhyming knowledge was able to correctly identify the pictures that match the word family.
Short E Games
Prep Work
Short E Five In a Row is a very simple game to set up. All you need to do is print off the game board and pictures on card stock paper. Cut out the pictures, and then grab some pattern blocks. You are ready to play.
How To Play
Place all the pictures out on the table, and have the players choose which shape they want to play with.
Player 1 chooses a place on the board that he wants to cover up. They read the word, find the picture that matches, and then place that picture in a pile next to them. Player 2 then takes their turn. (If there is not a picture on the table that matches the word they want to cover up, they must choose another word.)
When there are no more pictures on the table, the players spread the pictures out again and the game continues.
The player that gets five in a row first wins.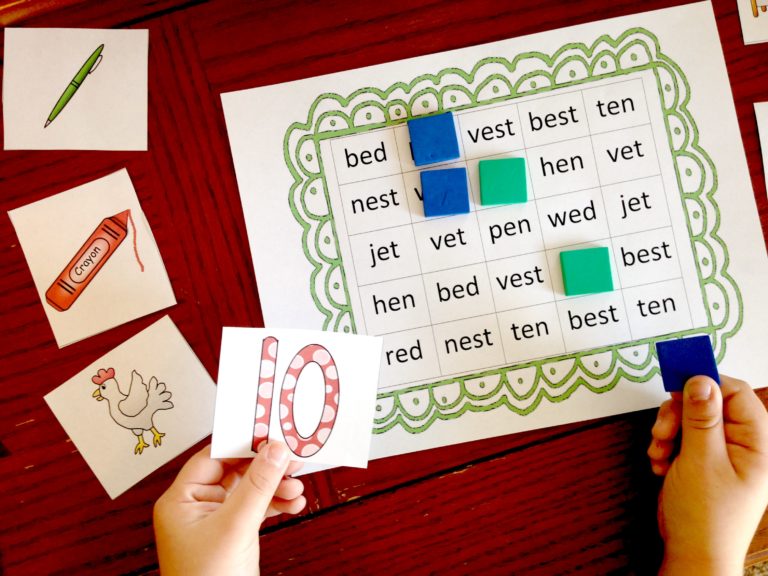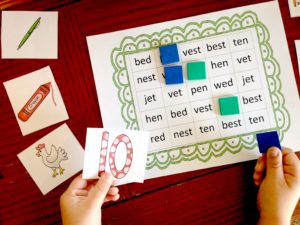 Short E Word Work: How it went for us!
I have to admit the first game did not go so well. My four-year-old forgot to block and within five tries the kindergartner had five in a row. The next day was a little different.
The game took much longer this time. Over and over blocks happened, and the boys had to strategize a little more and get a lot more exposure to the words.
It was fun watching them figure out who would have the first turn once all the pictures were back on the table. Most of the time they were waiting on a specific word to win.
I loved seeing them having fun and working on their reading skills at the same time.
Whether your kiddos need the extra practice, or if you just want to add some fun to your word study time, I hope you enjoy these short e word activities.
More Word Practice
Short E Printable Games
Get all three activities at my TpT Store. Below are the Short E Clip Cards. To download, click on the download button, and the PDF should appear in your download folder on your device.