FREE, No-Prep Expanded Form Game With a Valentine's Day Theme
This expanded form game with a Valentine's Day Theme is a great way to build number sense. And it doesn't require any prep!
Building number sense should be a huge part of our curriculum. Constantly playing with numbers, being on a hundred chart, breaking numbers apart, and comparing numbers should be done throughout the year. One way I love to throw in these types of reviews is with a game. And that is what this expanded form game is for.
Prep-Work:
It is very easy to get this game ready to play.
First, print off the game boards (one per player)
Next, laminate them or place in sheet protectors.
Finally, grab dry erase markers and paper clips.
Rubex Dry Erase Pockets, Dry Erase Sleeves, Plastic Sleeves, Reusable Sheet Protectors, Job Ticket Holders, Assorted Colors Sheets, Job – Classroom – School Supplies, Oversized 10 x 13 Inches 6 Count
Linkbro Magnetic Dry Erase Markers – Fine Tip, Assorted Colors, 8 Pack, Low Odor Whiteboard markers for kids, Work On White board & Calendar, Refrigerator
Mr. Pen- Colored Paper Clips, 450 Pack, Paper Clips Assorted Sizes, Paper Clips, Clip, Paperclips, Paper Clip, Paper Clips Assorted Colors, Large Paper Clips, Clips for Paperwork, Small Paper Clips
How to Play Expanded Form Game:
This game works on three skills: building the largest number, comparing number, and expanded form.
To begin, both players spin their paper clips.
Next, they decide which digit they want to use for their hundreds place, then the tens place, and finally the ones place. (If you are using the first board, obviously they would only be placing digits in the tens and ones.)
Now it is expanded form time. If they choose 8 for the hundreds place they would write 800. The five for the tens place would become 50, and the 4 for the ones place would be 4.
The fourth step is to add up the numbers to get 854.
The last step is to compare their number to the number thier partner got. The person with the highest number gets to add a tally mark inside the purple heart.
The first person to get to 10 tally marks wins.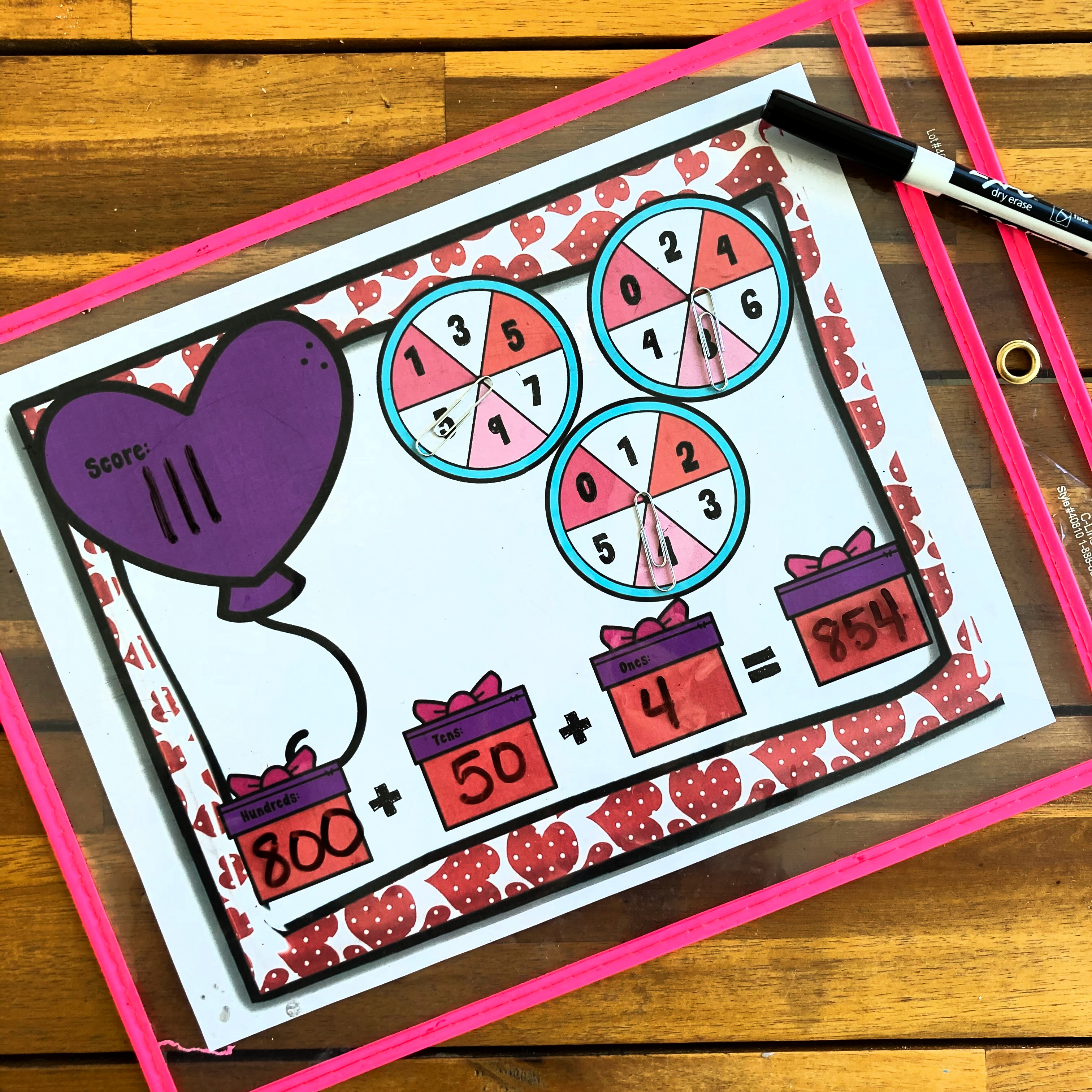 It is such a simple expanded form game. But there is so much learning and number sense happening.
I hope you enjoy it as much as we have. 
Need More Number Sense Activities. Check out these.