Free Father's Day Printables | Kid Coupons | Coloring Pages | Cards
Free Father's Day Printables
Hey, who needs a Father's Day gift idea? Tell me I'm not the only one!
Let's be real…as far as kids' DIY stuff being hokey and cliché, we LOVE it, right? I keep stuff like this and I just LOVE to find it years later. I also thoroughly enjoy finding the things that I made as a kid that my grandmother saved.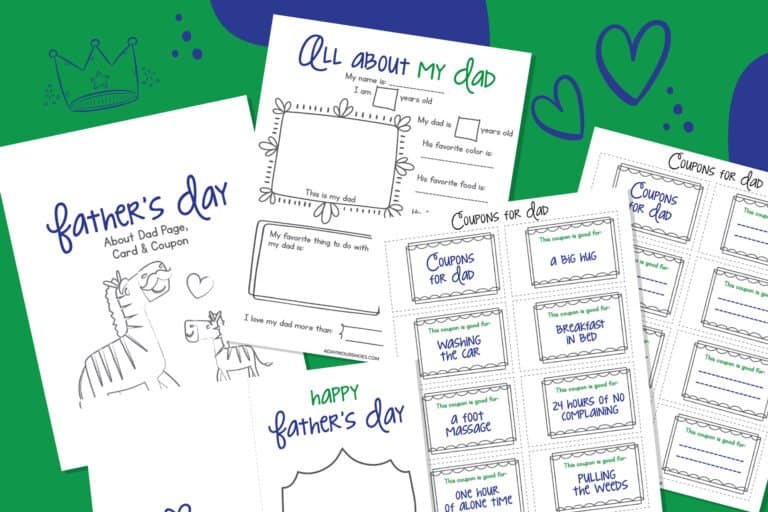 So here you go, and it's free!
All you need is access to a printer, or send it to Staples or somewhere and get it printed for around $1. My library only charges $0.25 a page, for color.
Your kids will have fun doing this and their Dad will enjoy receiving his Father's day coupons.
I mean, who needs another tie? Do men even wear ties anymore? I don't know what the standard Father's Day gift is in this century. We just always took my Dad out to eat or let him go fishing.
Here it is– Free, DIY, Last Minute Father's Day Gift Idea.
Scroll down to get the PDF.
Father's Day Printables
Included in this free PDF for Father's Day is:
Father's Day Free Coloring Pages
Father's Day Card to color
Father's Day Coupons to Print and fill out as a gift idea
Have fun with these! And don't miss all the other great stuff in the free printable library.
Free Father's Day PDF
Yes, these were originally on my other website, which is why they have a different site name on them.
If you need help downloading and printing these Father's Day Coupons or Father's Day Coloring Pages, scroll down for a graphic with instructions.
Lisa Lightner is an award-winning and nationally-known Special Education Advocate and Lobbyist who lives in suburban Philadelphia. She has or is serving on the Boards of numerous disability and education related organizations including the Epilepsy Foundation and PA Education Voters. She also has testified before State House and Senate committees relating to special education issues and education funding issues.