Lower Case Letters and Alphabet | Free Printable Worksheets | PDF
Lower Case Letters Printable
It's a question I hear at least once a day.
Is it my birthday yet?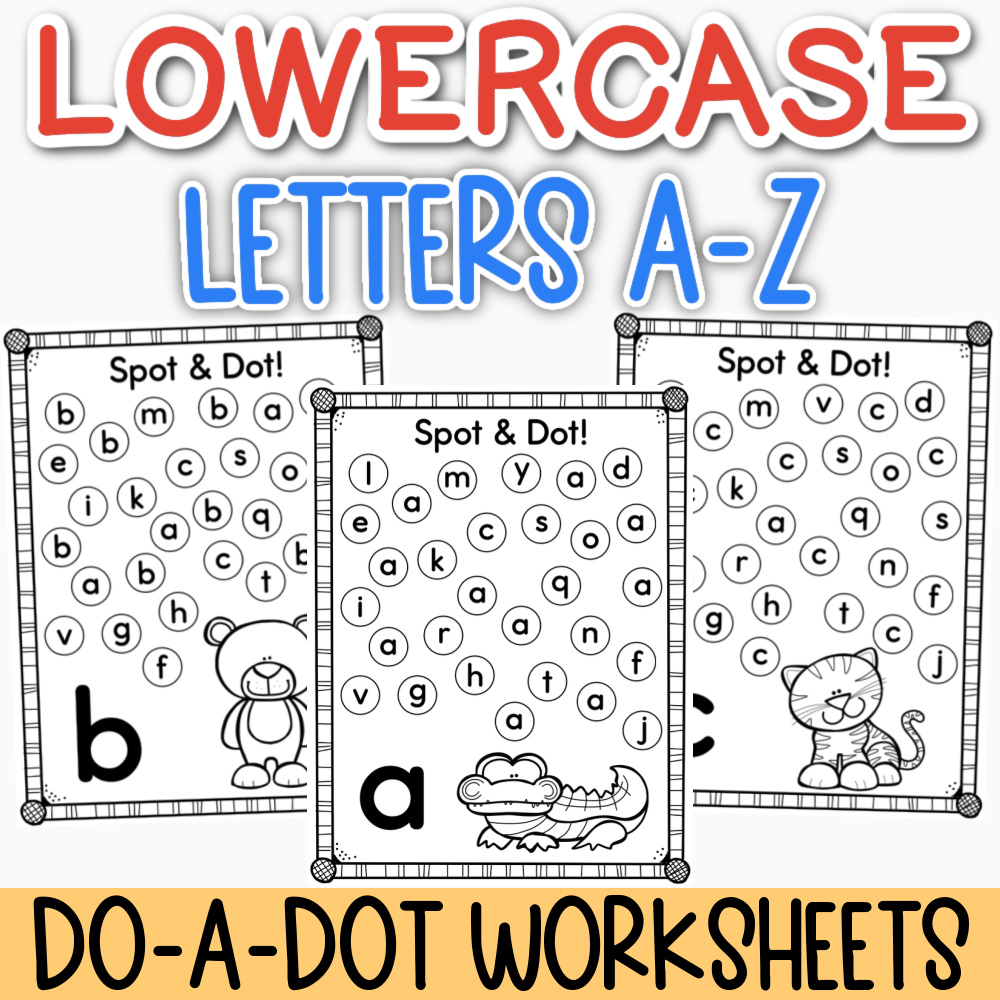 My twins will be four in less than a month, and they get it this time. They have thoroughly enjoyed celebrating their 6 and 7-year-olds brothers birthday, but they can't wait for the focus to be on them.
They have already decided what cakes they want. My little girl wants a pink Peppa Pig cake, and her brother has decided on a PJ Mask blue cake. And their grandmother, our family cake maker, has agreed to make two cakes this year so both feel special.
As their birthday quickly approaches, it has been a reminder to step back and see what they need to accomplish academically this year.
Learning Lowercase Letters
This year I have a few very simple goals, for my almost four-year-olds. Our first goal is to have a better understanding of time. I have set up a calendar in our school room, and we will be focusing on days, months, dates, and words like yesterday, today, tomorrow, week and month.
During our math time, we will be focusing on number recognition and one-to-one correspondence up to 10.
I want them to be able to recognize and spell their names.
Developing fine motor skills such as cutting and holding pencils are high on my list.
And of course, I plan on conquering the alphabet.
Lower Case LetterPrintables
My little girl struggles with many learning concepts, and the alphabet has been quite a challenge for her. I am constantly looking for hands on, and fun activities that she enjoy doing and helps her practice letters.
She loves Do-A-Dot markers, and so any learning that involves these markers are a hit with her.
These free lower case alphabet printables are a fun and easy way to work on letter recognition and phonemic awareness.
Lower Case Letter Do – A- Dot Printables
First, print off the page with the letters you want to practice.
Next, grab Do-A-Dot Markers and crayons.
Finally, sit down with your 3 – 6-year-old and have some fun.
Using these Free Lowercase Alphabet Printables
The lower case letter do-a dot printables are very easy to use, and there is a ton of learning involved. These lower case printables allow them to practice saying vocabulary words, work on letter recognition, beginning sounds, and fine motor skills! I love to use them for preschoolers and kindergarten students who need to review beginning sounds.
All the children need to do is…..
Say the name of the picture in the first box.
Figure out what letter the name of the picture starts with
Find the lower case letter
Dot it with the Do – A – Dot markers
To further practice fine motor skills, the students can color in the pictures
Free Printable Worksheets Lowercase Alphabet
If you need assistance downloading and printing these free worksheets for the lowercase alphabet letters, there is an image and instructions at the bottom of this post.
Have fun!