Find the Missing Vowel Activity | Worksheets | Clip Cards
Missing Vowel Worksheets
Every word needs a vowel! Can you find the missing vowel?
It is a concept that all our little ones need to learn. And with that important knowledge needs to come the sounds each vowel makes.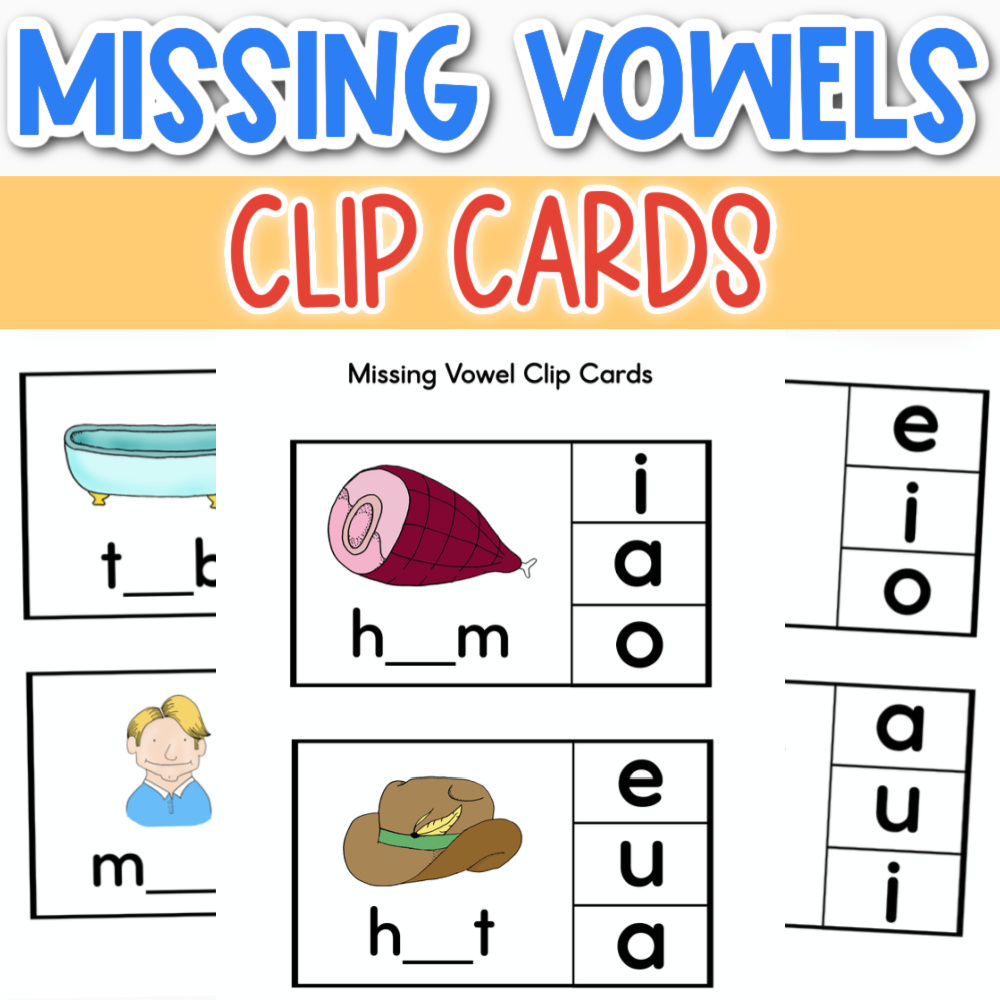 Today we are focusing on both of these concepts. These missing vowel clip cards help children see that every word must have a vowel and then work on figuring out the vowel based on the sound. 
Sometimes I like to add in nonsense words. For example, take their name, and have them write it if they can. Then, show them what it's like if you remove the vowels.
Missing Vowel Activity
Clip cards always require a little work, but that can be used over and over.
First, print off the missing vowel clip cards on card stock paper. (You could print off every third page to just get two of each vowel.)
Next, cut them out. If you want your children to write on them, laminate them.
Finally, gather up clothes pins and magnetic letters or dry erase markers. 
Missing Vowel Clip Cards
Here are a few ideas on using this missing vowel worksheet with your students or children. 
Vowel Sounds 
If you have not done a missing vowel activity like this before, begin by reviewing the vowels.
We like to sing Old MacDonald had a vowel, A – E – I – O – U.
Next, go through each vowel and have your child practice saying the sounds.
After that warm-up, you are ready to start the activity.
What is the missing vowel?
At the beginning, I would suggest doing this activity with adult support.
Start by saying the picture. 
If your child is able, have them say the word broken up where each sound is emphasized.
b – a – t
Next, ask what sound do they hear in the middle. If needed, you can say emphasize the b and then pause to see if they will fill in what you did earlier. If that doesn't work, then just have them repeat each sound with you. When they make the "a" sound, ask them to point to the vowel that makes that sound. 
When they have chosen the sound, have them place the vowel on the blank space and point to each letter as they say each sound. 
Finally, let them use the clothespins to mark the correct letter. It never hurts to get in some extra fine motor practice. 
Work through rest of the clip cards, and then slowly pull back so they can become independent.
At the end, they will be more comfortable with each vowel sound and the fact that every word has a vowel.
You've Got This!