FREE Delicious Comparing Fractions on a Number Line Activity
Your children will love comparing fractions on a number line while using conversation hearts. It is a fun, hands-on way to work on ordering fractions!
It's February, and that means hearts and candies are everywhere. Let's embrace the fun of the season with this comparing fractions on a number line activity that uses conversational hearts as the manipulative.
Prep-Work:
There are two different ways you can prep this.
Easy way (how I would do it):
Simply print the pages and place them in sheet protectors.
A little harder (but prettier):
First, print off the pages and cut out the task cards.
Next, laminate the task cards.
Then provide dry erase markers and conversational hearts, and you are ready to go.
Dry Erase Pockets Rusable Dry Erase Sleeves 30 Pack Eraseble Pocket Sleeve Protect Clear Pocket with Hole Hanger and Colorful Edge(5colors)

Brach's Conversation Hearts, 8oz Bag

EXPO Low-Odor Dry Erase Markers, Chisel Tip, Assorted Colors, 36-Count

Comparing Fractions On a Number Line:
There are many different ways to compare fractions, but today we are going to look at two different strategies.
Greater or less than 1/2?
One of the easiest ways to compare fractions is to determine if the fraction is larger or smaller than 1/2.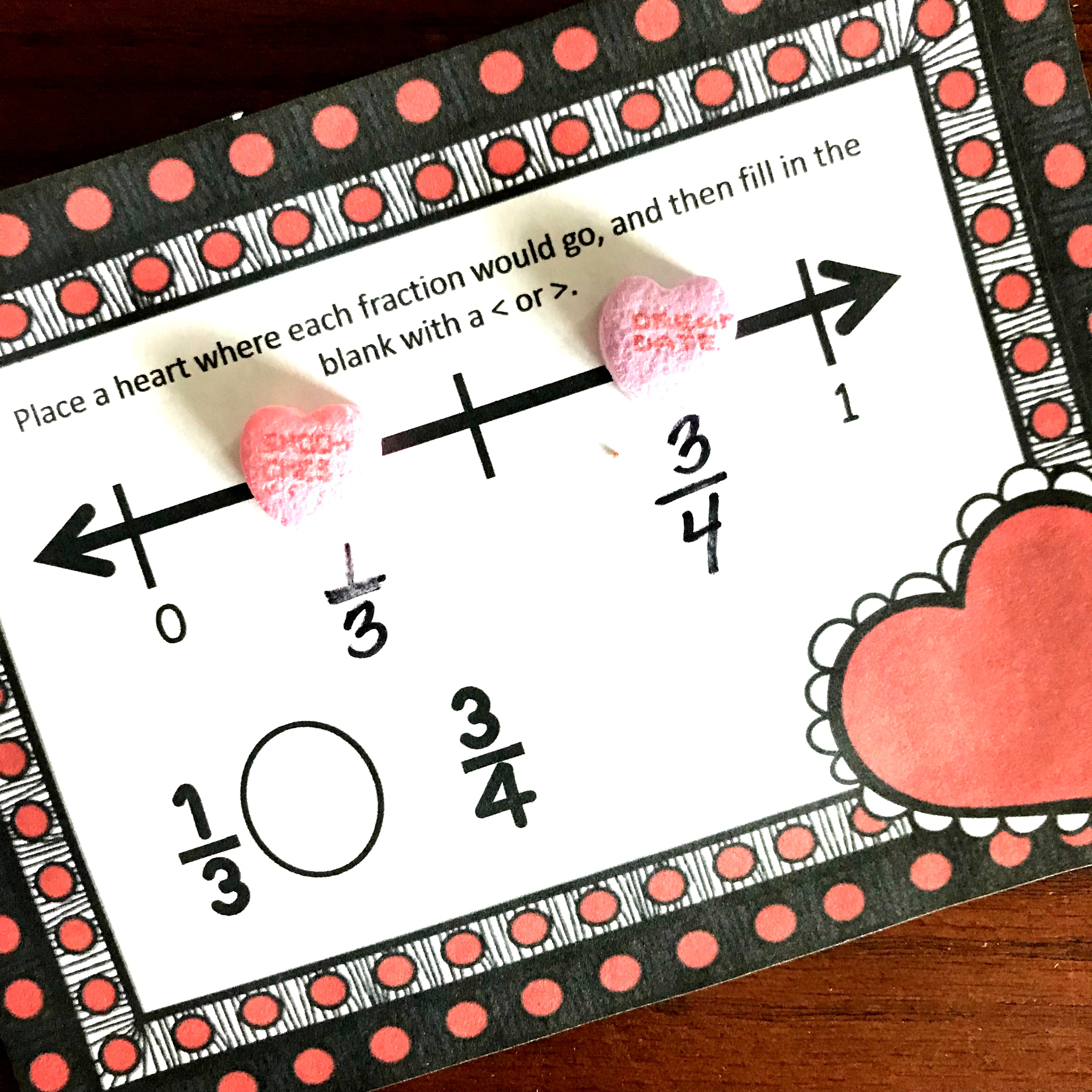 In this example, we have 3/4 and 1/3.
We know that half of 4 (the denominator) is 2. So if we have 3/4 then we have more than 1/2.
Next, we look at 1/3. Now we may not know what half of three is, but we can divide our number line into three equal groups. Now it is easy to see that 1/3 is less than 1/2. Therefore 1/3 < 3/4.
The first set of task cards focus on this skill right here. They can all be solved by finding which fraction is greater than 1/2 and less than 1/2.
Finding the Common Denominator?
The next set has the children finding common denominators.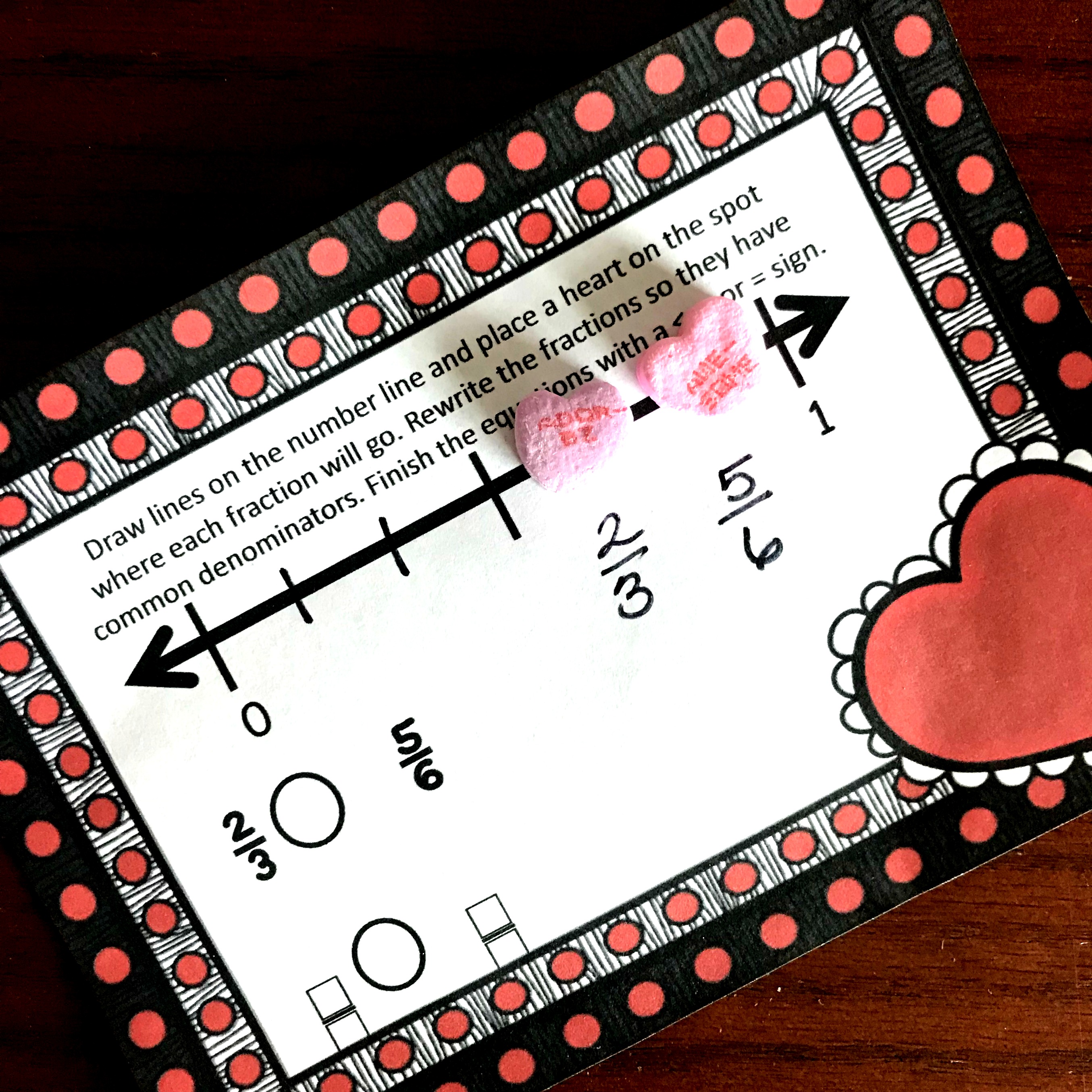 For example, they may get the card that asks to find out if 2/3 is greater than or less than 5/6.
To begin I skip count or list the multiples of 3 till I find one that six will go into too. In this case, that is very easy.
Three, six….oh six goes into six! Yea, I don't have to change my 5/6 fractions.
Now, all I have to do is find the equivalent fraction of 2/3 which is 4/6. And when I place both of those fractions on the number line, it is easy to see that 2/3 is less than 5/6.
You may also like:
Comparing fractions on a number line using clothespins: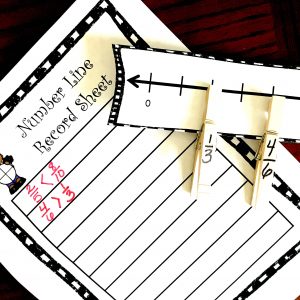 Or get comparing fractions activities in this bundle.
My Half Day (Arbordale Collection)

Comparing Fractions (My Path to Math)

Carson Dellosa Mark Twain Comparing Fractions and Decimals Bulletin Board Set (410079)