Three FREE, No-Prep Consonant Cluster Games (Trigraphs)
These simple BUMP Consonant Cluster games get children reading trigraphs and finding the picture that corresponds to that word. They are FREE and require no-prep!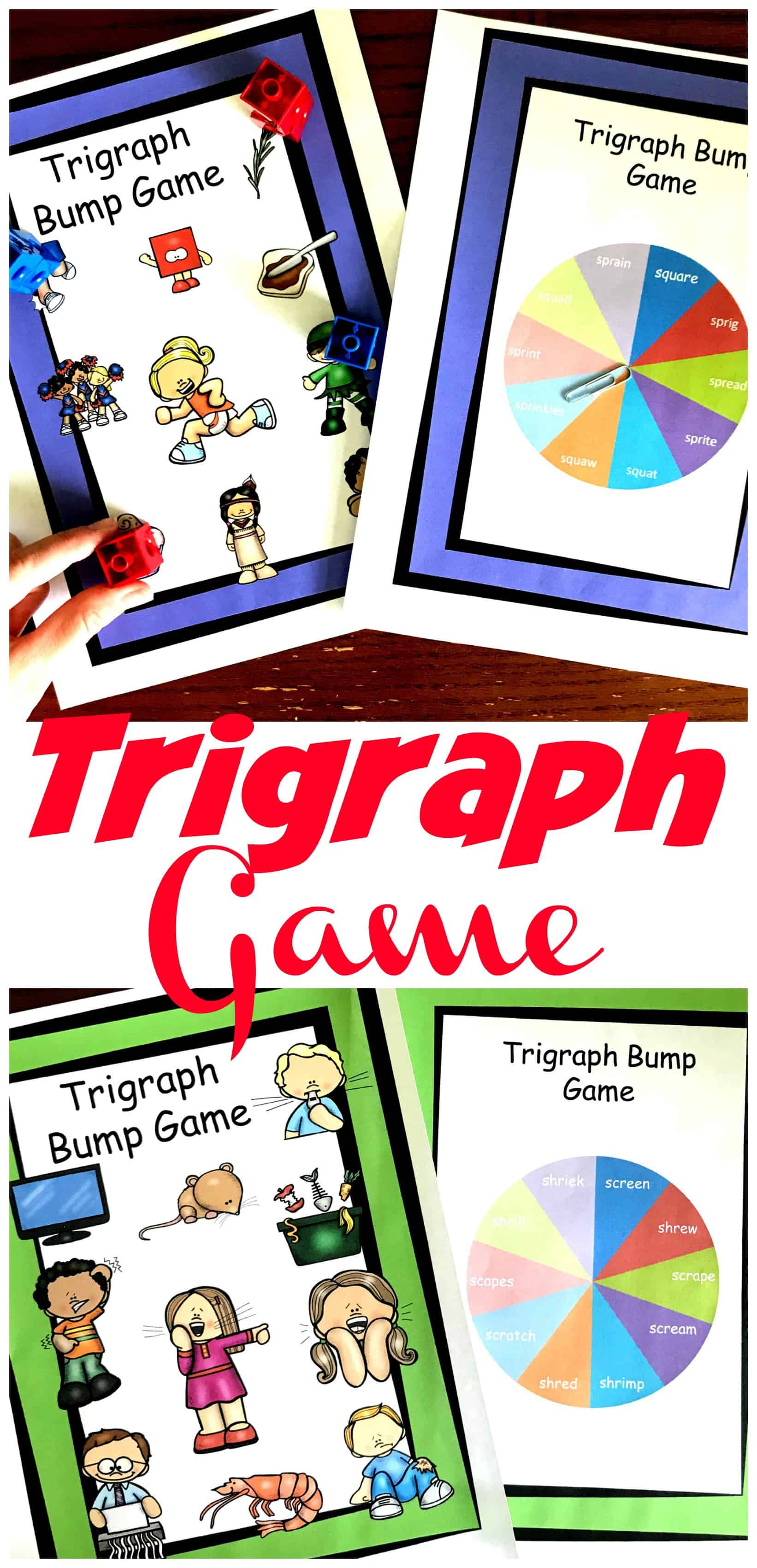 You can get the FREE printable by clicking on the blue button at the VERY END of the post.
Reading can be hard work for some of our kiddos. They don't find picking up a book enjoyable at all! So sometimes giving them a break from reading words on a page is a good thing, and games are a great way to do this.
Today, I'm sharing with you a consonant cluster game that lets children practice reading trigraphs in a fun way.
If your child needs more practice with trigraphs, check out these 15 other ways to work on them.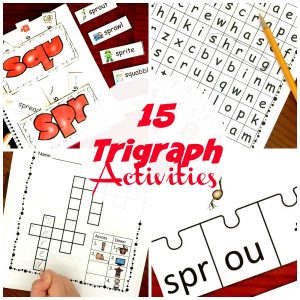 What is covered?
The first game (the green board) works on trigraphs scr and shr. It includes words like shrill, scrapes, shrimp, screen, and scratch.
The second game (the blue board) moves on to consonant clusters squ and spr. You will find words like sprain, square, and squat in this game.
Last but not least, we hit trigraphs str and thr. The yellow game board has words like strike, through, and strawberry.
Prep-Work
So this game requires almost no prep-work. My favorite type of game.
First, print off the spinner and game board on card stock paper.
Then gather up a pencil, paper clip, and two different colored cubes. We use snap cubes!
Learning Resources Mathlink Cubes, Educational Counting Toy, Set of 100 Cubes

Neenah Bright White Cardstock, 8.5"x11", 65lb/176 gsm, Bright White, 75 Sheets (90905)

How to Play Consonant Cluster Game: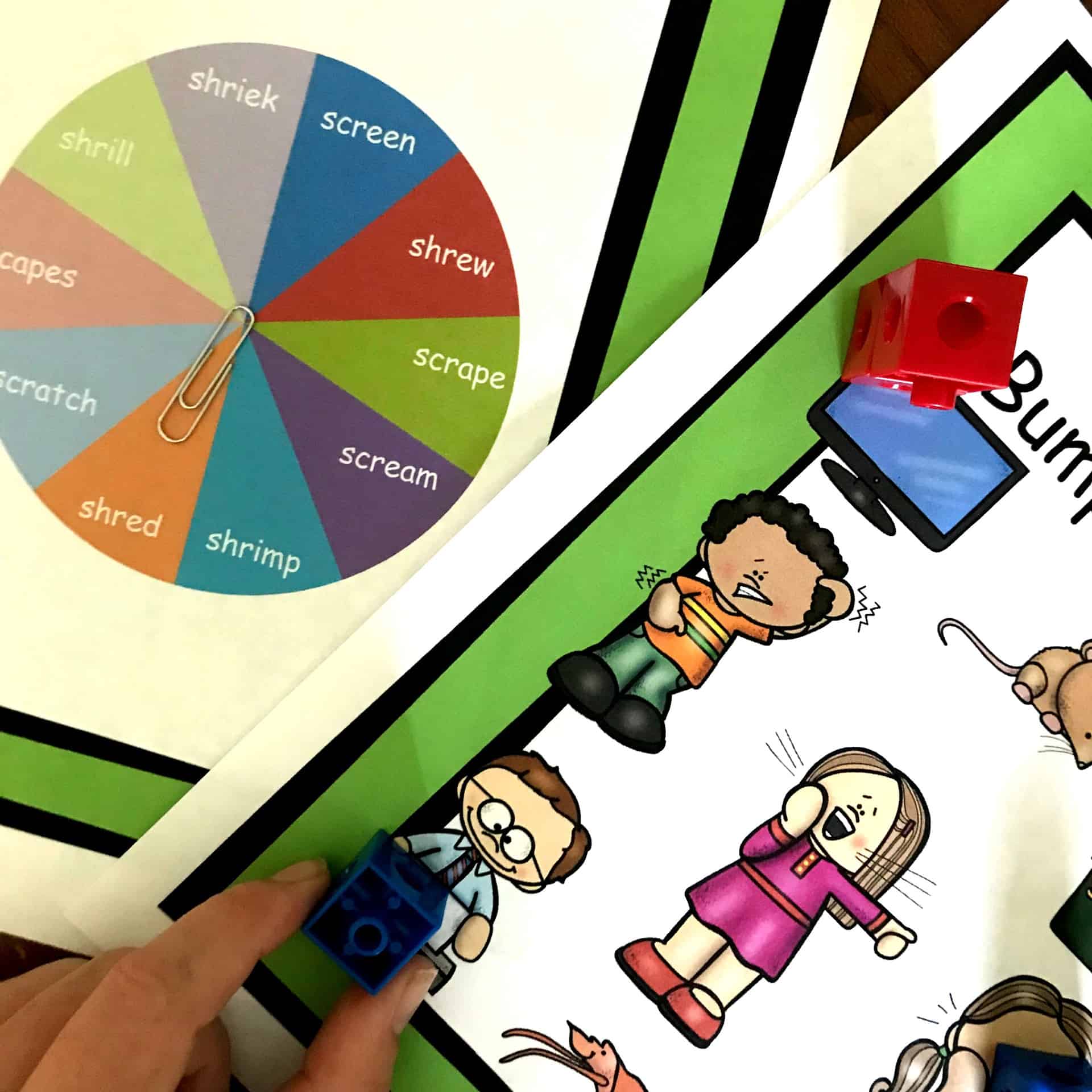 If you have ever played BUMP games, this is just like those.
First, player one uses the pencil and paper clip to spin. (If they have trouble with this, you can do it for them.)
Then, player one reads the word the paper clip lands on.
Now, they find the word on the game board and do one of the following.

Place a cube on that picture.
Knock off the cube of their opponent.
Place their second cube on the picture to secure it.
Nothing….it already has two cubes on it.

Player two then takes their turn.
The game ends when all pictures are secure. The person that has secured the most pictures wins the game.
I hope your kiddos enjoy reading trigraphs with this consonant cluster game.
You've Got This
Rachel
You May Also Like:
This eer and ear phonics game.
Or get all my trigraph activities in one place.
Consonant Blend, Digraph & Cluster Blox with Cards

I Eat Consonant Clusters for Breakfast T-Shirt

Say and Do Phonology Games – Super Duper Educational Learning Toy for Kids