Number 1-10 Tracing and Review Worksheets | Free
Number Recognition Worksheets
I know I've mentioned before that one of my boys is disabled. I remember during one of his Preschool IEP Meetings, that his team mentioned number recognition and quantity recognition. Sure, many kids can recite numbers 1-10 or even higher, but being able to visualize what "two of something is" or what "four of something is" is another skill.
That same day, my younger child had a baby blanket in each hand. "Look Mommy! Two blankies!" he exclaimed. Ouch, it hurt. My toddler was exhibiting a skill that I had just been told his older brother lacked.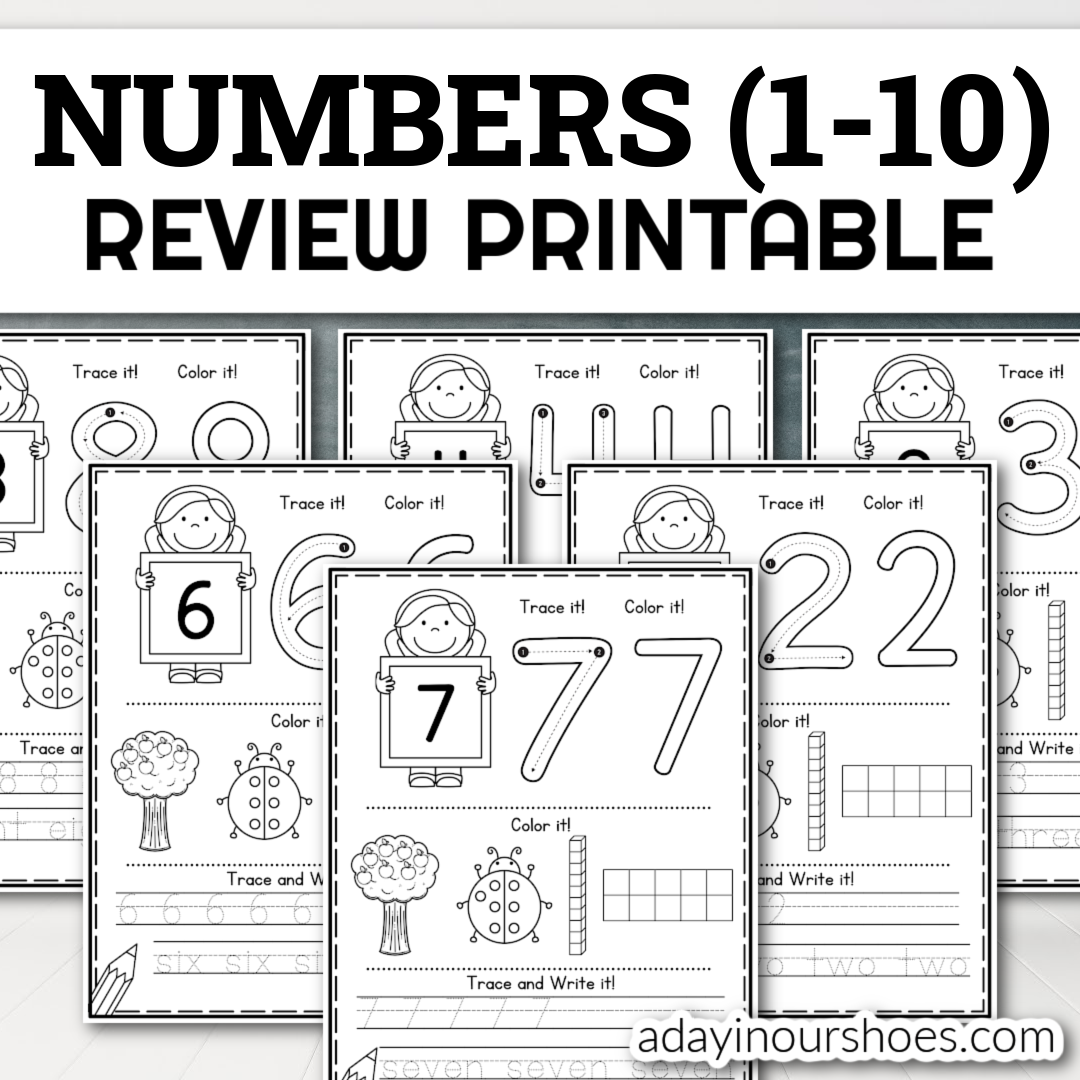 Since then, we've worked on it of course. Number recognition and development is a beginner skill.
Most preschool TV shows, YouTube videos and songs will have kids singing and reciting the numbers 1-10.
Number 1-10 Preschool or Kindergarten
Being able to recognize the numbers 1-10 is the next step.
These worksheets designed for preschoolers or kindergarten will help with this task. I always like to engage multiple senses whenever we can. That would include singing, seeing, touching, tracing and more.
The skill set that a child has will depend upon how much exposure they have had to these skills and at what age.
Number Tracing 1-10
You could print and laminate these worksheets for a lasting center activity. The tracing could be done with a finger or with a wax crayon and wiped clean when you're done.
Or, if a parent asks for something to do at home to reinforce learning, these PDFs are easy to send home.
Recognizing 1-10
Being able to visualize what 2 or what 7 is of something is an essential skill. That's why I love the apples and the ladybugs on these preschool number worksheets. You could even bring in 10 apples to add more multisensory learning to the activity.
This is also a great activity for those who are beginning kindergarten. There is one free printable worksheet for each number 1 through 10. Each worksheet has the following activities:
Trace it
count it
color it
write it
spell it
say it
visualize it
Preschool Number Worksheets 1-10 Printable
Here is the free PDF of the Preschool Number Worksheets. This is a free printable tracing numbers 1-10 worksheet.
I have other activities and free printable worksheets for:
Lisa Lightner is an award-winning and nationally-known Special Education Advocate and Lobbyist who lives in suburban Philadelphia. She has or is serving on the Boards of numerous disability and education related organizations including the Epilepsy Foundation and PA Education Voters. She also has testified before State House and Senate committees relating to special education issues and education funding issues.