6 Coloring Consonant Cluster Worksheets For Trigraphs Such As spr & squ
Grab these free consonant cluster worksheets to work on trigraphs and the sounds they make. Your children will enjoy coloring in the fun pictures and they practice saying the sounds that consonant clusters like spr, squ, and shr make.

It is time for a little reading work, and today we are tackling trigraphs or consonant clusters. Trigraphs are a group of three letters that represent one sound….and they can be quite tricky for young readers. To provide a little more exposure to trigraphs I have some fun coloring pages or consonant cluster worksheets.
Need other trigraph work? Get 15 activities HERE.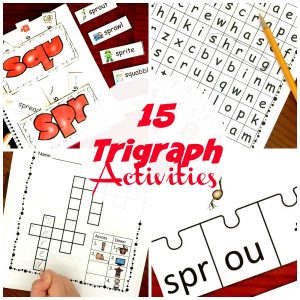 Prep-Work
This is one of those no-prep activities! Yea!!!
First, print off the pages that have the consonant cluster or trigraph your little one needs to work on.
Next, gather up some crayons….and you are ready to go.
How to use:
Before we did this activity we had done some other trigraph work. We had done a word sort and a word search. It gave my boys a chance to see pictures of each word, practice reading the words, and having a visual of the trigraph at the beginning of each of the words.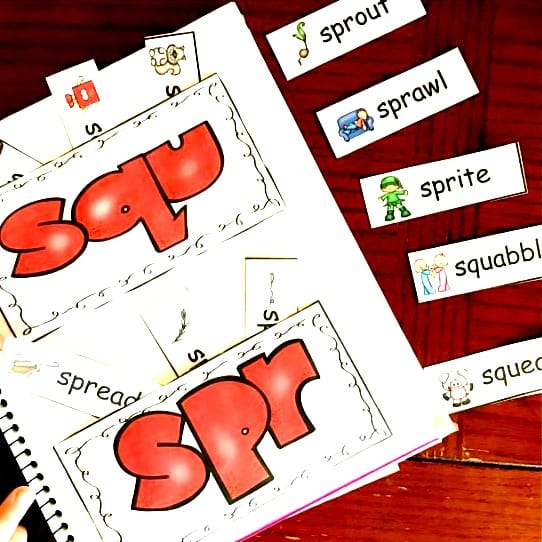 After that, we were ready to begin.
Beforehand Discussion:
Before we began, I wanted to make sure my boys were successful…..so there was a conversation. I began by having them make the sound the consonant cluster on that page makes. We practiced saying it out loud a few times.
Next, I said a few words that we have been working on, and asked them if that word made the sound they had just made.
"Does spread make the "spr" sound?'
"How about squabble?"
Once they were doing a good job answering those questions, I moved unto the consonant cluster worksheet.
Consonant Cluster Worksheet
Now it was time to make sure my littles knew what each picture represented. We went through each picture and said the name out loud. Because we had done some of the other activities, they were pretty familiar with the pictures and I only had to remind them of a few.
Then I left them on their own to color.
The boys went back through the pictures and colored the ones that made the same sound we had been working on. They found the pictures that showed scrapes, scruffy, scrub, scraps, and more and colored them in.
It was a relaxing activity for them, but a great one to work on listening for and recognizing the sounds that consonant clusters make.
I hope you enjoy!
You've Got This
Rachel
You may also like:
Digraph Trigraph Vocabulary

95 laminated Trigraph Word Flashcards.

Digraph Trigraph Search