Fractions on a Number Line Game | Multiplying Fractions | Free Printable
Fractions on a Number Line Game
This multiplying fractions on a number line game is a great way for children to practice their fractions.
I love games! My 1st and 2nd graders love games. When I taught 4th and 5th grade, they loved playing games too.
It is a great way to get children to practice a math skill over and over without those….um….boring worksheets.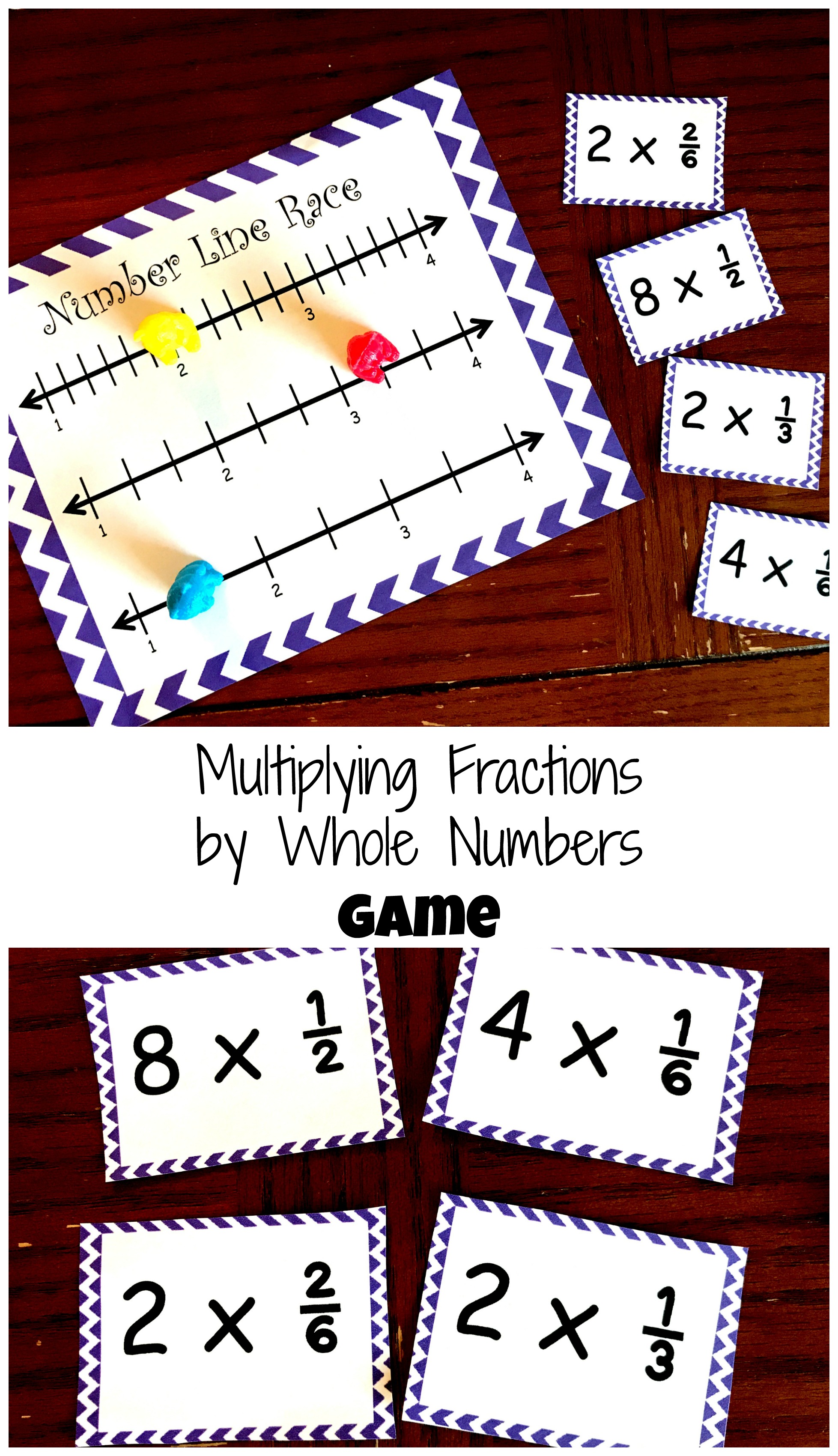 Multiplying Fractions on a Number Line
Now it is time to get a little more multiplying fractions practice in.
To prepare for this fractions number line game…
First, print off the game boards on card stock paper, and glue the two number lines on the outside of a pocket folder.
Next, print off the game pieces. Then cut out the game pieces and laminate them for extra durability.
Now print off some extra number lines and laminate them or place them in sheet protectors. This allows the students to solve the problems on a number line, and not have to use the game board to do their work.
Place the game pieces, file folder, and 6 

game markers

 in a large Ziploc bag for storage.
Multiplying Fractions Games
I almost always recommend teaching a game in a small group. It allows you to model and then observe the students playing the game.
It is amazing how quickly you can identify misconceptions while watching a child play a game.
How to Multiply Fractions on a Number Line
The number lines are blank except for whole numbers. This was done on purpose.
I wanted my students to use their knowledge of fractions to figure out which number line to use. Depending on your students, you can address this in different ways.
You could play the game with another student and just model your thinking out loud while the class watches.
"Oh, I notice that I need to multiply by 1/2. When I'm looking at the number lines I see that each whole number is divided into 2 equal groups. I think I will use this one to solve my problem.
Oh, dear. I need to multiply by 1/2 but I've already reached four on the number line where the whole numbers were divided into 2 equal groups.
Hmmmmmm, I don't want to lose my turn so maybe I can use the number line divided into 6ths. I know that 3/6ths equals 1/2, so I can move up my number line in 3/6th intervals instead of halves."
If your students struggle, you could give them each a copy of the number lines and have them actually fill in the correct fractions under each increment. They can then keep their sheet as a "cheat sheet" to help them while they play the game.
Once you address the number lines, explain the rules of the game (on the free printable) and you are ready to go.
Enjoy this time of practice with your kiddos. I can't wait to hear how your students like the game.
Multiplying Fractions on a Number Line Worksheet
The fractions on a number line game are below. You can download the printable by clicking on the download button and then printing the printable from your device.