CVC Cut and Paste | 2 Fun Games | Free Printables
Words are wonderful things to play with. Making new words or knowing their meanings is always exciting. We are thinking to play some exciting cut and paste games with you regarding words.
Now you can ask, what words will we play with? Today you are going to play and explore CVC words. What are the CVC words? Why are they named CVC? As we all know, there are two types of letters in the English alphabet. Vowel and consonant.
Basically, a CVC word is a three letters word, where the first word is a consonant, then a vowel, and the last word must be a consonant. For example, we can say bat. Here b is a consonant, a is a vowel and t is again a consonant. So it is a CVC word.
In the following section, you will find activities regarding CVC cut and paste. Also, along with the activities CVC cut and paste free worksheets are also provided for kindergarten in PDF format.
---
Cut and Paste Game Instructions
Cut and paste games are easy to play. To play the game properly, you need to follow the below-given rules.
Print the free provided CVC cut and paste worksheets given in PDF format.

You can print the games on normal paper.

Take safety scissors and cut the instructed part.

Read the given words and try to match them with the answers given in the previously cut sheets.

Take a sticky glue and stick the correct answer in the worksheet.
Look at the following image. The fluffy cat can go to play if you complete its name in the below-given gap.
But the naughty spider is wreaking havoc. Can you free the correct letter from its clutch and stick it into the gap? I bet you can.
If you are able to do this then, you have understood the basics of cut and paste game and now proceed forward.
---
2 Exciting CVC Cut and Paste Games for Your Youngsters
As the CVC words are made with a consonant, vowels, and consonants, all the CVC words are single-syllable words. You can pronounce the sounds in a single turn.
In the following section, you will find two exciting CVC cut and paste games for your kindergarten-going youngsters. Read details before playing each game. After solving the games, go through the free worksheets to enhance your ability.
---
Can You Fill the Gaps?
Youngsters! Be ready. You are going to play our first game. See the following image. Some pictures of cute animals are given. But their names are not complete. Some words are missing.
You can find the words in a random order in the following. Just cut the letters and stick it into the correct gaps.
Done! Show your achievement to your teachers.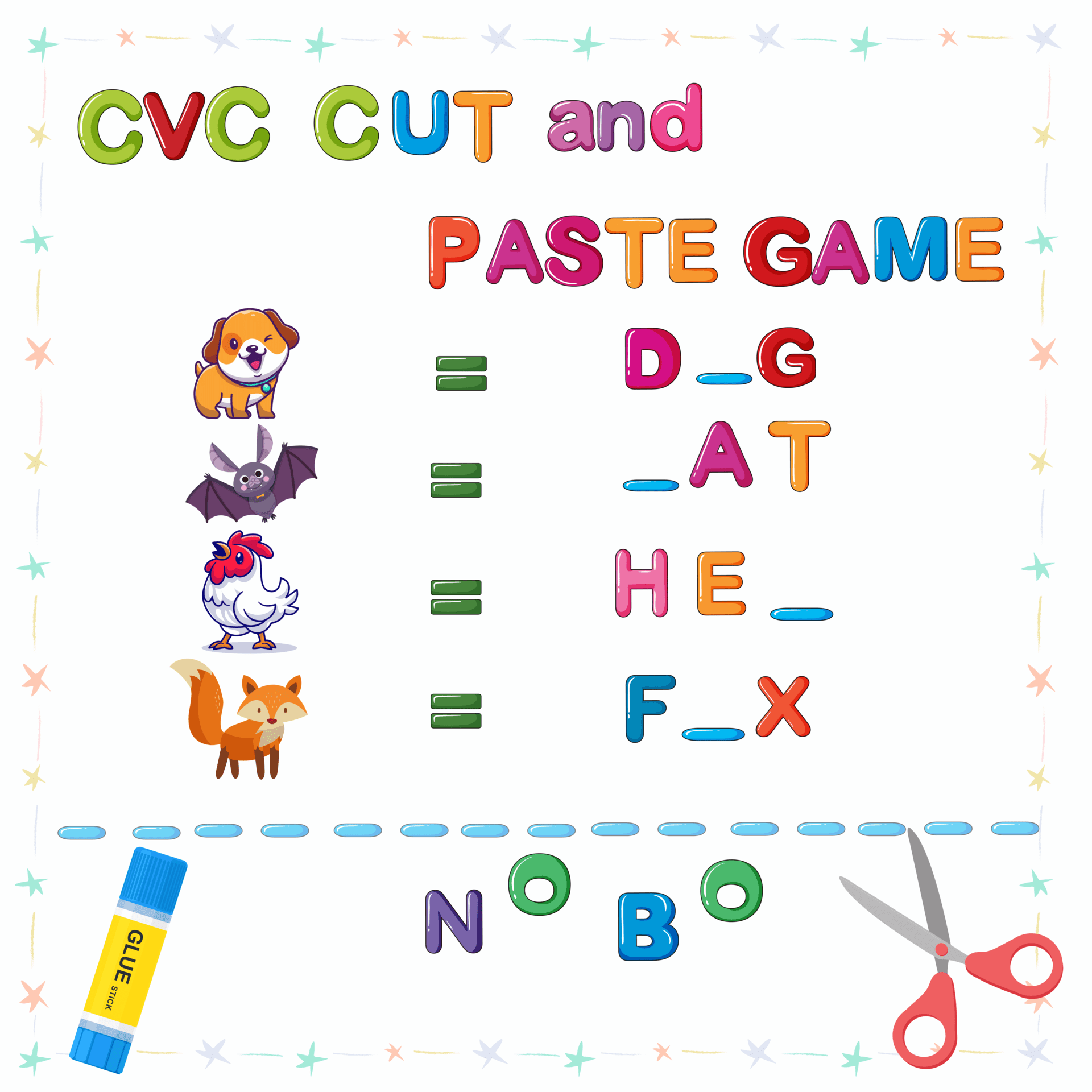 ---
Stick the Pictures!
Unlike the previous activity, no fill in the gaps will be given here. Rather you will find pictures of some random elements.
Also, the name of each element will be provided randomly, below the image. Cut the names and stick them beside the right pictures.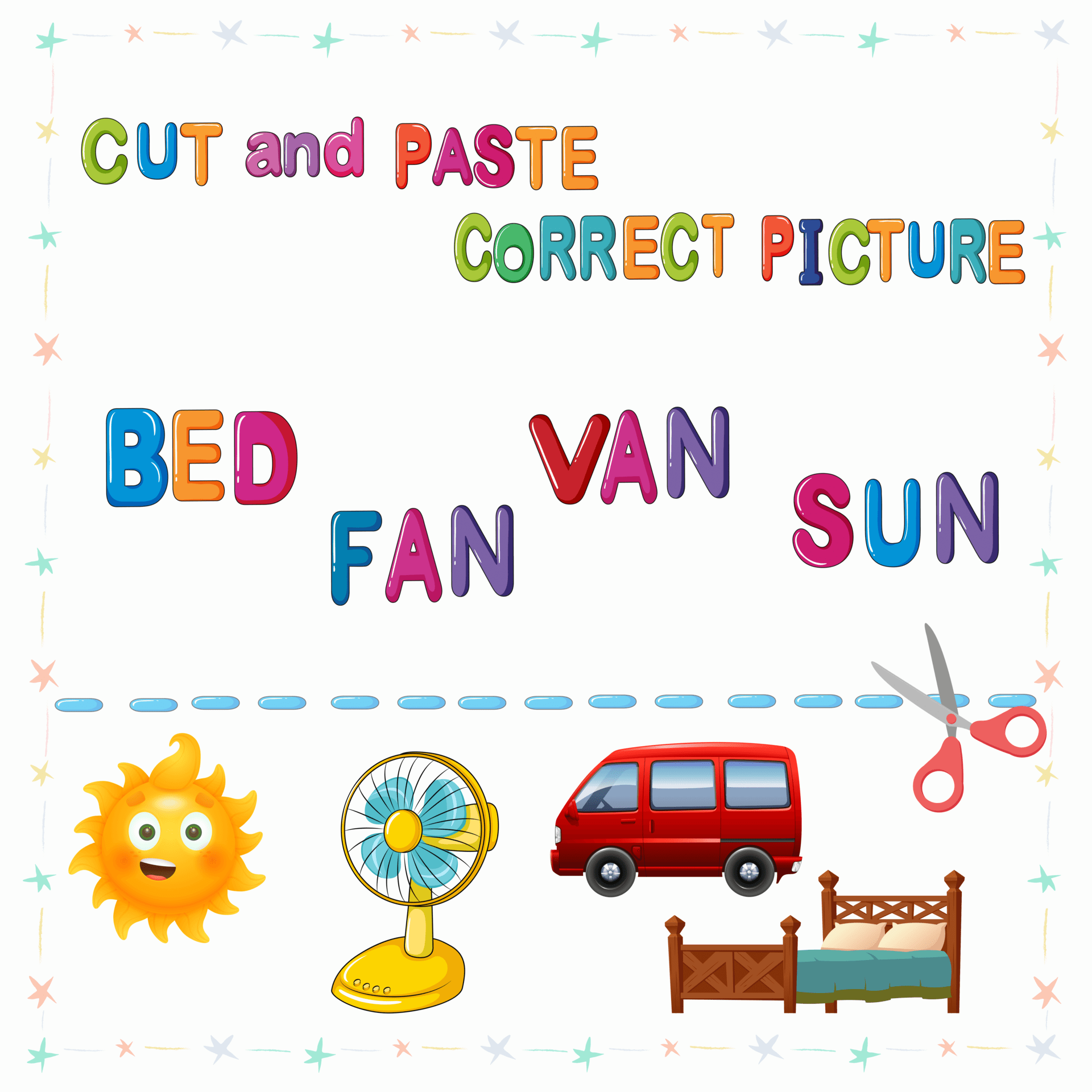 ---
Download Free Printable PDF
In the above discussion, I have discussed various interesting examples regarding CVC cut and paste games. These activities will help your students enhance their skills regarding these types of CVC cut and paste problems.
The free CVC cut and paste pdf is available for download below. You can download this practice sheet by clicking on the download button and printing it from your device.
CVC-Cut-and-Paste-

Please feel free to give any feedback regarding this article. Also, if your little one is having trouble doing these activities, let us know in the comment section.
Enjoy!
You Have Got This!

Hello, I am Araf. I have completed my B.Sc in Industrial and Production Engineering from Ahsanullah University of Science and Technology. Currently I am working as a Content Developer for You Have Got This Math at Softeko. With proper guidelines and aid from the parent organization Softeko, I want to represent typical math problems with easy solutions. With my acquired knowledge and hard work, I want to contribute to the overall growth of this organization.