Thanksgiving Ten Frames| Make 10 | Free Printable
Thanksgiving Ten Frames
These Thanksgiving ten frames are a great way to make 10. Fill in the ten frames and then solve the equations to find all the combinations of 10.
It's turkey time! Thanksgiving is just around the corner, and then after that, we make our way into the Christmas season!!
What is your favorite part of Thanksgiving?
Besides the food, I love all the family time. Thanksgiving day is spent with my husband's family. My kids love being around their cousins, and fun football games will happen after they have had their fill of food.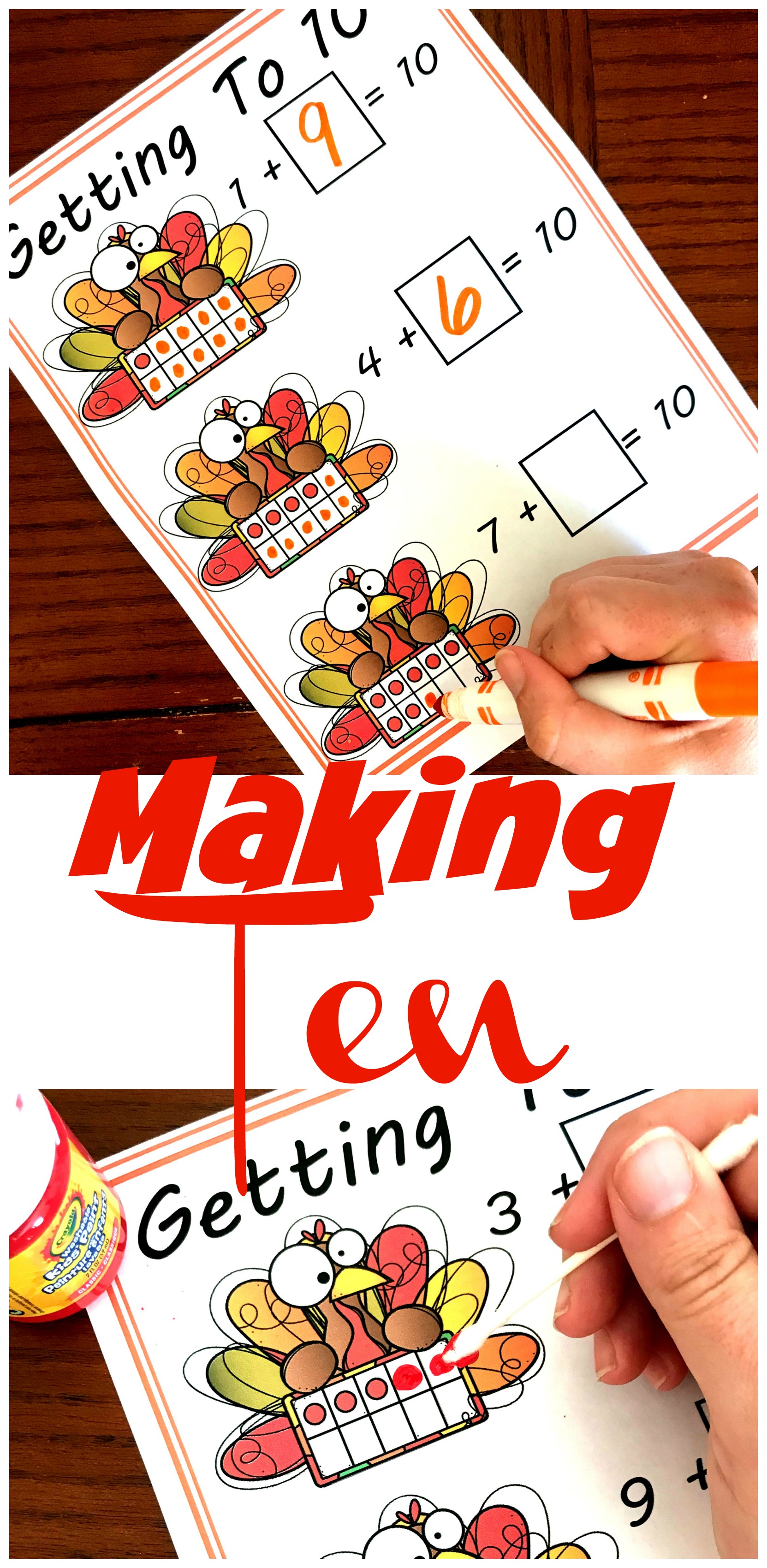 Normally on Saturday, we head to my parent's house with eight acres and room free while enjoying another wonderful meal. It is always a fun time.
With this special day right around the corner, it is time for some turkey printables…..and this make 10 turkey ten fame is a fun place to start.
Prep-Work
The prep work is pretty simple.
First, print off the pages.
If you would like to use this as a center over and over again, laminate and provide a dry-erase marker.
But if you only plan on using it once, provide Q-tips and red paint, or a marker.
Thanksgiving Make 10
My oldest, who just gets math, uses this concept all the time when solving math problems. He will make 10 and then go from there.
For a simple problem, let's say he is adding 8 + 17. He know that 8 + 2 = 10. Then he subtracts 2 from 17 which is 15. So the answer is 25. He literally can solve 8 + 17 in less than 30 seconds. And he can do this because he knows all the combinations that make 10.
That's why activities like this are essential. It helps children learn and memorize all the combinations that make 10.
One of the lessons in my Building Number Sense course takes you through this step-by-step.
How to use this Thanksgiving Ten Frames
My little ones love to paint, and that's why I added this option with this printable. But of course, you can go the easier route with a dry-erase marker or marker.
The point is that the children finish filling in the ten frames to figure out what else is needed to get to 10.
In this example, the student was given three dots. After they use their Q-tip and red paint to fill in the rest of the ten frames, they will have made seven dots.
Now all they have to do is complete the equation. 3 + what = 10. Well, I put seven dots in the ten frame, so 3 + 7 = 10.
If you aren't completely sure how to teach this to your child, we cover teaching ten frames with step-by-step instructions in my Building Number Sense Course.
The children work through the rest of the sheets; by the end, they have had experience with all the ways to make 10.
Thanksgiving Ten Frames Printable
Below are the free Thanksgiving ten frames printables. You can download them by clicking on the download button and saving them to your device and then printing them.