St. Patrick's Day Math Riddle | Free Worksheets
Hello to our youngsters! I hope you are doing well. As the month of March is here, you will all be celebrating Saint Patrick's Day. For those who don't know, on March 17th, Saint Patrick's Day will be celebrated. Now get ready for some St. Patrick's day math riddle!
The day signifies the death date of Saint Patrick. He was the primary patron saint of Ireland. The day is a cultural and religious event. So, in honor of this day, today we are going to solve some math riddles.
Today, you will find several St. Patrick's Day math riddle. Let's start our journey.
---
5 Exciting St. Patrick's Day Math Riddle
In this discussion, you will see five exciting math riddles regarding St. Patrick's Day. Each of the activities will represent the theme and spirit of this event.
Before solving all the riddles, read the details of each activity. Also, you will find plenty of worksheets to boost your skills regarding these types of math riddles.
---
Match Correct Numbers
Let's start with a simple and basic number puzzle. In the following image, you will see two columns. One column is of various numbers of elements, and the second is of various digits.
The two columns are not in the same order. Can you help us match the correct number of elements?
---
Find the Value
The riddle in the following image will be an easy task for you. Just find the value of each element from the given clues.
After that, go to the final puzzle and determine the value. You will need the help of addition and subtraction to find all the values.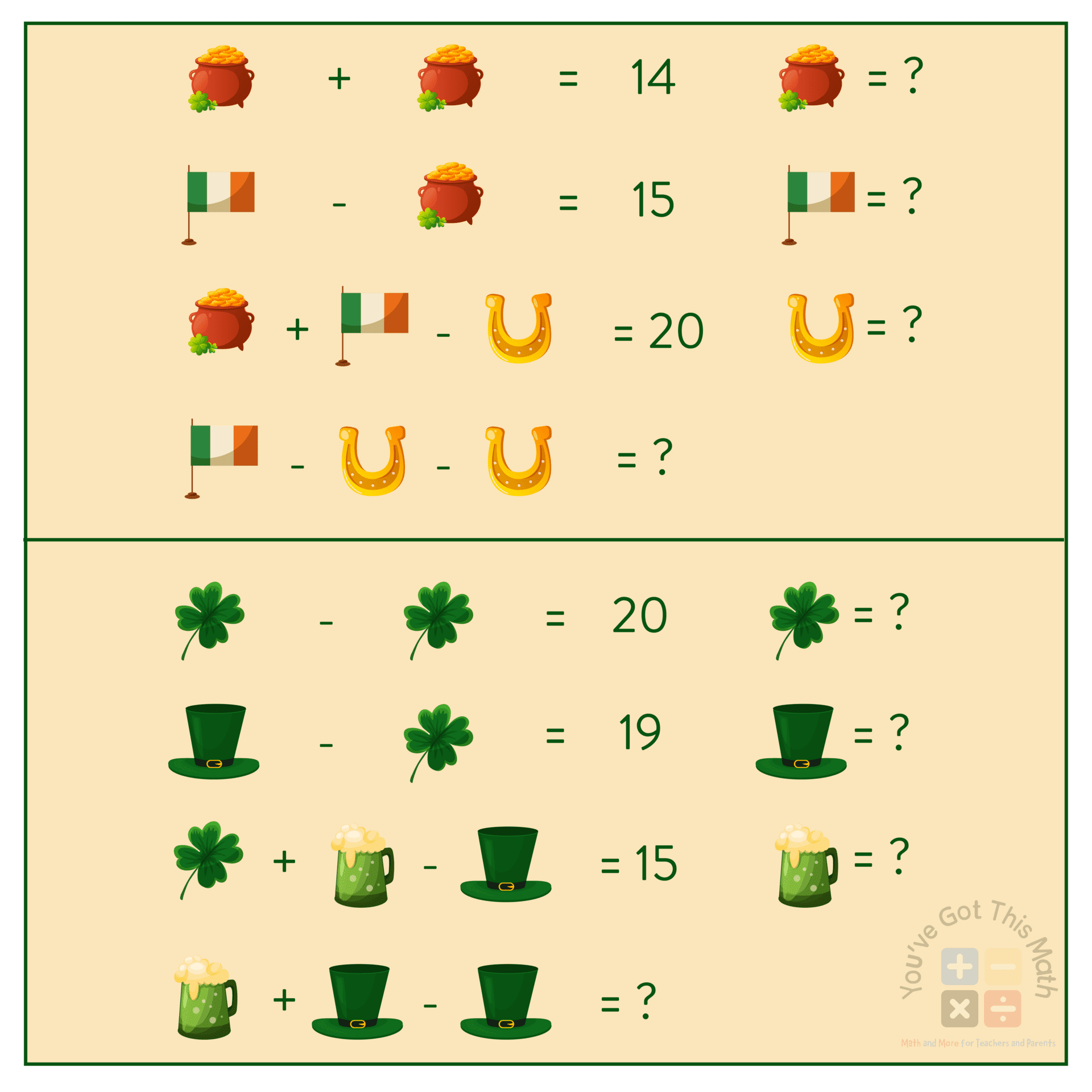 ---
Area Model Riddle
We are going to use an area model for the math riddle used in this activity. See the below-given image and find the value of each element from the area model.
To find the values, you need the help of multiplication and division.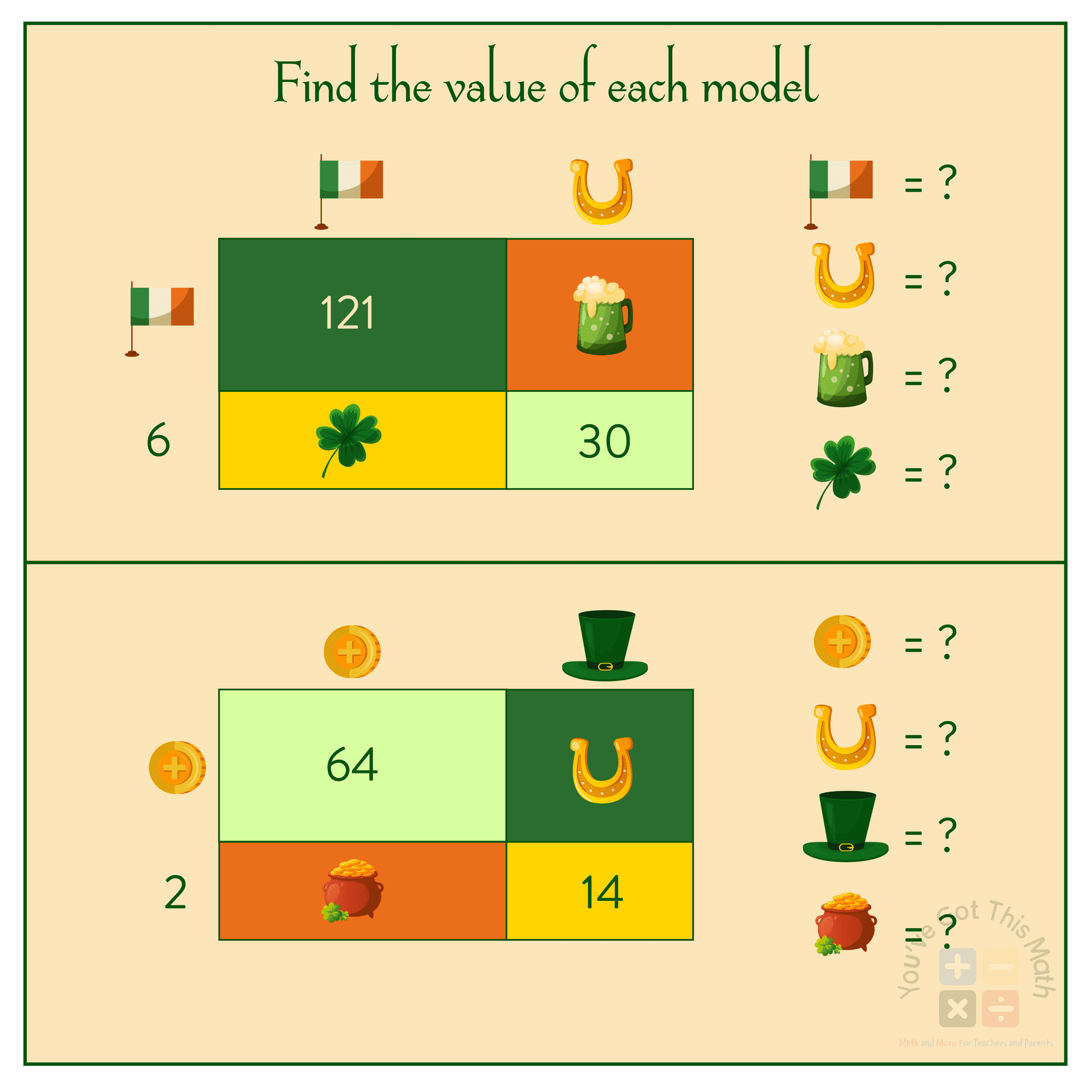 ---
Make 17 All Along
As we will celebrate St. Patrick's Day on the 17th of March, let's solve a math riddle to make the number 17. See the following image.
Place the numbers 1-9 in such a way that the four numbers surrounding the clover coin will make 17. The first three numbers are placed for you in the riddle.
---
Roll the Dice
Let's play a race. See the following board. Print it and ask your friends to come to play with you. Roll the dice and see how many numbers it requires to make a 10.
For example, if you get 5 on your dice, it will take 5 more to make 10. Place your marker on 5, and similarly, your friends will place their markers according to their dice value.
The first one to reach the Finish spot is the winner.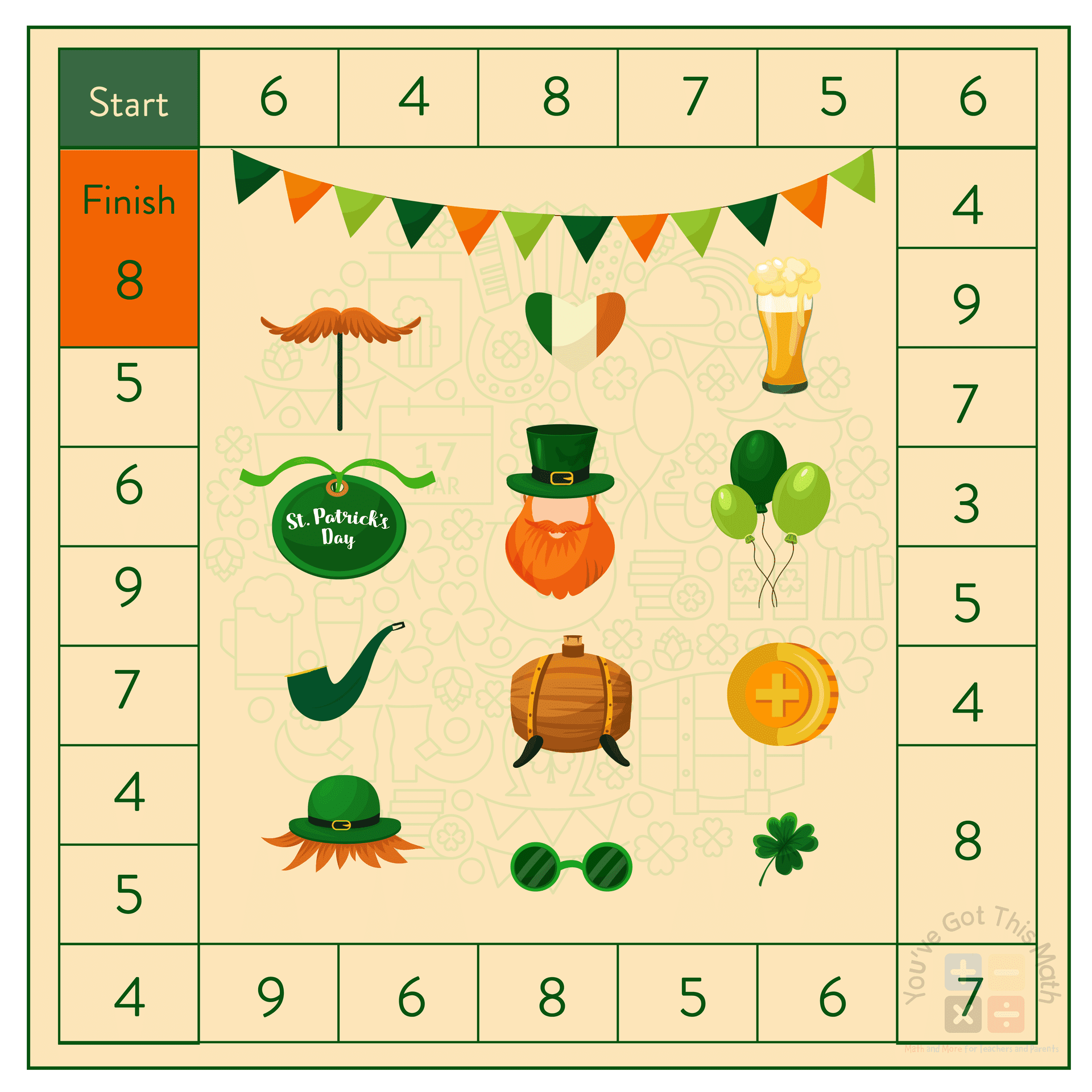 ---
Download Free Printable Worksheets
In the above discussion, I have discussed various interesting St. Patrick's Day math riddle examples. These examples will help your students enhance their skills regarding these types of math riddle problems related to St. Patrick's Day.
The free St. Patrick's Day math riddle pdf is available for download below. You can download this practice sheet by clicking on the download button and printing it from your device.
St-Patricks-Day-Math-Riddle-Worksheet

Please feel free to give any feedback regarding this article. Also, if your little one is having trouble doing these activities, let us know in the comment section.
Enjoy!

Hello, I am Araf. I have completed my B.Sc in Industrial and Production Engineering from Ahsanullah University of Science and Technology. Currently I am working as a Content Developer for You Have Got This Math at Softeko. With proper guidelines and aid from the parent organization Softeko, I want to represent typical math problems with easy solutions. With my acquired knowledge and hard work, I want to contribute to the overall growth of this organization.