How to Teach Fractions of a Set with a Free Apple Bump Game
Fractions of a Set
Teaching fractions of a set is an important part of a fraction unit. This fun apple bump game makes learning this concept fun.
My boys are officially onto my favorite math unit. I'm not sure how they ended up there at the same time, but they did!!! And I'm like a kid a Christmas time because we are going to be studying fractions!
I love fractions! All the manipulatives, coloring, and eating make this subject so fun to explore.
So to celebrate, I created a new game for them and for your kiddos.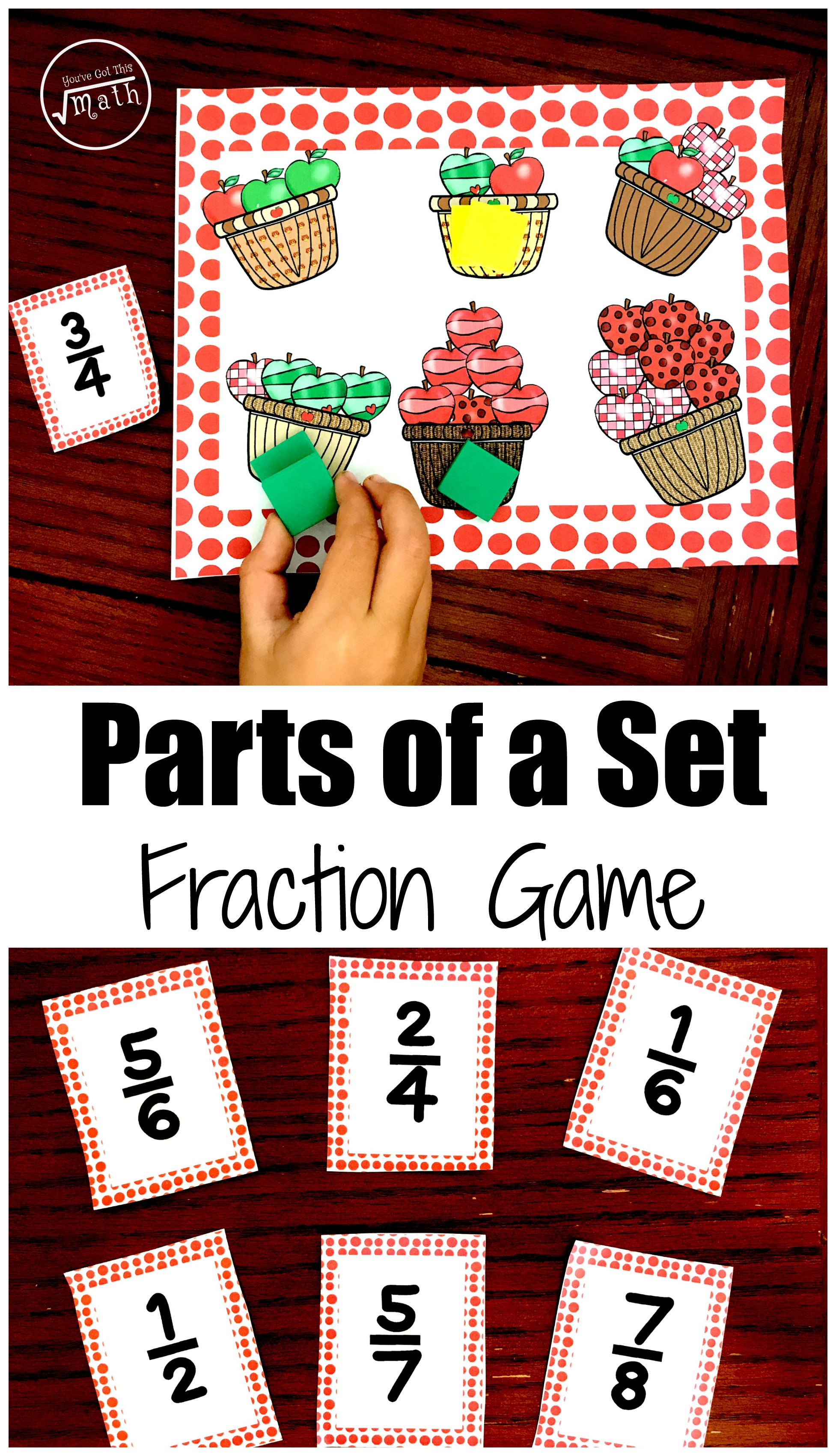 How to Teach Fractions of a Set
Most times when we think about fractions, we think about them in terms of a whole object like pizza or a pie being divided up. It is also very important to teach our children that there is such a thing as fractions of a set.
For example, a small pack of M and M's would be a great starting place to introduce fractional parts of a set. It is very easy to see that all the M and M's in one pack would equal the whole or the denominator. Next, have the children sort out the M and M's by color.
Finally, explain, or my favorite ask questions till the students realize that the number of M and M's for each color would be the numerator. 
Let's say a student has 12 M and M's in a pack and three of the M and M's are red. Then 3/12 or 1/4 of the M and M's are red.
Parts Of a Set Fraction Game
After a little fun with M and M's, it is time to move into a game… and the prep work is easy!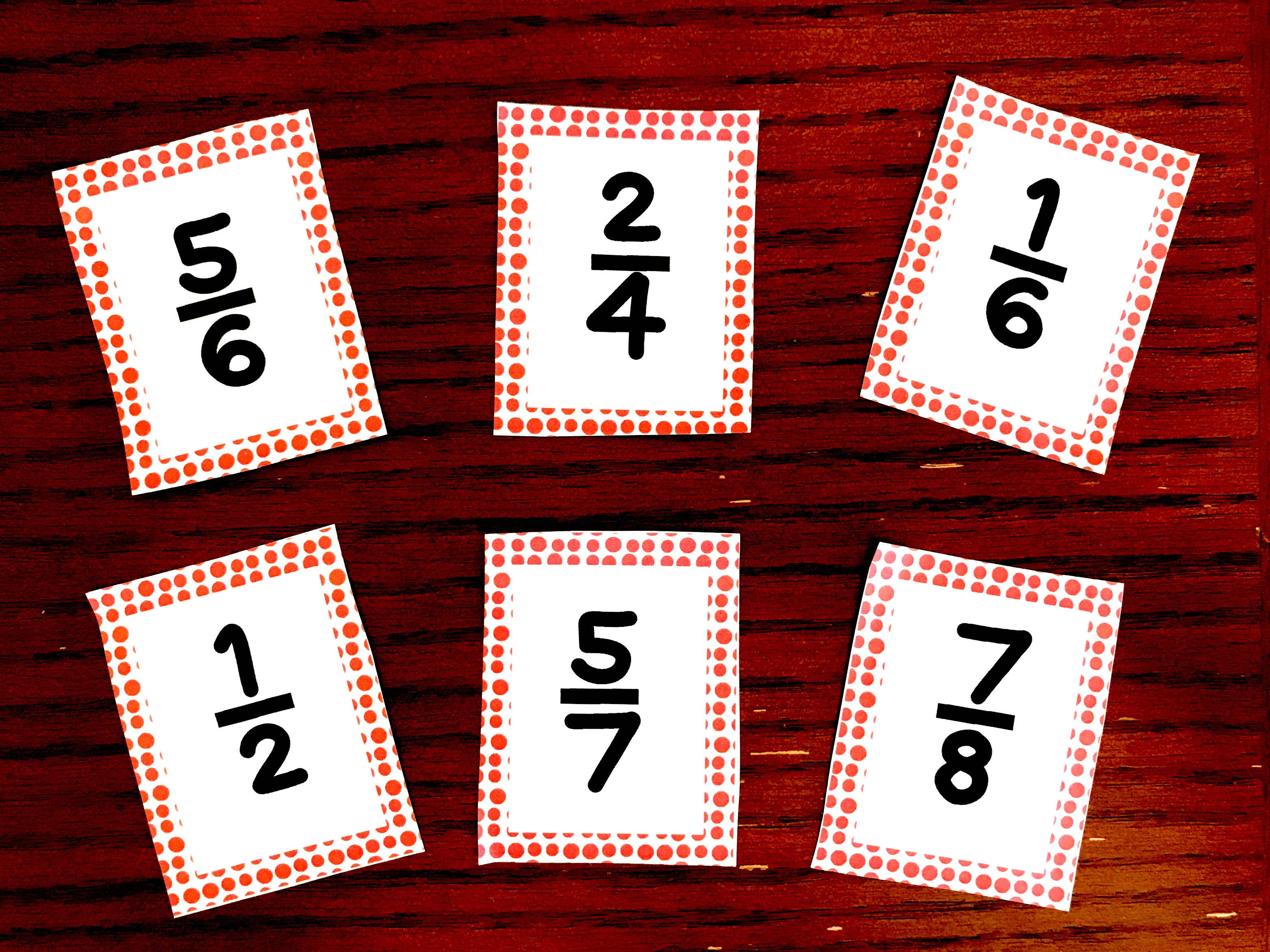 Finally, gather up blocks or LEGO blocks in two different colors.
How to Play
The game begins with player one drawing a card. The player then looks for a basket of apples that represents that card and then places a block on that basket.
For example, if a player draws 3/8 then they find the basket with eight apples and makes sure that there are three apples the same in that basket. To challenge our kiddos, there are cards that do not match a basket.
Unfornetly if they draw that card, they lose a turn.
If a child draws a card and there is already a marker on that picture they may do one of three things:
Bump off that marker if it belongs to their opponent.
Add another marker making it secure
Nothing… if the basket is already secured.
The game ends when all baskets are secured. The player that secured the most baskets wins.
Review the Numerator and Denominator
My youngest struggled with this game a little, and I found it a great way to review what a numerator and denominator are. I was constantly asking him a question like…
"You have 5/6. What is the only basket you can look at? Why?"
"Ok, you found the basket that has six apples in it, that is our whole. Now, what are you looking for?"
I was looking for an answer like,  "I'm looking for 5 apples that are the same, so I can say that 5 out of six apples have stripes."
Sometimes I got an answer similar, and sometimes I didn't. We still have some learning to do.
And even if you don't enjoy teaching fractions as much as I do, I hope that you and your kiddos will have fun with this one while discovering more about fractions of a set.
Fractions of a Set Game Printable
Below is the free Fractions of a Set game printable. You can download this game by clicking on the download button and printing it from your device.
You may also like Teaching Numerators and denominators and the ultimate Fractions Bundle.