A Low-Prep Online Reading And Math Program with An Essential Skills Workbook
This preschool homeschool curriculum has fun online activities and a bright, colorful essential skills workbook.
Preschool Homeschool Curriculum
When my oldest boys were little, preschool work was much easier to plan. I wasn't knee deep in blog work, and I was only finding a few activities a day for us to do. We did it when we wanted (when the twins were sleeping), and they learned quickly.
Well, life is a little different now that the twins are one year away from kindergarten. I now have a second and third grader that I'm planning for and teaching, as well as some other responsibilities at home to help support us financially. Finding time to look for or create preschool activities is hard.
We had already tried the online part of Reading Eggs….which my twins love….and now I have a bright, colorful workbook that allows them to practice what they are doing online.
Of course, we will still be doing some crafts, fine motor activities, and reading books…..but this workbook simplifies my life….and gives my poor worn out printer a break!!
What Does The Reading Part Look Like?
Each day my little ones sit down and work through a section on the Online Reading Eggs. For my baby girl, we normally do that section a couple of times, because she has to have repetition. Then we move onto some of the workbook pages that review what they did online.
This week, my little guy has been working on the letter Z. And here is what he got to do in his Essential Skills Workbook.
First, he colored in all the pictures that have the beginning sound of z.
Next, he got to practice writing the letter z. And for my little ones, I love the use of bubble letters. They are perfect for little hands. Normally, I'm printing bubble letters off for handwriting practice!
3. Next, he got to put the letter z in front of words and practice "reading" the words.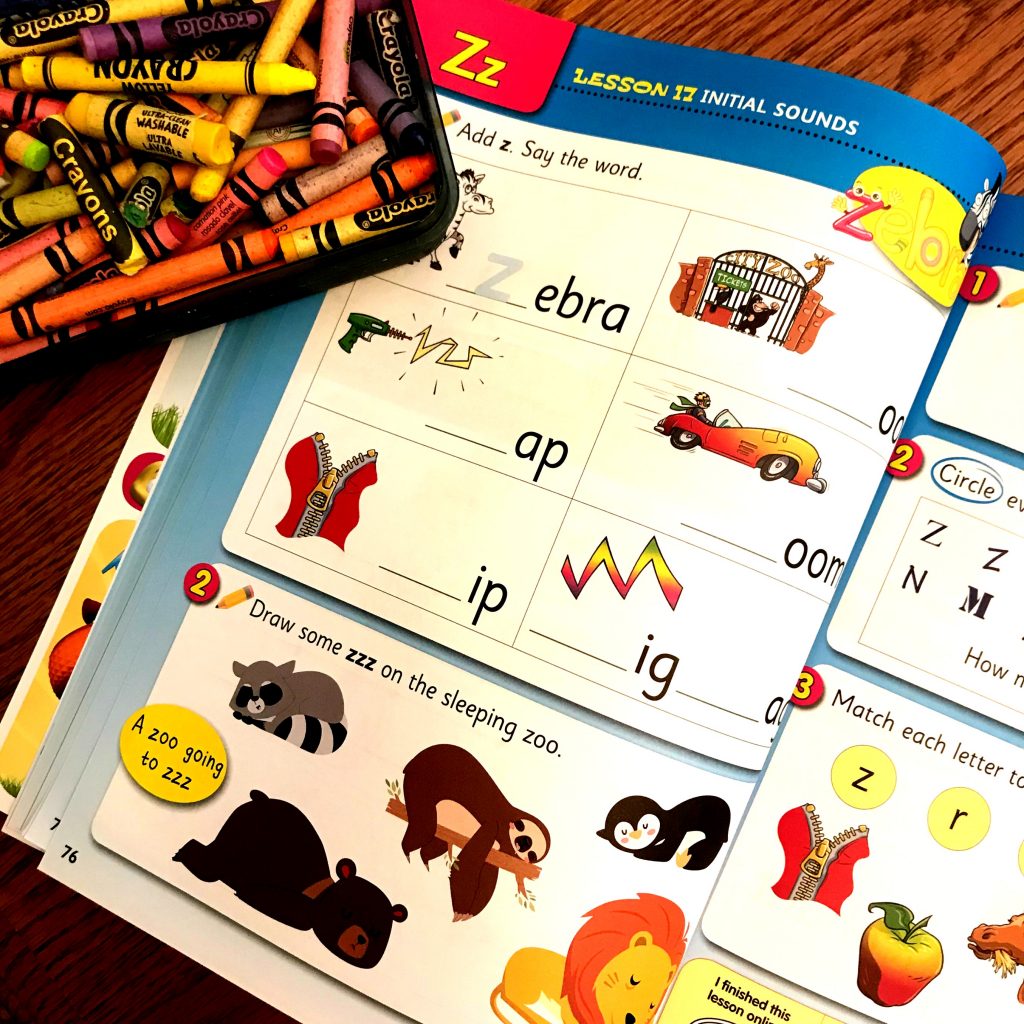 4. Finally, the letter z lesson ended with him finding the letter z. He also had a short review where he had to match words like apple, horse, and zipper to the letter they start with.
In other lessons, there are sight words they work though….and of course, all of them are the sight words they have already played with online.
Math Time:
Right now our math focus has been all about number recognition and one-to-one correspondence. Yes, my little ones will still play games that focus on this, and we will still be counting real objects, and working in ten frames….but Reading Eggs and the Essential Skills Workbook once again minimize the searching, printing, and prep-work.
Reading Eggs starts with the number one and works up. And once again, the workbook follows what they have seen online!
They begin by finding all the sets that have only have one, They get to color in ones, and circle one star.

Next, there is handwriting practice. Then some synthesizing with dots, and finally an opportunity to count items and write down the correct number.
My little girl struggles with fine motor skills, so she needs some help to complete these. BUT she had a blast and has asked to do her Reading Eggs book over and over again. I love that she is learning, getting some writing practice, and having fun!
And it is Not Just For Little Ones:
Just like the online program has activities for 13-year-olds, the Essential Skills Workbooks are available up to fifth grade. They are still colorful and fun but provide the activities that are on the level of our bigger kiddos.
This is from the second-grade Essential Skills Workbook. It is a fun, comprehensive page all about time. I definitely will be pulling some of these sheets to help my big boys review certain skills they are struggling on!
Why Reading Eggs?
I have to tell you why I'm loving Reading Eggs.
First, Reading Eggs is the multi-award winning online reading program for children aged 2–13. I'm using it the most with my preschoolers, but the work they have for older children is fantastic too!!!!!

With hundreds of reading lessons, thousands of interactive activities and over 2500 e-books, the program provides a safe online learning environment where children build essential early literacy skills while having fun.
Finally, Reading Eggs is designed to progress at the child's pace, with an understanding that every child learns differently. With an easy to use parent dashboard, the program allows parents to track their child's progress and access detailed reports on how many lessons they have completed, books they have read, their estimated reading age, and quiz scores.
If you are a crazy busy homeschool mom, or a mom of a child that needs a little more reading work, Reading Eggs can help!
I hope you enjoy it as much as we have! (You can see what we thought about the online program here!)
You've Got This
Rachel