Explore Quadrilaterals with This FREE Quadrilateral Art Project
This free quadrilateral art project is a fun way to work on shape recognition and get some graphing practice in. The printable includes shapes and a graph!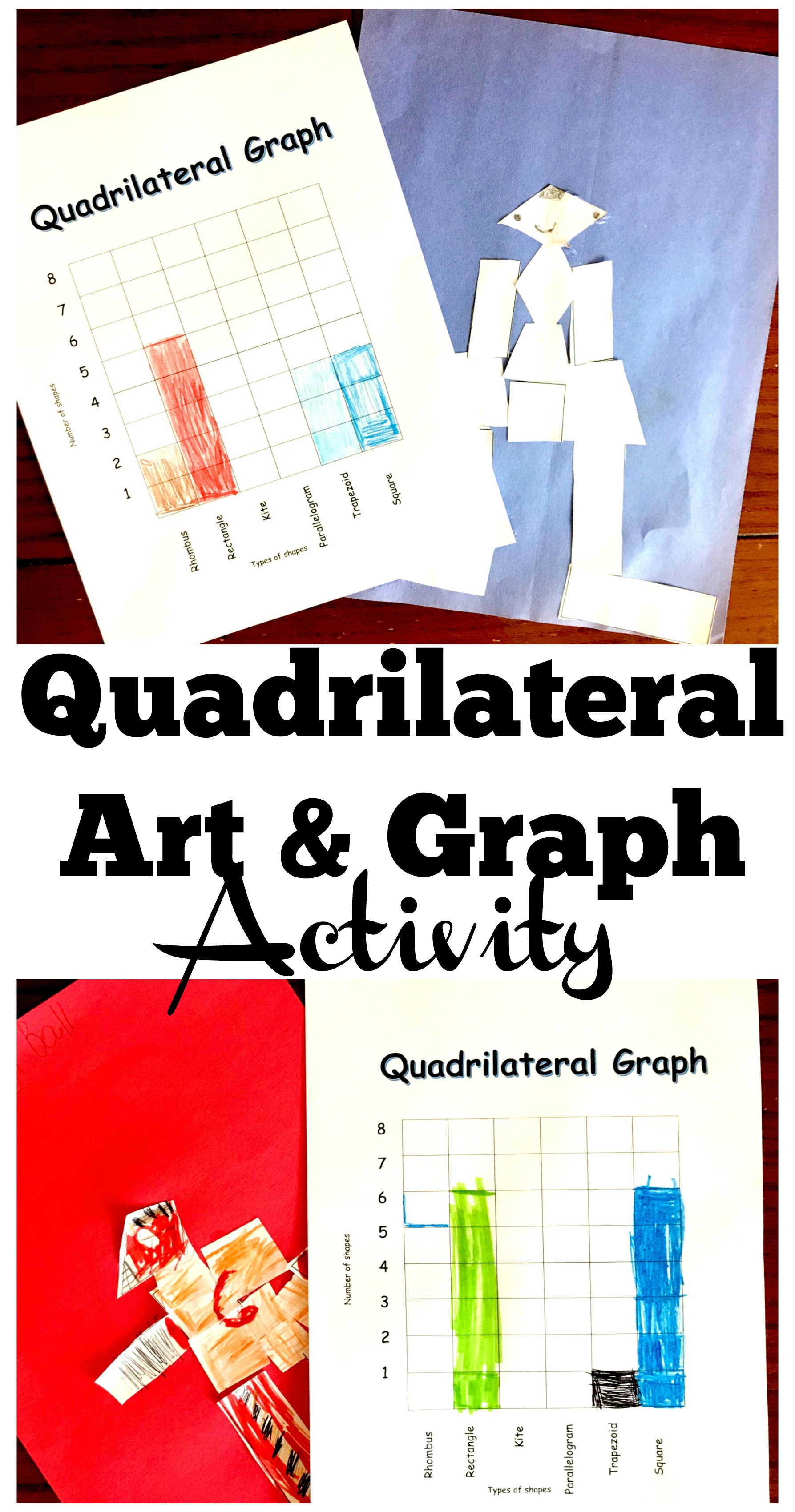 He has such a creative side. He loves to draw, paint, play with markers, and create.
My first grader who loves to tackle and wrestle can also color away the afternoon. So as we jump into the world of shapes, I wanted our first activity to be one that appealed to his creative side.
And that is why I created this fun quadrilateral art project.
*This post contains affiliate links
Prep -Work
Before we start, I have to throw in a disclaimer. This activity and the next quadrilateral post does contain some prep work. I normally try to keep it simple. We all have so little time, and the last thing I want to do is sit and cut things out.
To be honest, I tried to let my little ones cut out the shapes, but I quickly found it took them a lot longer than it would have taken me. The biggest reason though is that they often do not stay exactly on the line. And when you are dealing with quadrilaterals, a small cutting error can change the shape.
This activity which is perfect for little ones is also great for fourth and fifth-grade students. And many fifth graders could handle cutting out the shapes on their own, or even drawing their own!!
So what do you need to do?
First, print off the shapes on copy paper.
Next cut them out…the time-consuming part. If you are in a classroom, sometimes a room mom will be willing to help….or borrow a student teacher to do the dirty work.
Finally, provide construction paper, glue, and crayons.
Pacon Tru-Ray Construction Paper, 9-Inches by 12-Inches, 50-Count, Assorted (103031)

Crayola 24 Ct Erasable Colored Pencil

Elmer's All Purpose School Glue Sticks, Washable, 30 Pack, 0.24-ounce sticks

Quadrilateral Art Project
I started off reviewing the names of the shapes and their attributes. My little boys are 4 and 5, so we are only focusing on parallel lines right now.
As big train lovers they totally get train tracks, so that has been my connection for them. My five-year-old is starting to see them, but I'm still having to draw out the lines for my four year old. We have made big deals about the poor trains that fall off the track when they ride on all the rails of the kites, and one of the lines of the trapezoid. To put that in grown-up terms, kites do not have any parallel lines, and a trapezoid only has one. Of course, trains love any type of parallelogram because they will never crash.
As we work our way down the list of parallelograms, we have discussed equal sides and I've briefly mentioned angles. Even with little ones, I use the correct terminology.
Yes……right, acute, and obtuse angles seem hard for 4 and 5-year-olds, but it is amazing what they learn when you constantly throw in that type of vocabulary.
From here it is simple. I gave my kiddos a plate of sorted shapes and told them that they had to use each shape once. They went to work creating their picture.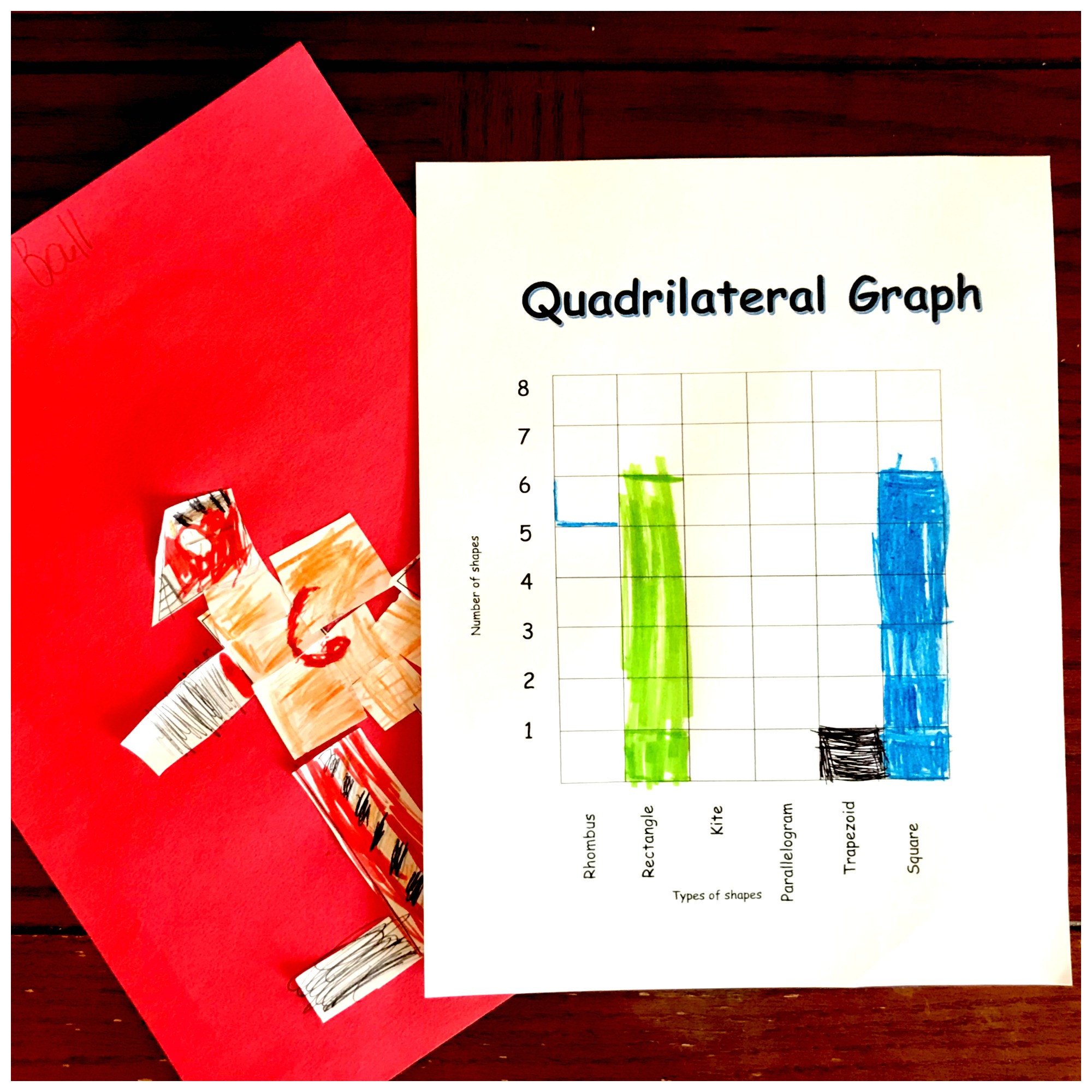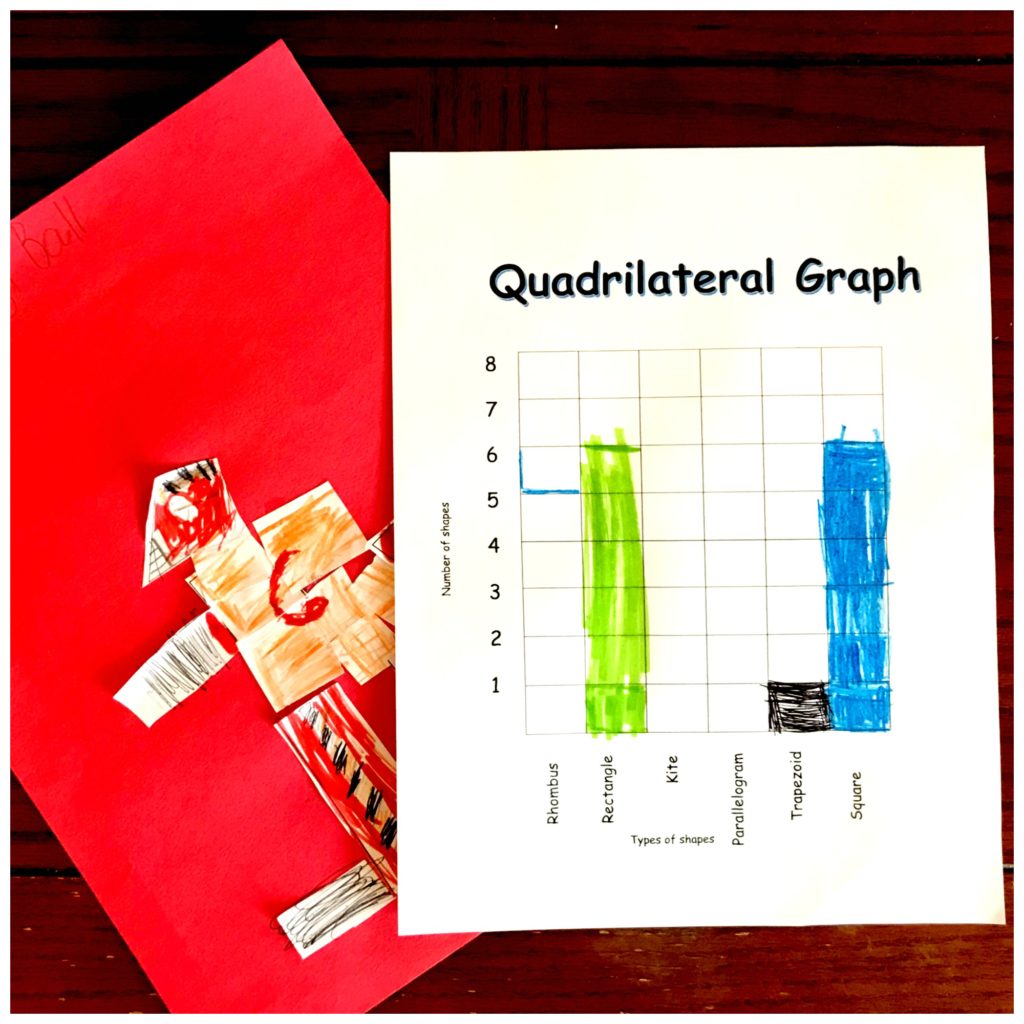 Graphing Time and Shape Recognition
When they were finished we did the most important part.
We counted up how many times they used each shape. This is where the shape recognition comes in. They obviously had to know which shape is which to count them up.
Then we put our finding on a graph and had a brief discussion about what the graph.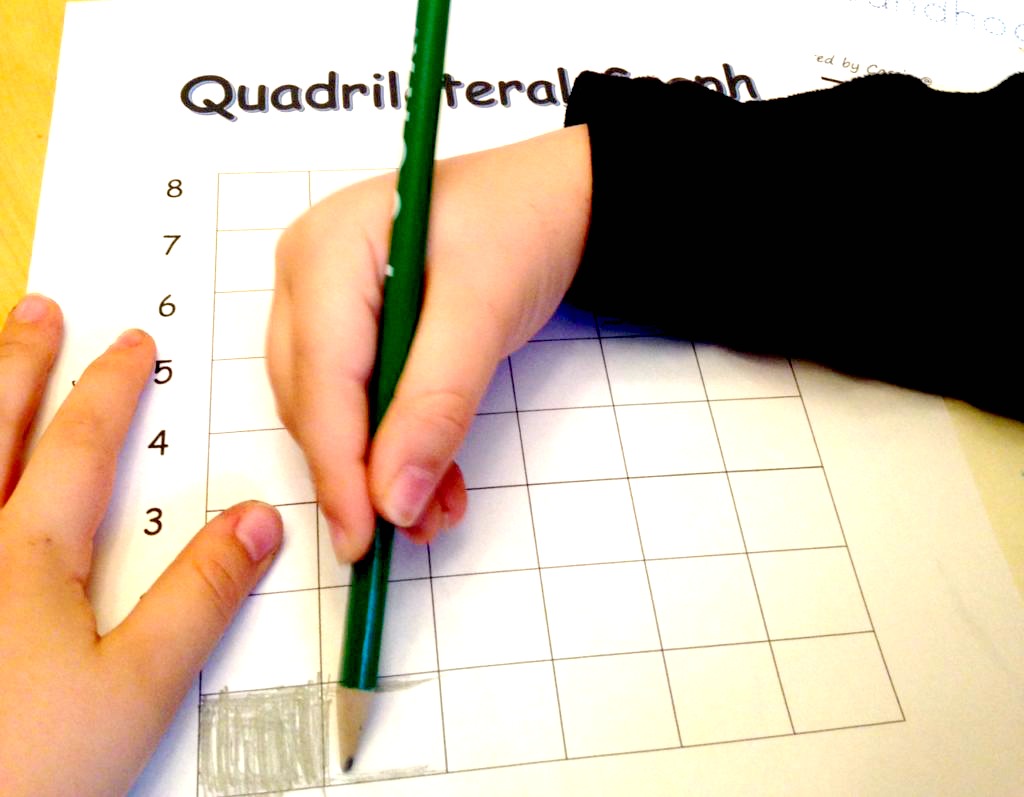 I asked them which shape they used the most, the least, and what was the difference between those two.
We also had fun comparing the two graphs.
"He used a lot more rectangles than I did."
"Oh really, how much more?" Yes, let's get some subtraction in there.
This was met with a brief silence in which he used his fingers as a manipulative, and then a correct answer.
I love math discussions with my kiddos!!!! And I hope you enjoy this quadrilateral art project as much as we did.
You've Got This
Rachel
This is part one of my five-part quadrilateral series. Here are the next posts that may interest you.
Quadrilateral Family Tree Interactive Notebook
Or get all five in one easy download. Plus there is an extra thrown in!!!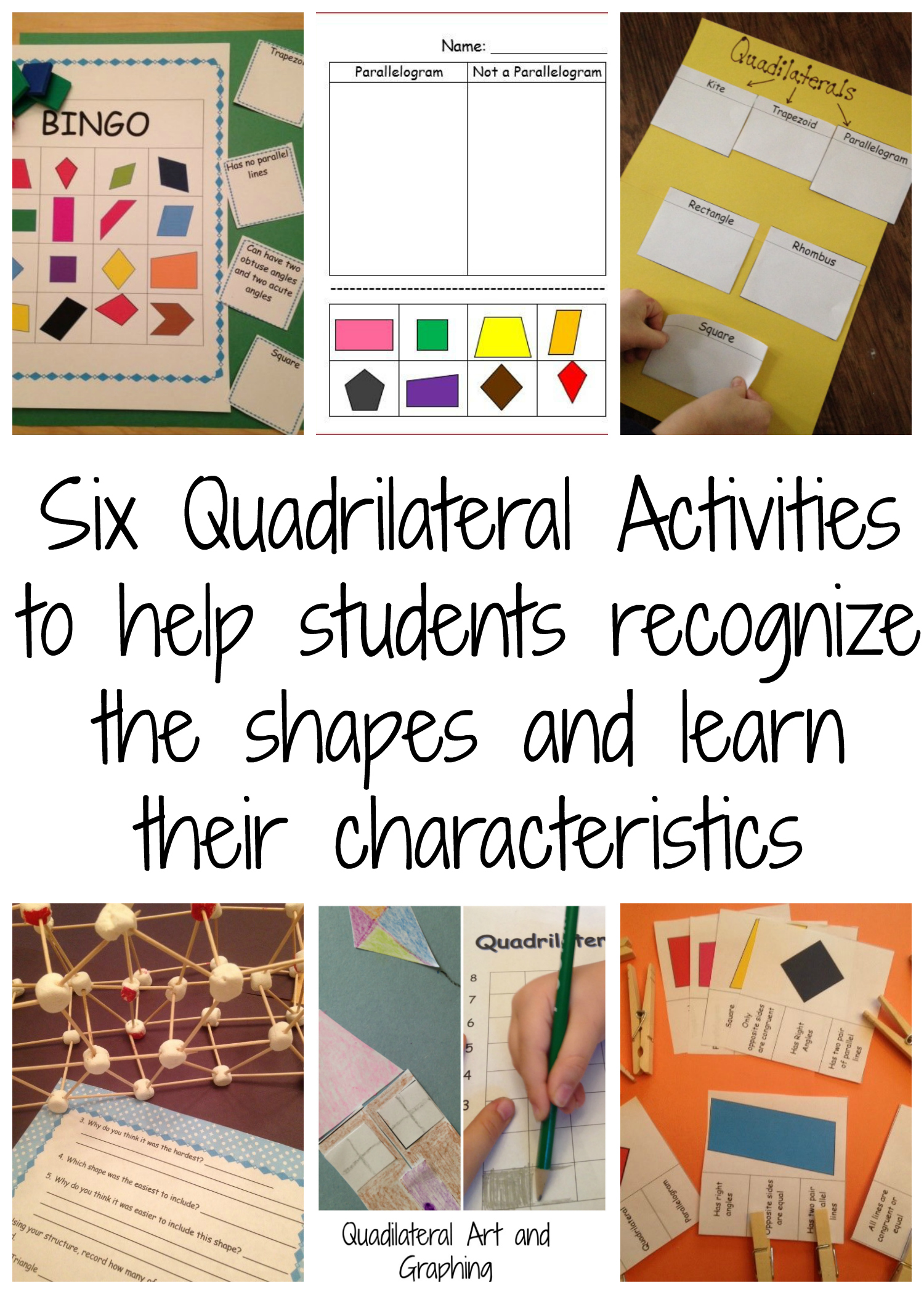 Or do more projects with my 3d art challenge.
If You Were a Quadrilateral (Math Fun)

Quadrilaterals Song and Music Video For Kids: 2D Shapes Animated Cartoon

Shapes, Grades 1-3 Workbook

Need some more ideas? Check out these great posts.