9 Free Counting Tally Marks Worksheets (some with a Christmas theme)
Tally Marks
When a child is learning math and numbers, they have to learn how to visualize numbers and quantity. These tally marks worksheets help kids do that.
It's one thing for your preschooler to be able to count to ten. They usually start learning by counting to 3, then up to 10 and beyond. But, early on, it's just rote memorization of numbers.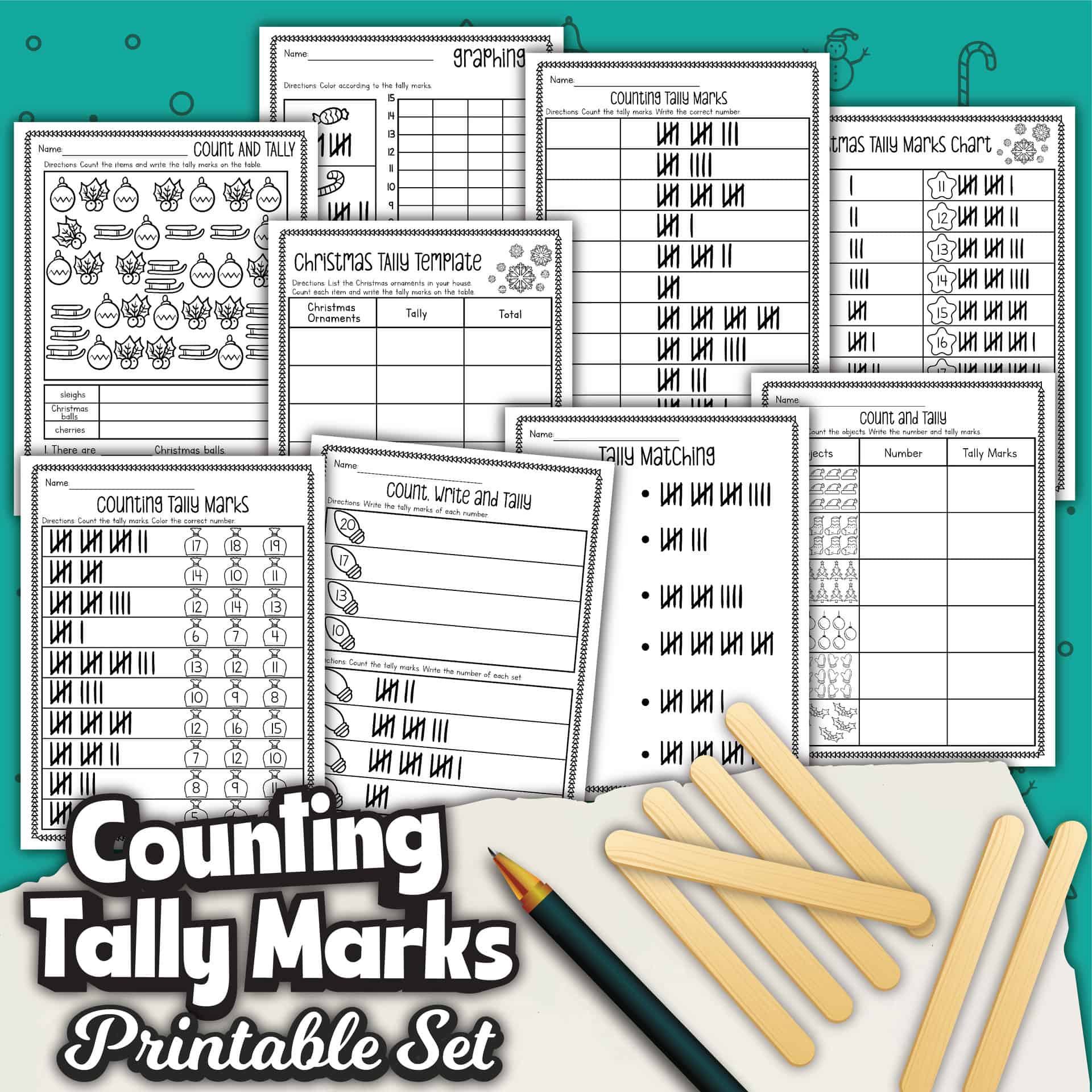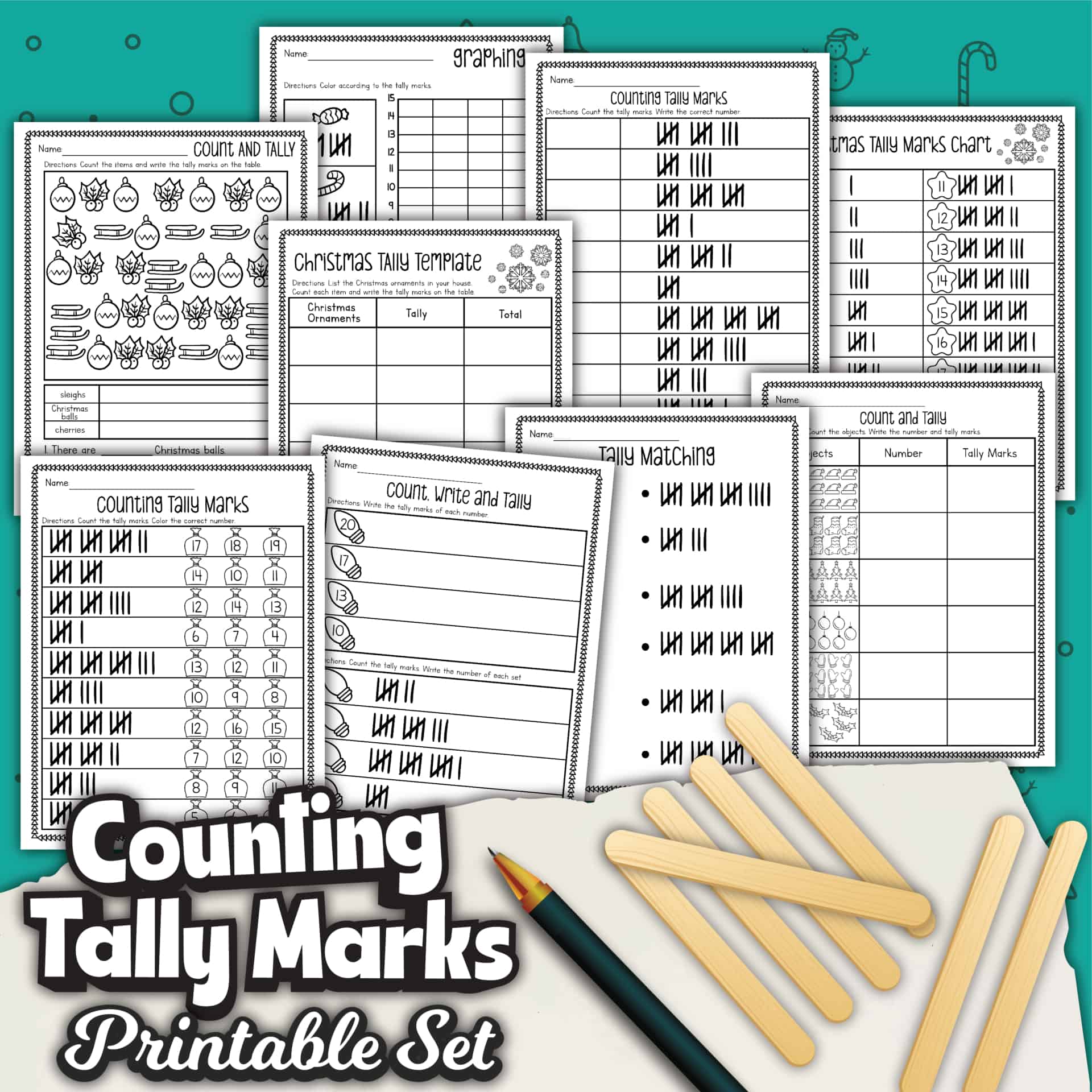 Being able to visualize what "4 of something" looks like is the next step. You may know that 19 comes after 18 when you're counting to 20. But, you must also know that 19 is more than 18, and what that looks like.
Tally marks are good for this, because just by looking at the page, a child can tell if there are more tally marks in one section vs another.
These free printable tally marks worksheets are a great way for kids to begin to visualize quantities. And, the fun Christmas theme is a great way to work on skills and acknowledge that our little ones are often distracted this time of year.
Counting Christmas lights or Christmas ornaments, and putting the tally marks on paper is sure to hold their interest.
There is a plain tally marks worksheet, so if you do not wish for it to be a Christmas themed activity, you can do so. Children can count any item and put the marks on paper.
Tally Marks Worksheets
These printable tally marks worksheets are also fun and versatile because they can be done individually, in pairs, or in small groups. You may even want to consider going someplace like Dollar Tree and getting little groups of ornaments to further help them visualize quantities.
It also could work its way into a matching activity. You can have the students match quantities on paper and with the items in front of them.
You can also send these worksheets home as a practice activity. Children may enjoy searching on their own holiday trees and putting a tally mark for each ornament they find on the tree.
Or, if they are helping to decorate a Christmas tree, they could put a tally mark for each ornament they hang.
Once Thanksgiving break is over, it can be really difficult to keep our students focused on learning. Of course we want to be culturally sensitive. These free printable tally marks worksheets can be presented in a way without assuming that every student celebrates Christmas.
There is a plain worksheet without any mention of holidays.
The second tally mark worksheet in this packet is plain and can be used to count anything. There are also tally matching worksheets in the packet that have nothing Christmas-y on them.
Things to Count with Tally Marks
Some ideas that kids can count in the classroom and use tally marks:
boys vs girls in the classroom
classroom windows
chairs, desks
lockers or cubbies (and different colors)
types of shoes on students' feet
Free Tally Mark Worksheets
Here you go, the free printable tally marks worksheets.
If you need assistance downloading and printing these PDFs, scroll past the worksheet and look for the graphic that explains how to do so. Or, there is a video in the sidebar for you to watch.
Enjoy!
Don't miss all the other great freebies and printables on this website.
Lisa Lightner is an award-winning and nationally-known Special Education Advocate and Lobbyist who lives in suburban Philadelphia. She has or is serving on the Boards of numerous disability and education related organizations including the Epilepsy Foundation and PA Education Voters. She also has testified before State House and Senate committees relating to special education issues and education funding issues.