35 Free Transportation Printables | Coloring Pages | Worksheets | PDF
Transportation Printables
Wow! Until I was compiling these free transportation printables, I had forgotten how many different methods of transportation we have!
And, what better way to teach kids about transportation, than with fun coloring pages, worksheets and even matching and cut and paste activities.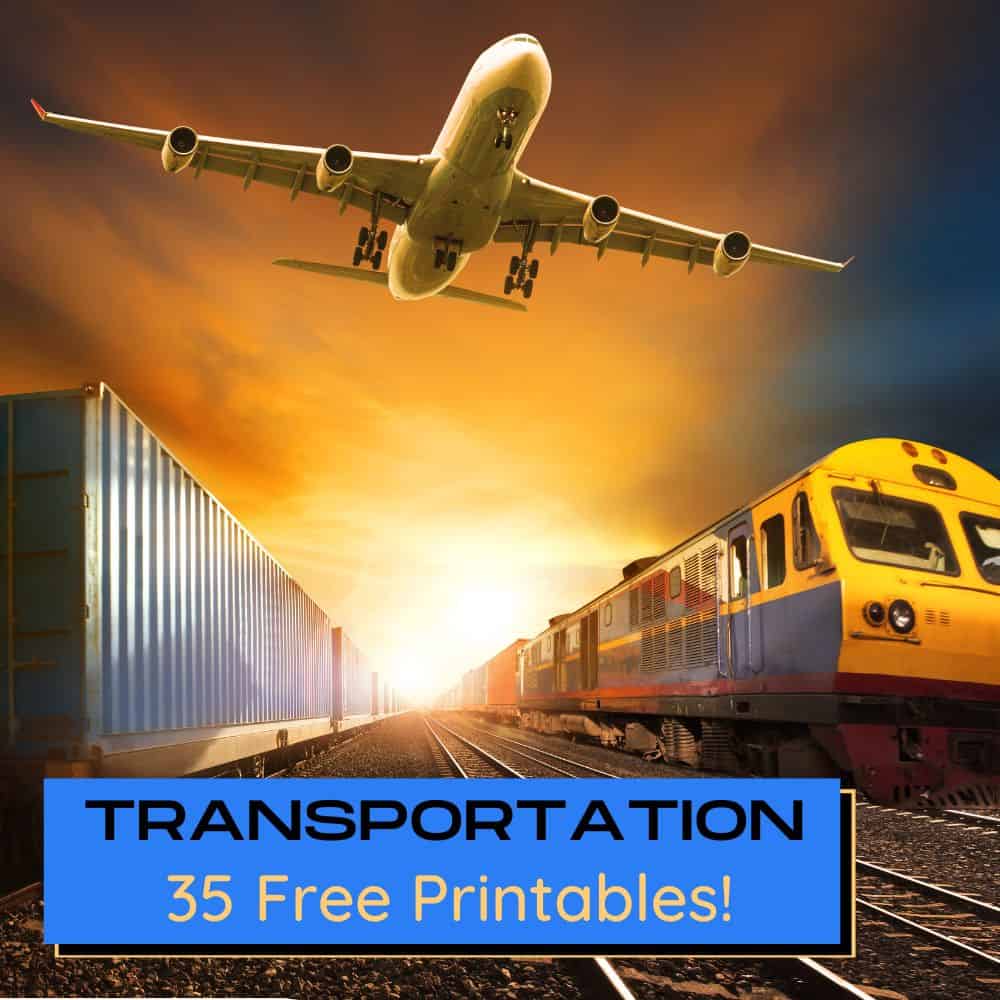 Transportation Vehicles
There are so many different modes of transportation represented in these transportation activities, I'm not sure I can list them all. Of course there are things like car, truck and airplane. But there are many more you may not be expecting, like:
hot air balloon
garbage truck
other air transportation
motorbike
space ship (hey, it transports!)
submarine
dump truck
tram car (Locals, kids who visit Wildwood will recognize this!)
tractor
boat
And so much more!
These transportation activities are suitable for many age groups, from about preschool to first grade. They are perfect for the classroom, centers, small group activities and homeschool.
Transportation Vehicles Coloring Pages
Let's get started with this coloring book, or group of 24 coloring pages of all different modes of transportation.
Coloring pages make learning fun as the kids color and talk about the different types of transportation.
There are so many great transportation activities for learning that you can do with these pages. Of course, you don't have to print them all and distribute them all at once.
And, depending on the class size, there may even be enough so that each child gets their own separate vehicle. I know, that can create fights and tears, but it's a good learning opportunity too.
They can color the vehicles, talk about them, tell you what they know about this vehicle and so much more. You can work on fine motor skills if they use their fingers to trace the letters.
Transportation Printables
Here are the worksheets and the cut and paste activities. You can pair these with a great book on transportation, toy cars that you have at home or in the classroom and so much more.
What a great way to work on sight words or CVC words.
You can also add in bingo dotters or dot activities, fine motor skills and beginning literacy skills.
Kids LOVE to talk about themselves and their families. I'm sure that they will have a TON to say about all these different transportation vehicles.
Transportation Coloring Pages
Last but not least, here is a transportation coloring page.
Big or small…all of these activities are tons of fun for little kids and your emergent reader. It just depends on what you want to teach or practice that day.
And you should always supplement hands-on activities with great books!
Lisa Lightner is an award-winning and nationally-known Special Education Advocate and Lobbyist who lives in suburban Philadelphia. She has or is serving on the Boards of numerous disability and education related organizations including the Epilepsy Foundation and PA Education Voters. She also has testified before State House and Senate committees relating to special education issues and education funding issues.