10 Puzzles to Practice Spelling and Reading -igh Words
These puzzles have children spelling and then reading 10 igh words. Since the syllables are broken into different puzzle pieces, children are able to focus and practice the long i sound found in -igh.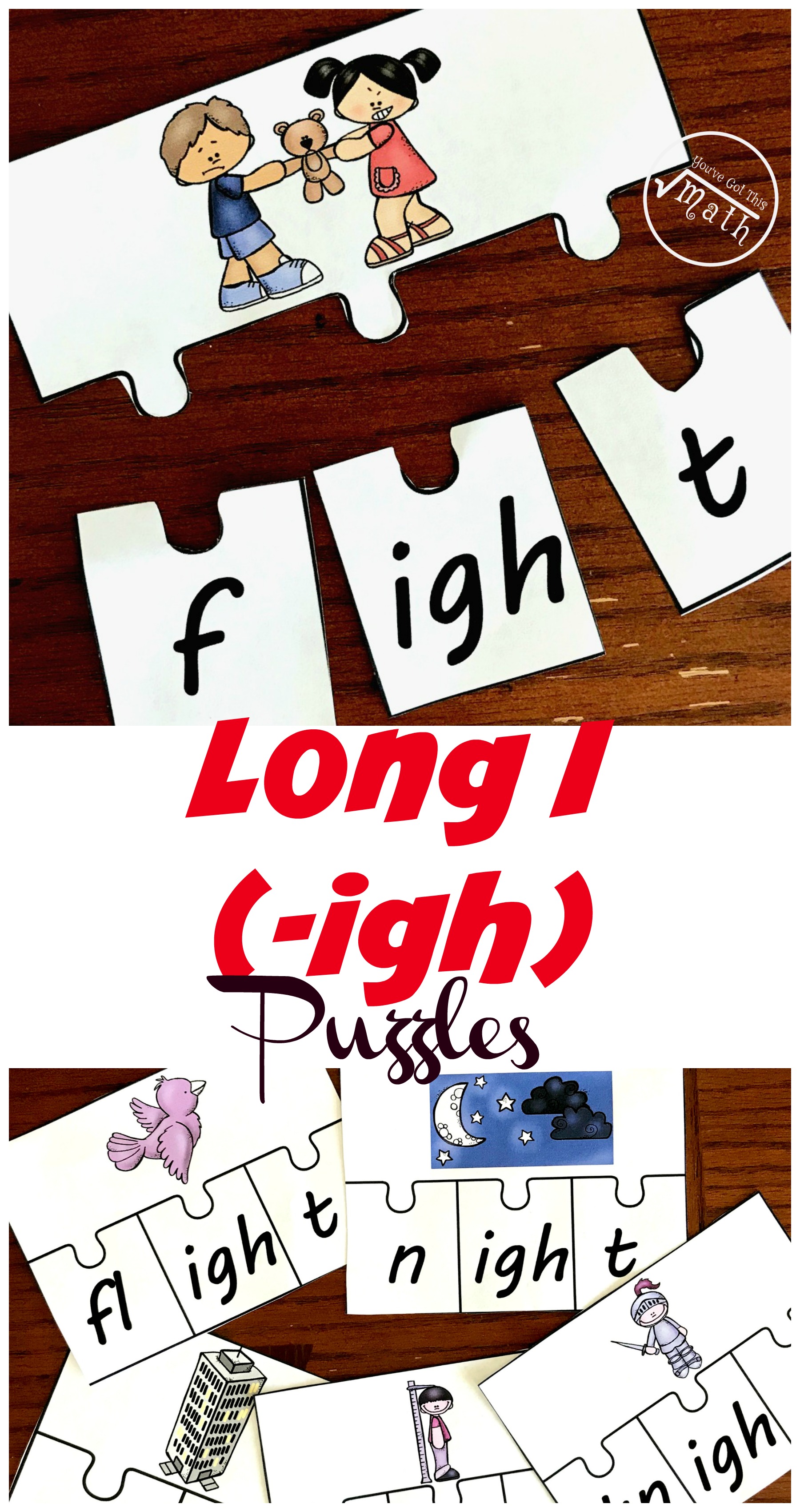 Sometimes learning is easy for my adorable first grader who is now sporting two missing front teeth. And then other times something will just stump him. It normally comes out of nowhere, and I'm as surprised and hs is how difficult this concept is for him.
This week we are focusing on the long I sound, and began looking at -igh words. Wow!! What I thought would be easy, has been quite difficult. He consistently reads words like right and knight correctly (we love knights around here). But when these words were pulled out of a story, and he was just asked to play with them……some weird things started happening. All of a sudden -igh (which is pronounced with a long i sound) became ig as in pig.
I knew a little intervention was needed, and that is where these puzzles came to be.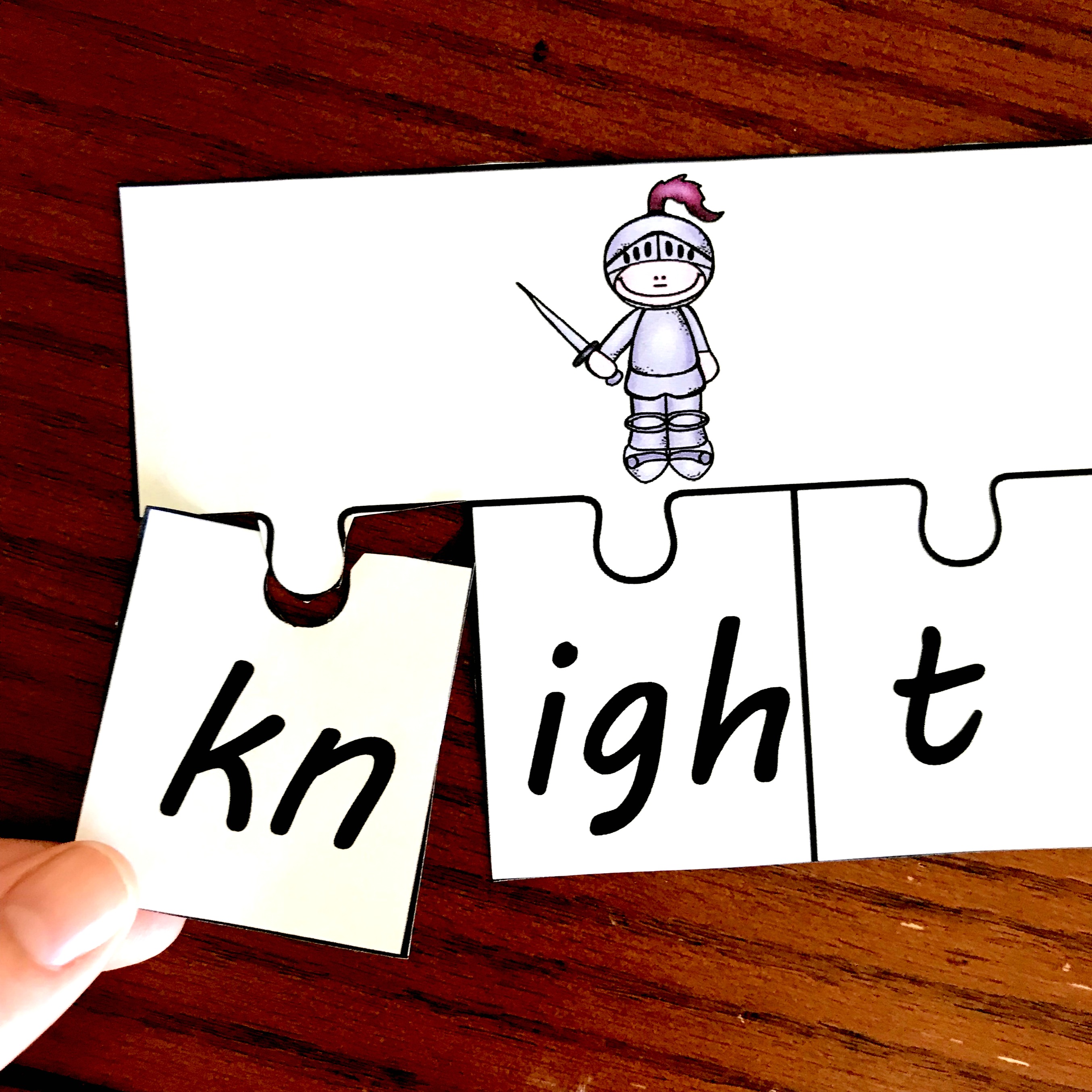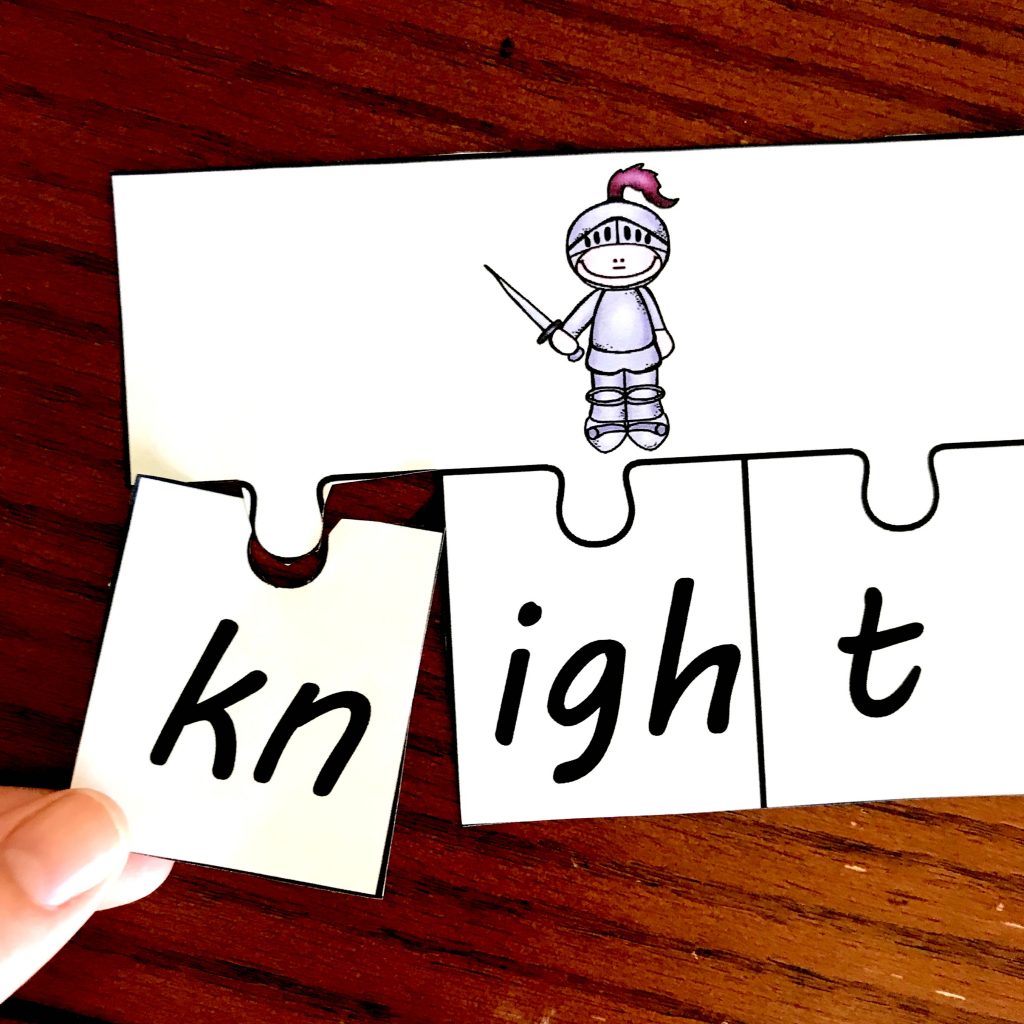 Why Puzzles:
I decided to whip up some quick puzzles, mainly because I wanted this little man to focus on just the -igh sound for now.
The top part of the puzzle has a picture.
The bottom pieces are the word broken apart into the different sounds.
Let's look at the word fight. The top is a picture of two kids fighting. Then underneath you have three pieces. The first piece is just the f. The next is the -igh. Finally, we have the just the t.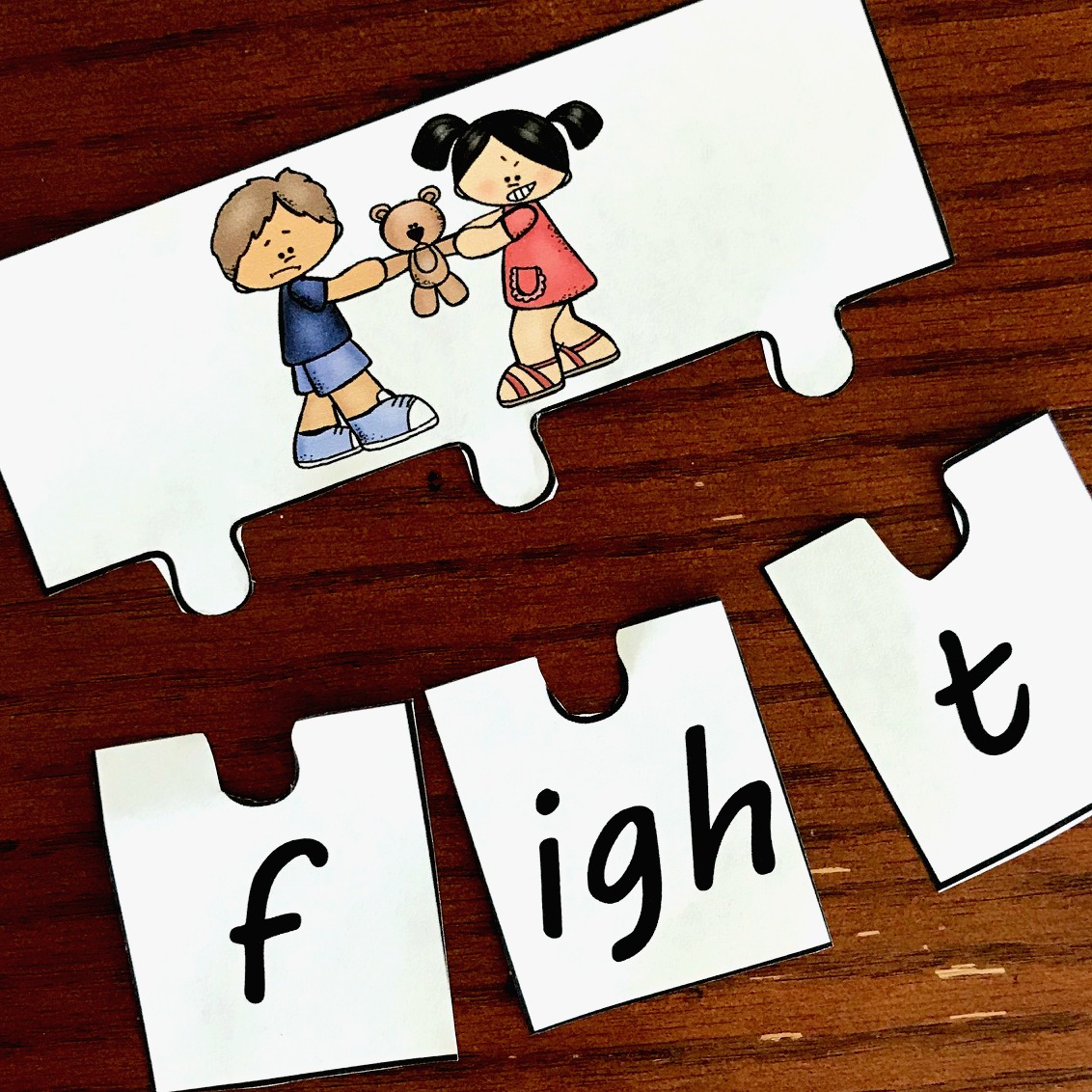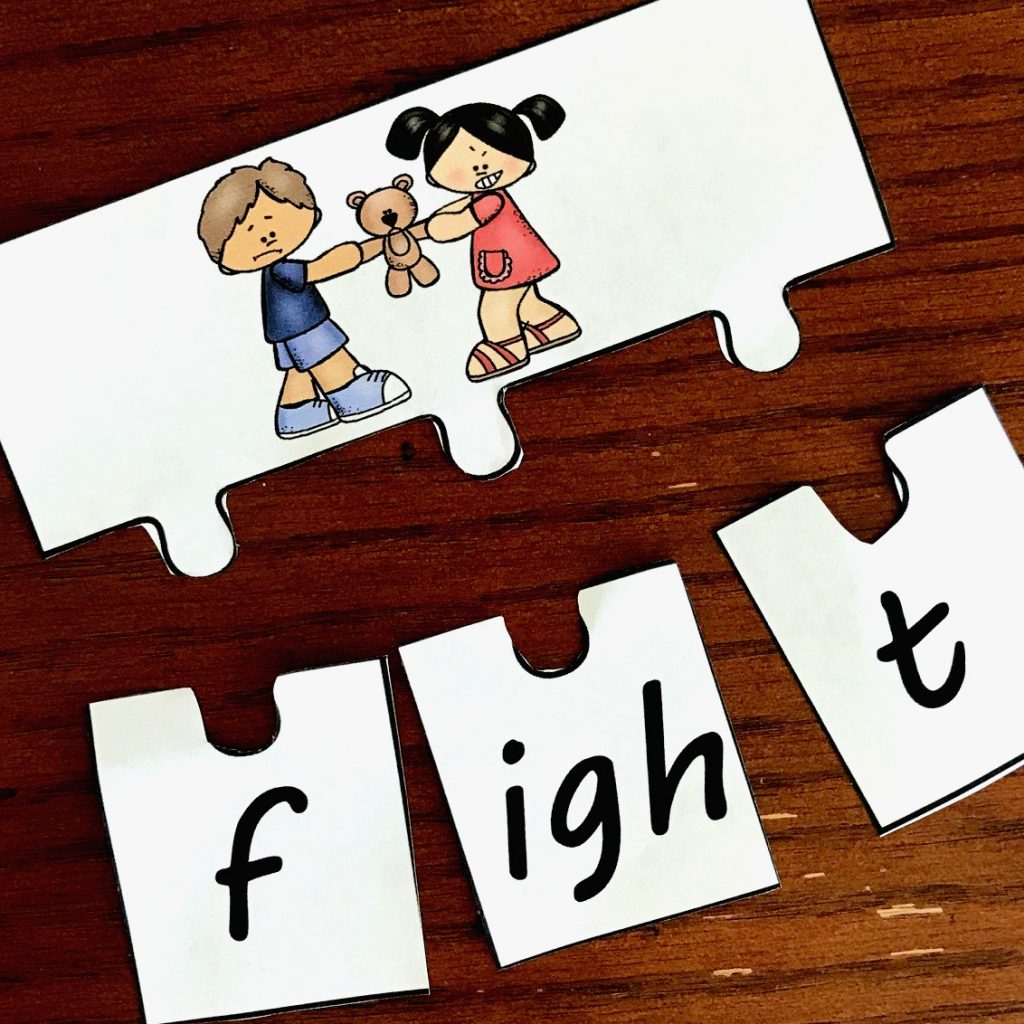 Once my little man put the puzzle together we focused on sounding out each piece.
F…..igh (pronounced as a long i)……t…….fight.
It was great practice for working through these -igh words that were causing him so much trouble.
Prep-Work
Unfortenly puzzles do require a little pre-work. But if you have a child struggling, the extra effort is worth it.
First, print off on card stock paper.
Next, cut out.
Finally, laminate for extra durability.
Neenah Bright White Cardstock, 8.5"x11", 65lb/176 gsm, Bright White, 75 Sheets (90905)

Scotch Thermal Laminating Pouches, 8.9 x 11.4-Inches, 3 mil thick, 100-Pack (TP3854-100)

Next Steps:
WIth some puzzle work and a lot of sounding out practice behind us, we will continue to practice these tricky -igh words.
First, we will read this cute book from the Measured Mom.
Then, it is on to game time with an easy, no-prep game from This Reading Mama.
Here's to some successful reading and spelling time!!!
You've Got This
Rachel
You may also like:
Diphthong Games – au and aw
Bob Books Set 5- Long Vowels

Educational Insights Phonics Dominoes – Long Vowels

Long Vowel Sounds – Letter I