20 Free Clip Card Printable Activities | Math | K-5 | Shapes | Addition
Free Clip Card Activities
Clip Cards are such a great activity for so many reasons. Whether you're practicing math, space, addition, shapes or more…they are a perfect center activity or 1:1 reinforcement activity.
No matter the age, your children are going to love these math clip cards. From counting to division, from adding to geometry, there is something for everyone. I've compiled the entire assortment of clip cards that are here on this site. Free!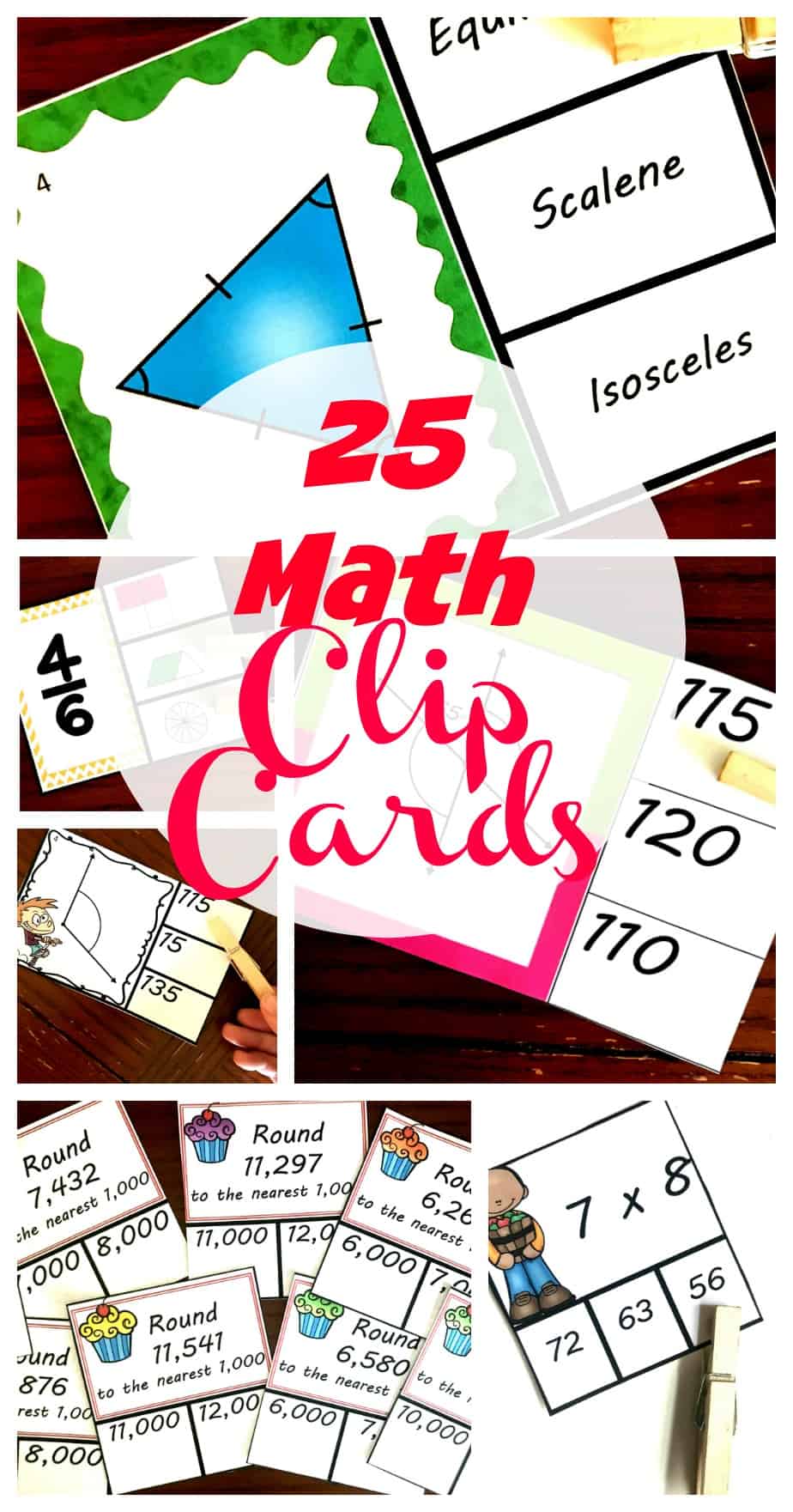 It is amazing what switching things up will do for a child. What they would balk at doing on a worksheet all of a sudden becomes more fun when presented in a game or different activity.
Well, clip cards can help switch things up a little bit. It is a fun way to practice a skill, but not have children sitting doing a worksheet. But if you add in a sheet where they have to record their answers, you can still get a grade or have an accountability piece.
Another benefit of playing with clothespins is that it strengthens our children's fine motor skills. And I'm always for that.
How to Use Clip Cards
Clip cards are super easy to use and implement.
Choose the set of math skill clip cards you want to use.
Make sure you have clothes pins or large paper clips for the child.
Download and print the free clip cards.
I recommend laminating them to make them last longer.
Do the math clip card activity as directed.
Not many households use clotheslines anymore, so you may not have clothespins at home. Still, many stores still sell them. Or, you can use large paper clips.

Paperclips or clothespins are both great to practice fine motor skills while you're doing the printable clip cards.
So without further ado, here are math clip cards you can grab to use in your math class.
Number Clip Cards 
Addition and Subtraction Clip Cards
Clip Cards for Multiplication and Division
Fractions and Decimals Clip Cards
Geometry and Shapes Clip Cards
Telling Time Clip Card
And, last but not least, here is a clip card set for telling time/